This article has been updated.
"Only a third of depression cases treated" - Guardian headline, 14th August 2014
 
The front page of today's Guardian covered an interview with Professor Simon Wessely, the new President of the Royal College of Psychiatrists, who raised what he sees as a lack of parity in the way mental and physical disorders are treated.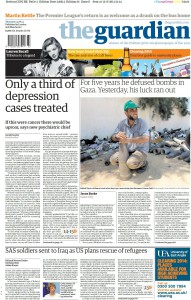 The headline estimate - that a third of sufferers of depression are treated - is actually higher than the one used by NHS England, which says the proportion is about a quarter. When we contacted them the Royal College of Psychiatrists said they also use that estimate, and weren't sure were the "one third" figure came from.
The "quarter" estimate is of the proportion of people who were assessed by a survey as having depression or an anxiety disorder (or both) and who were receiving treatment at the time. It doesn't tell us anything about the proportion of those diagnosed with a disorder who were treated, or whether they were treated in each episode of ill health.
The estimate of a quarter comes from research conducted in 2007, so the proportion could well have risen to a third since then. We're going to be in touch with Professor Wessely to see if he can clarify.
One quarter: where the estimate comes from
The last Adult Psychiatric Morbidity Survey (APMS) was carried out in 2007. Another one is being carried out this year.
Survey respondents screened positive for disorders if they met certain criteria. For example, to screen for Post-traumatic stress disorder (PTSD), respondents were asked if they had experienced a traumatic event. If they had, they were asked if they had experienced any of ten symptoms, including jumpiness or difficulty sleeping, twice in the past week. Those who answered yes to six of the ten symptoms screened positive for PTSD.
Participants were also asked if they were currently being treated for a mental or emotional problem. It's important to note that some people treated had suffered more than one of the conditions the survey looked at, and might not have been receiving treatment for all of them. In other words, some people who were depressed might be counted as receiving treatment even if this treatment wasn't for depression.
And because it only looked at the number being treated at the time of the survey, it doesn't tell us how many cases of depression or other mental health conditions are treated.
The proportion in treatment broken down by condition
At the time of interview: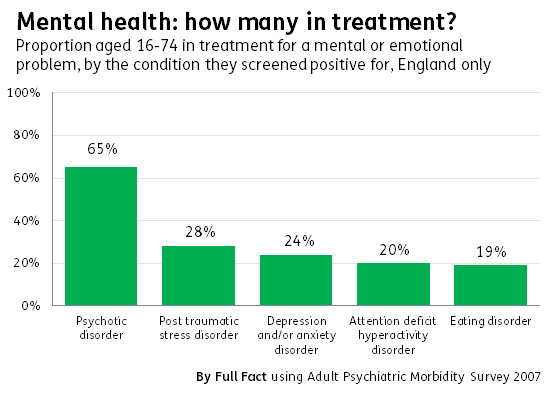 The survey looked at several other psychiatric conditions, but wasn't able to produce reliable estimates of the proportion who were in treatment in all cases. For instance, the number of people with a personality disorder or who were dependent on drugs was too low to draw reliable conclusions from.
Updated the text and chart to make clear that the "quarter" estimate refers to the proportion in treatment, rather than the proportion who have been treated or the proportion of episodes of illness that were treated.
The integrity of our elections is in danger, and we need your help
You're probably here looking for facts. Thank you for that trust. But with the EU parliament elections on the way and more elections a possibility, we need to act now to make sure our elections are protected, before it's too late.
Could you help protect our elections by becoming a Full Fact donor?
Misinformation isn't new, but advancements in technology mean it can spread at an unprecedented scale. Our dangerously outdated election laws have not kept up with the digital age, putting our next elections at risk of abuse.
Currently, it's possible for a candidate to run a thousand different political ads to win the same seat, promising something different to each group it targets. At the same time, there's no law requiring those who publish online campaigns to disclose who they are or how they are funded. The opportunity for bad actors to manipulate election results is left wide open.
You may already know about our work to make public debate online more honest and transparent. Every day, we call out the most harmful misinformation on social media platforms when and where we see it. But right now, we're urging the government to overhaul our election laws to make sure political campaigning is held to the same level of scrutiny online as it is offline.
This work all depends on the generosity of hundreds of people who all believe that for democracy to work, we need transparency. Our monthly donors help strengthen our voice, and show our politicians that this really matters. Would you consider joining them?
Become a donor today to make sure our elections are protected.
---