In response to claims that the NHS is being privatised under the coalition, the Prime Minister has said there's been a "tiny increase" in the proportion of NHS spending going to private providers - from 5% to 6%.
Mr. Cameron is correct; private providers made up 4.9% of NHS spending in 2010/2011 and 6.1% in 2013/2014 according to figures given to us by the Department of Health.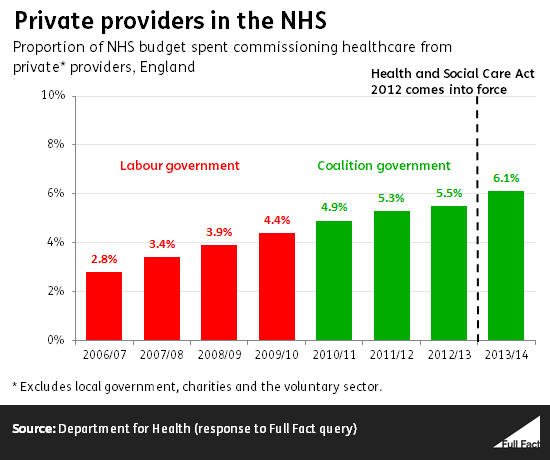 It's worth bearing in mind that the government's health reforms haven't had much time to affect the amount of spending with private providers. They only came into force in April 2013 and the 6.1% figure only refers to the following year (2013/14).
We need facts more than ever.
Right now, it's difficult to know what or who to trust. Misinformation is spreading. Politics and the media are being pushed to the limit by advancements in technology and uncertainty about the future. We need facts more than ever.
This is where you come in. Your donation is vital for our small, independent team to keep going, at the time when it's needed most. With your help, we can keep factchecking and demanding better from our politicians and public figures.We can give more people the tools to decide for themselves what to believe. We can intervene more effectively where false claims cause most harm.
Become a donor today and stand up for better public debate, on all sides, across the UK.
---