In response to claims that the NHS is being privatised under the coalition, the Prime Minister has said there's been a "tiny increase" in the proportion of NHS spending going to private providers - from 5% to 6%.
Mr. Cameron is correct; private providers made up 4.9% of NHS spending in 2010/2011 and 6.1% in 2013/2014 according to figures given to us by the Department of Health.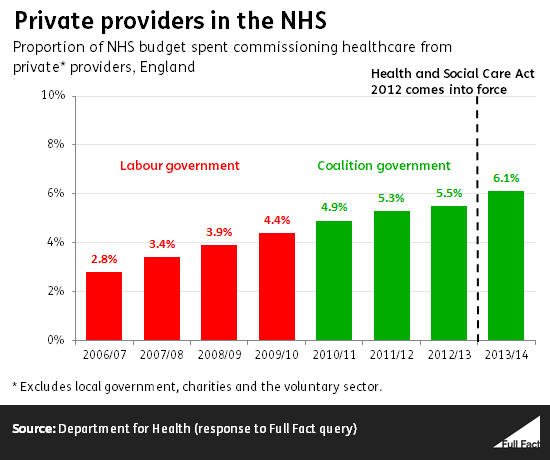 It's worth bearing in mind that the government's health reforms haven't had much time to affect the amount of spending with private providers. They only came into force in April 2013 and the 6.1% figure only refers to the following year (2013/14).
Politicians shouldn't get away with misleading us—can you help?
As the UK's independent factchecking charity, Full Fact relies on our supporters' generosity to hold public figures to account and push for higher standards of debate.
But with a new prime minister on the way, and the possibility of a general election, we need your help more than ever to ensure that everyone can get the facts they need, on the issues that matter most.
---