In brief
Claim
10,000 EU staff have left the NHS because they don't feel they are needed or wanted any more.
Conclusion
10,000 EU staff did leave the NHS in the year following the referendum vote (excluding those working in GP surgeries), but we don't have information about why any of these staff left. This continues a rising trend in the last few years.
"10,000 people [from the EU] already walked away from the National Health Service, because they don't feel they're needed or wanted any more."

Vince Cable, 21 September 2017
Around 9,800 staff recorded as being from the EU left NHS England between June 2016 and June 2017. That's around 7% of all staff leaving in that year.
These figures are at record levels in recent years, as are the levels of staff from the UK leaving the NHS. But these levels were also increasing before the referendum.
None of these figures tell us whether the staff left the country or not, or whether their reason for leaving was in any way connected to the EU referendum result.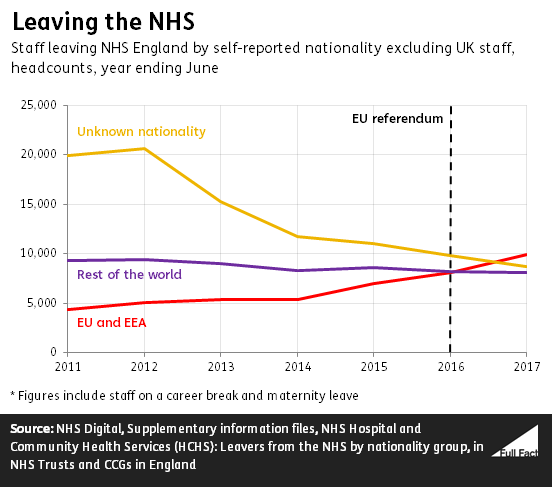 There's actually more to these figures than meets the eye.
The information about where a staff member is from is self-reported—meaning that it could refer to their country of birth, their citizenship or their cultural heritage. NHS Digital, which publish the figures, also points out that the number of staff of "unknown nationality" leaving the NHS has decreased. As more people provide their nationality, it will increase the numbers in the other "known nationality" groups.
These figures don't just include staff who leave the NHS permanently, they also count staff going on a career break or on maternity leave. We've asked NHS Digital what proportion of "leavers" this would apply to.
Why are staff leaving?
We don't know why the 10,000 staff covered above left. But separate figures, looking at 5,700 NHS staff from the EU who left NHS England between June 2016 and March this year, examined why they had left. Again these figures include staff who may not have left permanently.
About 30% of staff had an unknown reason for leaving. Another 24% resigned their post voluntarily because they "relocated", 12% resigned voluntarily for "other" reasons and 9% left because their fixed term contract had ended.
While the number of EU staff leaving the NHS has increased over the last few years, the number of EU staff working in the NHS has continued to increase. There were about 61,600 staff who said they were from the EU working in NHS England in June 2017.
These figures don't include GPs and other staff working in GP practices.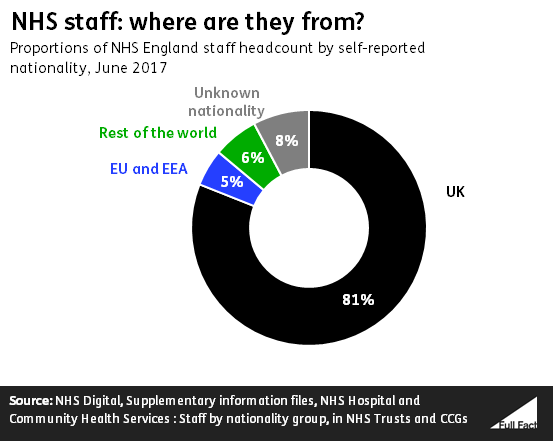 This factcheck is part of a roundup of BBC Question Time. Read the roundup.
Can you help protect this election from the influence of bad information? Support Full Fact
This election, clear, accurate facts won't always be a guarantee. False and harmful claims are spread every day by our public figures and media. Intentional or not, they have the power to shape the choices we make. We all deserve better than that.
That's why we're fighting to keep this election more honest and accountable. And we can't do it without you. In a fast-paced campaign, our supporters mean we can hold all candidates to the same three principles: get your facts right, back them up with evidence, and correct your mistakes.
Just a small monthly donation keeps us scrutinising the most harmful false claims around the clock, and challenging the people who make them.
If you, like us, don't want your vote to be influenced by bad information, can you help out?
---