Yesterday, the Home Affairs Committee released a report on drugs use in Britain. After a year of research the committee concluded that "the international drugs control policy has failed to curtail consumption," and that our government should consider a major shift in policy.
This predictably kickstarted a debate over the long-term effects of drug policies and whether the government should consider some form of drugs legalisation. 
In response to the publication of the Home Affairs Committee's findings, Melanie Phillips wrote a column for the Daily Mail arguing that the select committee was "captured by what is nothing less than a covert global campaign for the fracturing of the international line against drugs" and that modelling our country's policies on Portugal - whose system of decriminalisation was singled out by the committee - would signal a massive failure.
She added that any argument in support of legalisation is either "full of holes or demonstrably bogus."
Yesterday morning the Today programme on Radio 4 interviewed a range of experts on the drugs debate. We factchecked claims made by: 
Has there been a fall in drug use in Britain? 
Yes. According to the report, "England and Wales has almost the lowest recorded level of drug use in the adult population since measurement began in 1996." 
"Individuals reporting use of any drug in the last year fell significantly from 11.1% in 1996 to 8.9% in 2011—12."
This claim chimes with a 2011/12 Home Office survey on drugs misuse, which found an estimated 8.9 per cent of adults had used an illicit drug in the past year; this remains around the lowest level since measurement began in 1996. Another fall was also recorded between 2008/09 (10.1%) and 2009/10 (8.6%). 
Do "1 in 5 young people use drugs"?  (Niamh Eastwood)
Yes. The 2011/12 Home Office survey on drugs misuse found that 19.3 per cent of 16 to 24 year olds had taken illicit drugs in the last year. This remains one of the lowest levels since measurement began in 1996. 
"90% of people that use drugs, use them recreationally" (Niamh Eastwood) 
We contacted Ms. Eastwood to ask for clarification on this claim. She told us it was based on the Crime Survey reporting that 3 million people have taken drugs in the last year, while the Home Office estimated that there were 327,466 problematic drug users (PDU) in England in 2004/2005. This approximate calculation would work out as roughly 10% of all drugs users being PDUs, while the remaining would be classified as recreational users. This, however, presumes recreational drug use cannot be considered problematic. According to Drug Scope, "problem or problematic drug use tends to refer to drug use which could either be dependent or recreational."
"Cannabis consumption is down, but cannabis is now much stronger" (Jeremy Browne)
True. The Home Office survey found there was a substantial fall in the use of cannabis from 9.5% in 1996 to 6.9% in 2011—12.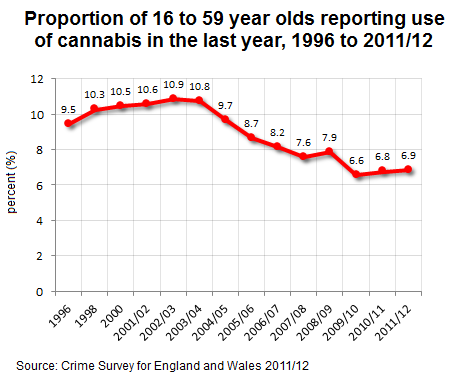 As for the issue of cannabis potency, there has been debate over what the available data shows, and we'll be looking into it in our next installment. 
"Since decriminalisation, Portugal has seen a massive 40 per cent rise in drug-related murder" (Melanie Phillips)
Portugal was singled out by the committee for having implemented a successful drug decriminalisation policy, which since 2001 has shown some promising results. The success of this policy was measured taking into consideration a number of factors, one of which is the drop in drug-related crime. According to Melanie Phillips, however, Portugal has seen an increase in drug-related murders. This isn't quite right. 
According to UNODC 2009, "the number of murders [in Portugal] increased 40% during [2001 - 2006]," the report added that the deaths "might be related to the trafficking activity." Eurostat's 'Statistics in Focus' also revealed that the homicide rate in Portugal has increased from 105 to 148 per 100,000 population - a 41 per cent increase.
However, the definition of homicide provided by the data is: "defined as intentional killing of a person, including murder, manslaughter, euthanasia and infanticide." There is no mention of drugs as a cause or involvement in the deaths. The most recent data from EMCDDA shows the total number of drug-related deaths in 2009 was 54, down from 94 in 2008. There is however no data available for earlier years. 
Why are we saying that the war on drugs has failed?
If the policy ain't broke, why fix it? According to the Home Affairs Committee the UK spends more on drug policy than any other European country and - by the criterion of the consumption of Class A drugs - has the worst results. 
There are other factors involved. One of them is the issue of so-called legal highs:
"49 new substances every year" (Keith Vaz) 
Known as legal highs, new psychoactive substances "are drugs which are not classified under the Misuse Of Drugs Act 1974, having been newly manufactured in order to bypass traditional controls." According to a 2012 report by the European Monitoring Centre for Drugs and Drug Addiction, 41 new substances were discovered in Europe in 2010. In 2011, UK police discovered a new substance almost once a week (approximately 49) on average.
---
Flickr image courtesy of epSos.de
Isn't it nice to have the whole picture?
We rely on your donations to continue and grow our factchecking efforts - to help us maintain our independence we need 1000 donors to give £10 a month. We are currently at 502 - please help Full Fact grow.
---