Spike in numbers waiting 12 hours at A&E for a hospital bed
16 January 2015
This tweet from Labour's health team caught our eye:

That's almost true — we've looked at the data for the NHS in England and we make it 61 weeks, not 63, although that's perhaps beside the point.
In the fortnight from 29 of December to 11 January there were 424 patients who attended A&E and had to wait 12 hours to get a bed after a member of staff decided to admit them.
That's more than the 415 patients who had the same experience in the previous 61 weeks (from 28 October 2013 to 28 December 2014).
Or in other words, there's been a huge jump in the last couple of weeks.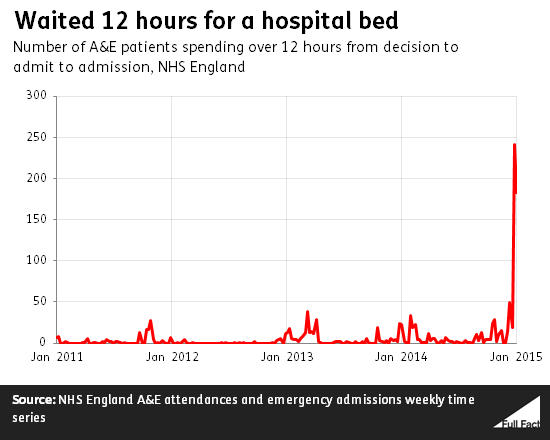 The problem seems to be concentrated  in just a few hospital trusts—and two of them in particular. Of over 250 trusts, 16 had at least one patient who waited over 12 hours last week. The week before it was 21 trusts.
For both weeks, more than half of cases occurred in hospitals run by two of the trusts; the University Hospitals of North Midlands NHS Trust and the Nottingham University Hospitals NHS Trust. Of the 424 patients who waited over 12 hours in that fortnight, 269 were at A&E departments run by those trusts.
Both trusts had been forced to suspend operations on some patients in order to cope with the "unprecedented" and "exceptional" demand over the period.