Is unsafe sex becoming more common?
5 June 2013
"Sexually transmitted infections rise by 5% in just a year", claimed the Mirror. "Half a million Britons were diagnosed with an STI last year - with chlamydia and gonorrhea leading the way", noted the Daily Mail.
New data from Public Health England (PHE) shows that an additional 20,000 STIs were diagnosed in 2012 - an increase of 5% on the previous year. As the media duly reported, chlamydia is the most common STI, accounting for 46% of the 448,422 STI diagnoses. 
Although PHE emphasises that the high rate of STIs "suggest too many people are still putting themselves at risk through unsafe sex" (although doesn't detail how many is "too many"), it explains that the overall increase in STIs is "mostly due to improved data collection."
This caveat wasn't picked up by all media outlets, many of whom preferred to focus on the health implications of various grizzly STIs.
New information
For the first time, this year's data includes chlamydia diagnoses conducted in community centres and youth clubs for those over the age of 24. This means, as the PHE statisticians warn, that it's problematic to compare the STI rates in 2012 with those of previous years.
Formerly, only those aged 15-24 were counted but now a whole group of people who were previously ignored are included in the official figures. And, significantly, there has been a long-term increase in the the diagnosis of chlamydia among the middle-aged: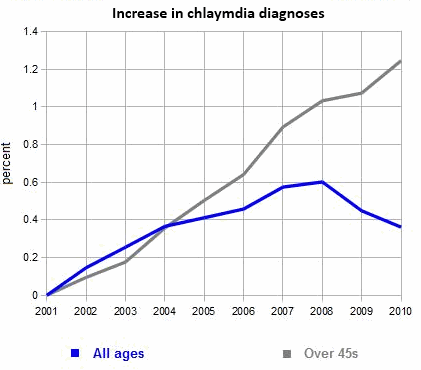 If we exclude the problematic chlamydia data, the statistics show that there was a 10% incrase in the number of diagnosed STIs between 2003 and 2012, although there was some fluctuation year on year.
However, as the graph below shows, there was no discernible change between 2011 and 2012. In other words, it's only if we include the chlamydia data that we would see the widely-reported 5% rise in STI diagnoses.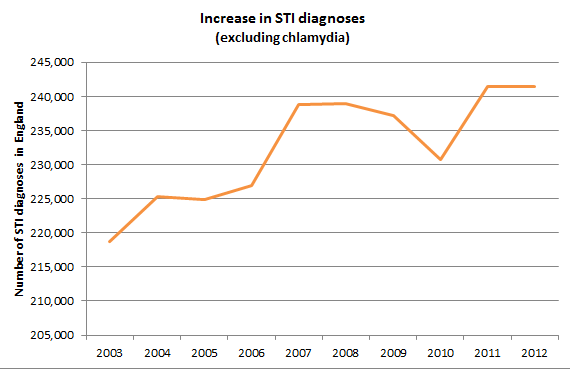 Better awareness
PHE says that the increase in STIs is also attributable to the fact that "we are diagnosing and treating more infections than ever before". Higher detection rates don't necessarily mean that there are more people living with STIs compared to previous years.
As part of its sexual health strategy, the Government has set targets for chlamydia diagnosis. In 2012 30% of local health authorities achieved the new recommended diagnosis rate - that is they detected chlamydia at least 2,300 of every 100,000 15-24 year olds in their area. 
It's also true that drug companies have developed more sensitive tests for herpes and gonorrhea, which means that STIs that would have remained undetected are now successfully diagnosed.
Safer sex?

While there has been an increase in the number of STI diagnoses over the past decade, this doesn't necessarily mean that more people are having unsafe sex more often. In fact, PHE points to a number of factors that could explain the rise in STI infections.
While it notes that "unsafe sexual behaviour may have contributed to high rates of transmission", the increase in recorded infections could also be a positive sign reflecting wider screening for diseases. This is a subtlety that today's newspaper reports didn't pay particular regard to.