In brief
Claim
The Lancet says 6.5 million migrants have registered with GPs in the last 10 years.
Conclusion
According to the ONS, that's how many new GP registrations there were between 2007 and 2017 where the person's previous address was abroad. But migrants who moved between homes in the UK may have been double counted and we don't know how many were only here short-term.
A post claiming that according to the Lancet medical journal, 6.5 million migrants have registered with GPs in the last 10 years, has been shared almost 29,000 times on Facebook.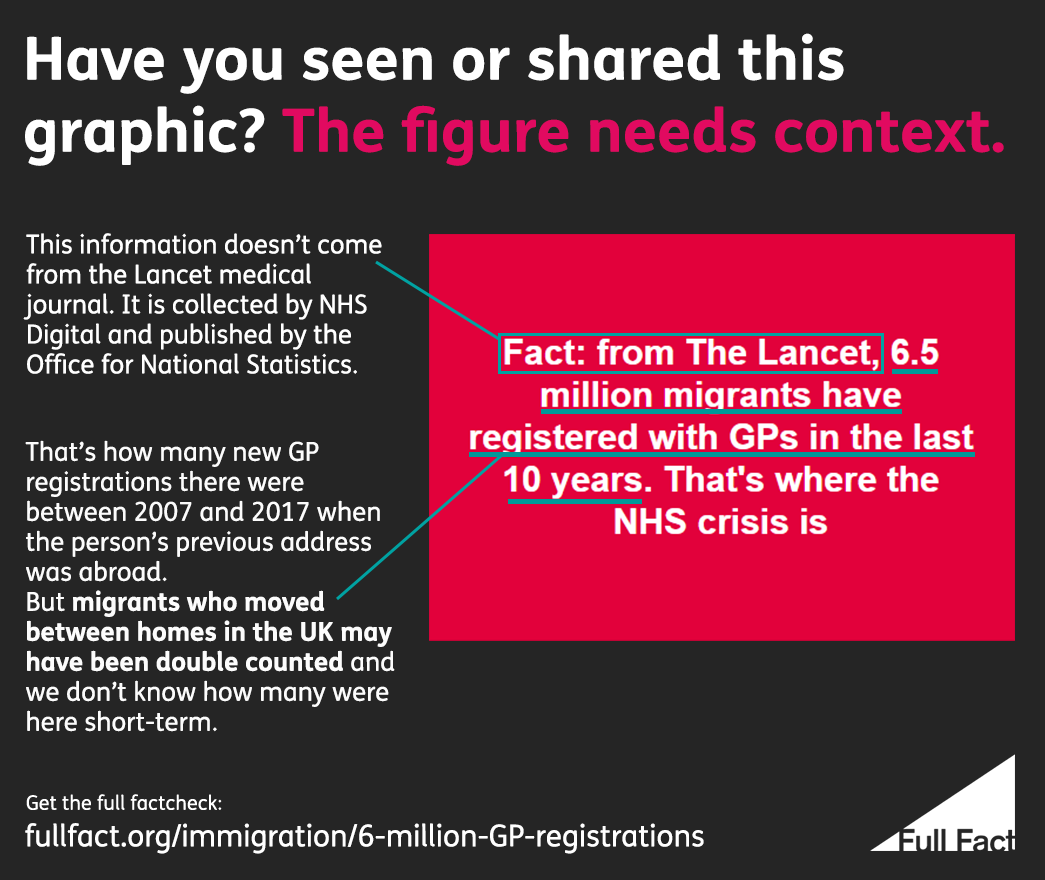 That's correct looking at the number of GP registrations in England and Wales where the person's previous address was probably outside the UK.
But this is not a very good way of measuring how much the population has grown because of immigration.
For most of the period it covers, this measurement could have double counted some immigrants who registered at one GP, moved homes within England and Wales, and then registered at another. But NHS Digital, which collects the figures, doesn't know the extent of that double counting and the figure doesn't factor in how many of these registrations will be from people who only stayed for a short period.
And it doesn't come from the Lancet, it comes from data collected by NHS Digital and published by the Office for National Statistics (ONS). 
Who is counted in that 6.5 million?
There were 6.5 million GP registrations between 2007 and 2017 in England and Wales, where the person's previous address was recorded as being outside of the UK and it was the first time they were registering for a GP here.
But those records don't always accurately show whether someone's previous address was outside the UK.
The records of these GP registrations have something called a "flag 4" attached. That is intended to mean the person signing up to the GP surgery was previously living overseas. For example they may have been born outside of the UK, entered England or Wales for the first time and then registered at an NHS GP. Similar information is collected in Northern Ireland but data for Scotland is unavailable.
NHS Digital told us that until March 2016, "it was possible for a patient to be registered in one area as flag 4 then move to another area and be registered again as a flag 4", so migrants who moved around may have been double counted.
NHS Digital also told us that until 2016 if a UK citizen had left the UK for more than three months then came back and registered with a new GP in England and Wales, they would also be counted as a flag 4.
The ONS says: "A person may register with a GP if they are staying in the UK for at least three months and so flag 4s may include some short-term migrants, which are not included in the population estimates." Short-term migration is defined as between a three and 12 month stay for work or study.
Because of that, this measure is not a very good way of finding out how much the population has grown because of immigration.
Other measures suggest fewer than 6.5 million people have migrated here for the long-term between 2007 and 2017
Looking at long-term migration, if you add up the difference between the estimated number of non-British people who arrived in or left the UK in the ten years ending June 2018, it's about three million. Although because of issues with the data up to 2011, that figure is likely to be an underestimate.
This is a completely different measure to GP registrations, and looks at a larger area (the UK, rather than England and Wales) and a slightly different time period (the ten years up to June 2018 rather than the ten years up to 2017), than the GP registrations figure did.
We've not counted short-term migration in that, because each year more short-term visits are made from the UK abroad than to England and Wales. That's been the case since at least 2004.
A different measure also makes the 6.5 million figure look too steep. Looking at the UK population by nationality, the number of non-British residents has grown by an estimated 2.2 million between 2007 and 2017. This figure comes from a survey of UK households, and there's also reason to think this may be a slight underestimate.
Where did the link to the Lancet come from?
The 6.5 million figure has nothing to do with the Lancet medical journal. We think the confusion comes from a misunderstanding about a tweet from Migration Watch last year. The tweet said: "The decade 2007-17 saw almost 6.5 million new migrant GP registrations. The Lancet medical journal reported (2016) that, "English primary care as currently delivered could be reaching saturation point." The correlation is clear. This level of immigration is unsustainable".
Other Twitter users later said that the 6.5 million figure came from the Lancet, which is incorrect. 
Migration Watch were quoting an article published in the Lancet about the workload of GPs and nurses in England, which doesn't mention migrants.
Can you help protect this election from the influence of bad information? Support Full Fact
This election, clear, accurate facts won't always be a guarantee. False and harmful claims are spread every day by our public figures and media. Intentional or not, they have the power to shape the choices we make. We all deserve better than that.
That's why we're fighting to keep this election more honest and accountable. And we can't do it without you. In a fast-paced campaign, our supporters mean we can hold all candidates to the same three principles: get your facts right, back them up with evidence, and correct your mistakes.
Just a small monthly donation keeps us scrutinising the most harmful false claims around the clock, and challenging the people who make them.
If you, like us, don't want your vote to be influenced by bad information, can you help out?
---