Are there 4,000 foreign murderers and rapists living freely in the UK?
3 January 2013
The Daily Mail: "4,000 foreign murderers and rapists we can't throw out… and, yes, you can blame human rights again"
The Sun: "Four thousand foreign cons dodge boot"
The Telegraph: "Almost 4,000 foreign criminals live freely in UK"
The source
The newspapers attribute the claim to a written answer for a Parliamentary question, submitted by Priti Patel MP and answered by the Home Office Minister Mark Harper. Mr Harper said that there were "3,980 foreign nationals in the UK subject to deportation action living in the community" at the end of September 2012.
When foreign national offenders complete a custodial sentence, they are usually the responsibility of the UK Border Agency (UKBA). Under Section 32 of the UK Borders Act 2007, a deportation order is made for a person who is not British citizen who has been convicted in the UK for an offence and sentenced to a period of imprisonment of at least 12 months.
However, the UK Border Agency has to release foreign national offenders if deportation is "not possible within a reasonable period of time," according to Rob Whiteman, Chief Executive of the UKBA, although wherever possible "those released are placed on restrictions whilst the Agency continues to pursue deportation".
In the written answer, Mr Harper explained why the 3,980 foreign national offenders have not yet been deported by the UKBA:
"We continue to pursue removal in all these cases. The principal barriers to removal are non-compliance on the part of individuals which means we have insufficient evidence of nationality and identity to obtain a travel document, ongoing legal challenges and the situations in countries of return."
The UK Border Agency provides figures [see index] on the number of non-detained foreign national offenders from January 2011: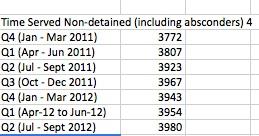 [The 'Time Served Non-detained' refers to foreign national offenders who have completed their custodial sentence but aren't currently detained by the UKBA]
The Telegraph also says "about 800 of them (foreign national offenders) have been roaming free for more than five years". The source of this claim can be found in a letter from Rob Whiteman to the Home Affairs Select Committee in May 2012. The letter provides a breakdown of foreign national offenders' cases by time since their release from prison, and reveals that 817 foreign national offenders have been released from prison for more than 60 months (five years).
But how many of these people are murderers and rapists?
While the 3,980 number quoted by the newspapers is fine, the parliamentary answer makes no reference to convictions of murder, rape and other serious crimes (those which are "so serious that neither a fine alone nor a community sentence can be justified for the offence" according to section 152(2) of the Criminal Justice Act 2003).
After Full Fact contacted the UKBA, they confirmed that no published breakdown is available for the types of offences these people served a sentence for. Such information could be obtained by a freedom of information request, but no such requests seem to have been made.
So while we know that there are just under 4,000 foreign national offenders living in the community subject to deportation, there's no evidence as to how many of these are guilty of the offences being suggested. This doesn't sit well with the Mail's headline suggesting these are substantially murderers, rapists and those convicted of other serious crimes.
We will try and find out more about the conviction histories of these offenders via freedom of information requests, and will update when we know more.