"We will keep our ambition of delivering annual net migration in the tens of thousands, not the hundreds of thousands"—Conservative manifesto

"Despite the Conservatives' promise to reduce net migration to tens of thousands, it is now higher than it was when David Cameron entered Downing Street"—Labour manifesto
There's disagreement over whether the "hundreds" to "tens of thousands" net migration claim was a Conservative 'target' or just an 'ambition'. It's also been referred to as a government target, although the Liberal Democrats have repeatedly insisted it wasn't a Coalition government policy.
There's little coherence across government documents and speeches by ministers to shed light on this. Official sources suggest it's a target in all but name, although one not recognised by the Liberal Democrats.
In the 2010 Conservative manifesto it was stated that "we will take steps to take net migration back to the levels of the 1990s—tens of thousands a year, not hundreds of thousands". But the Conservatives didn't win the election and the Coalition agreement contained no reference to a target to reduce net migration, although it said the government wanted to reduce the number of immigrants from outside the EU, without any specific numbers.
So much for the net migration target? Not quite. Home Secretary Theresa May said in a speech later in 2010: "We will reduce net migration from the hundreds of thousands to the tens of thousands."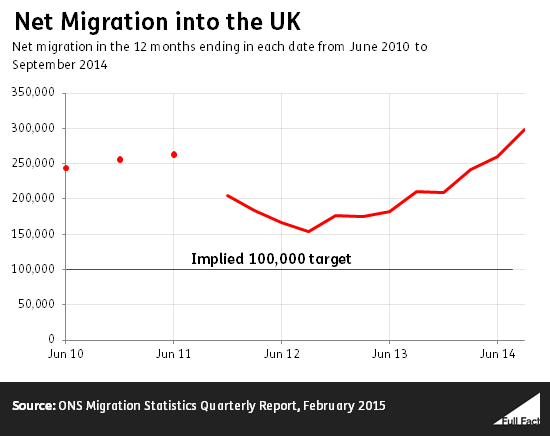 The Home Office's first business plan in 2010 also claimed to:
"set an annual limit on the number of non-EU economic migrants admitted to the UK, reducing annual net migration to the tens of thousands".
By the second business plan the following year that became:
"set an annual limit on the number of non-EU economic migrants admitted to the UK. As a result of this and other policies we anticipate net migration will be in the tens of thousands in future".
Net migration stood at 298,000 in the year to September 2014—three times the 100,000 maximum implied by the 'tens of thousands' claim.
Can you help protect this election from the influence of bad information? Support Full Fact
This election, clear, accurate facts won't always be a guarantee. False and harmful claims are spread every day by our public figures and media. Intentional or not, they have the power to shape the choices we make. We all deserve better than that.
That's why we're fighting to keep this election more honest and accountable. And we can't do it without you. In a fast-paced campaign, our supporters mean we can hold all candidates to the same three principles: get your facts right, back them up with evidence, and correct your mistakes.
Just a small monthly donation keeps us scrutinising the most harmful false claims around the clock, and challenging the people who make them.
If you, like us, don't want your vote to be influenced by bad information, can you help out?
---