Over three million EU citizens living in the UK
Around 3.2 million people living in the UK in 2015 were citizens of another EU country. That's about 5% of the UK population. A similar proportion were born in the rest of the EU.
More recent analysis from the Migration Observatory at the University of Oxford suggests there were 3.5 million EEA citizens in the UK at the start of 2016. The EEA adds in Iceland, Liechtenstein and Norway.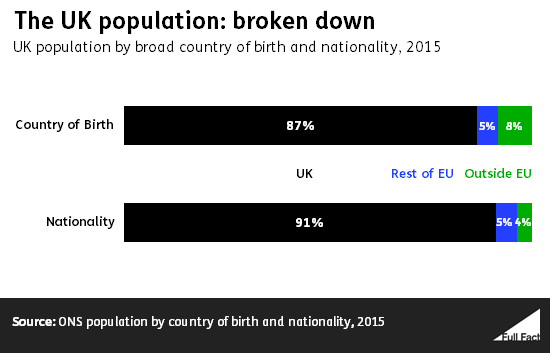 Of those 3.2 million, an estimated 916,000 are Polish nationals, the largest single nationality from the rest of the EU. They're followed by an estimated 332,000 Irish nationals and 233,000 Romanians.
These figures aren't certain: they're based on a survey of households and that means there's a margin for error for the figure for each nationality. Polish and Irish citizens are clearly the most numerous, but further down the list, the 'rank order' of nationalities isn't reliable.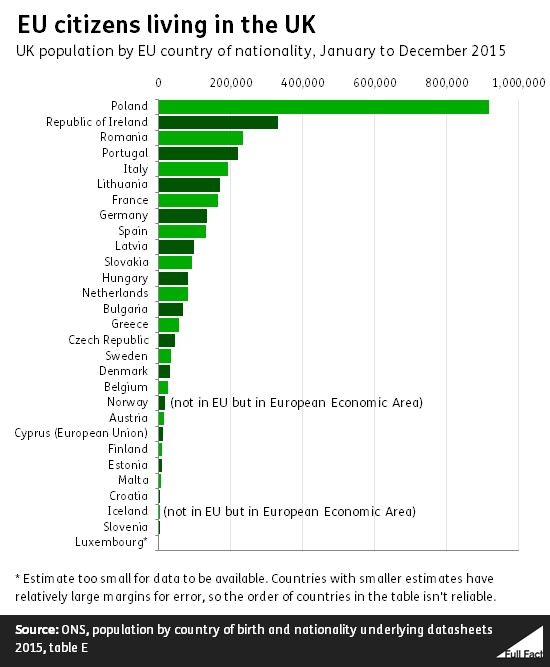 2.2 million EU citizens working in the UK
Around 2.2 million nationals of other EU countries are in work, as of earlier this year. That's about 7% of people in work—around the highest on record.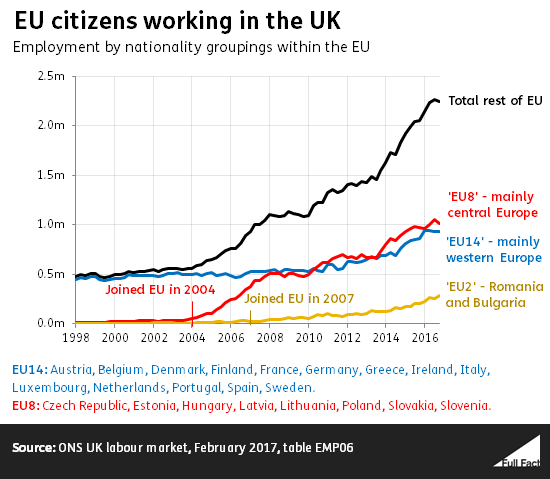 Just over half—around 1.6 million—of the EU nationals living here in 2014 are thought to have arrived from 2006 onwards.
EU nationals of working age are more likely to be in work than UK nationals and non-EU citizens. About 80% of working age EU citizens in the UK were in work at the end of last year, compared to around 75% of UK nationals and 62% of people from outside the EU.
That's partly driven by the fact that citizens of other EU countries are more likely to come to the UK to work. Last year almost three-quarters of EU national immigrants said they came to the UK either for work or to find a job. Only about a third of non-EU nationals say the same.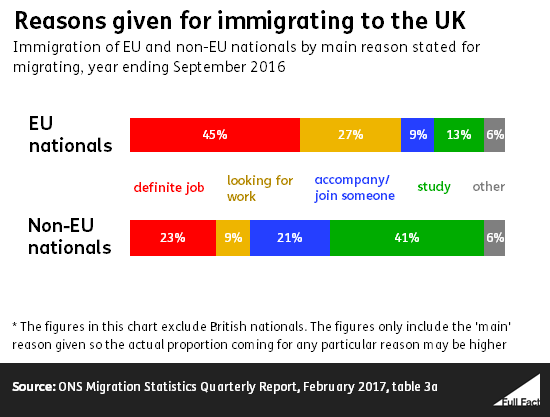 Isn't it nice to have the whole picture?
We rely on your donations to continue and grow our factchecking efforts - to help us maintain our independence we need 1000 donors to give £10 a month. We are currently at 351 - please help Full Fact grow.
---