"Public fury ahead of TV debate as 70 per cent of Britons says we MUST ban new migrants"
So says a headline in the Express today. Actually, the survey the article is based on shows 21% think immigration into Britain should be stopped completely. The 70% figure refers to these people as well as the 49% who want immigration to be reduced. This is clarified in the article's eighth paragraph.
The figures come from a YouGov survey commissioned by Channel 5 ahead of a televised debate to be shown tonight.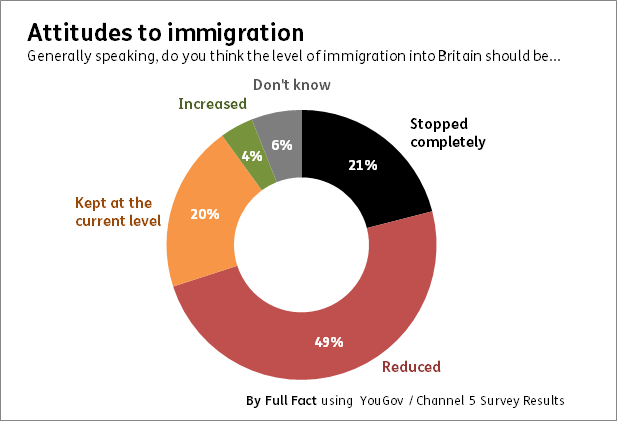 The story was also covered by the Daily Mail, Mirror, and Daily Star.
We need facts more than ever.
Right now, it's difficult to know what or who to trust. Misinformation is spreading. Politics and the media are being pushed to the limit by advancements in technology and uncertainty about the future. We need facts more than ever.
This is where you come in. Your donation is vital for our small, independent team to keep going, at the time when it's needed most. With your help, we can keep factchecking and demanding better from our politicians and public figures.We can give more people the tools to decide for themselves what to believe. We can intervene more effectively where false claims cause most harm.
Become a donor today and stand up for better public debate, on all sides, across the UK.
---