Government advertisements are not known for their subtlety. But the Home Office's latest attempt is nothing if not crude. Last week residents of certain London boroughs might have caught sight of one of two vans, both emblazoned with the message, "In the UK illegally? GO HOME OR FACE ARREST". The poster invites illegal immigrants to text a phone number which will provide details of a new helpline that they can call.

The Conservatives have hailed 'Operation Vaken' as a success, even while admitting that the Home Office hasn't provided any statistics to prove it's working. The pilot project, trialled in six London boroughs, has also been the cause of a Coalition spat. Although senior Lib Dems have condemned the policy, apparently describing it as "stupid" and "distasteful", the Conservatives say they want to adopt the scheme in other parts of the country.
Effective, offensive (or both)?
Since the week-long pilot ended on Sunday, it's not surprising - as the Home Office admitted - that there aren't yet statistics on the effectiveness of the campaign. So how can we explain the government's claim that the pilot is "already working"? 
According to The Sun, this is based on the fact that in the last week "hundreds" of illegal immigrants have contacted a Home Office helpline which has been set up specifically for this project. The Home Office has (at least, officially) distanced itelf from this figure, and will only say that there's been "a great deal of interest" so far. Either way, we're dealing with the impressions of those on the frontline rather than numbers on paper. 
106 arrests last week "in your area"?
By way of a warning, the vans also informed onlookers that there had been "106 arrests last week in your area". The Home Office confirmed that the figure applied to all six London boroughs - Barking and Dagenham, Redbridge, Barnet, Brent, Ealing and Hounslow. 
Not only is this a rather large catchment for "your area", it's also quite spread out: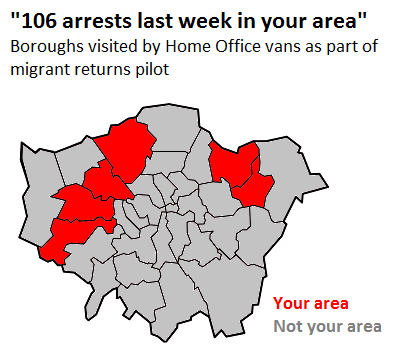 This is not exactly an intuitive interpretation of "your area" and, arguably, the statistic looks contrived. But that's not the only issue. The Home Office would only tell us that it was a "Home Office figure", directing us to the latest published data - for January to March 2013 - which doesn't cover the week in question.
Something to write home about?
We might still ask whether "hundreds" of people enquiring about 'voluntary departure' amounts to business at usual at the Home Office, or an unusual level of interest.
We know that in the last year (March 2012-13) there were more than 28,000 voluntary departures, an increase of some 4% on the previous year. That's over 500 a week, on average. 
However, not everyone will notify the government of their departure. In fact, as the Home Office notes, since the end of 2009 those who leave the UK without informing the UK Border Agency (and who are subsequently identified in administrative data), account for the largest proportion of 'voluntary departures'.
In 2012, 64% of voluntary departures (18,504 people) didn't inform the government of their move. If we disregard this group, then on average just shy of 200 people a week might be expected to contact the Home Office.
That "hundreds" of people might have phoned a helpline as a result of a local pilot might suggest something out of the ordinary. Then again, this helpline didn't exist until a week ago, so it's not possible to compare call volume before and after.
For the next three weeks, the government's message will continue to appear in the local press. Until we have the raw data, we can't know how successful this pilot project has been. In turn, the results of the pilot are likely to affect how it's perceived and whether it's remembered as a controversial publicity stunt or a practical policy intervention.
We aim for our factchecks to be as accurate and up-to-date as possible. If you think we've made an error or missed some relevant information, please email
team@fullfact.org
.