In brief
Claim
The UK has taken in only 216 Syrian refugees.
Conclusion
The UK has taken in around 5,000 Syrian refugees. The 216 figure refers to an additional number resettled from around Syria under one particular scheme.
"Number of Syrian refugees Britain has taken in would fit on a Tube train"

The Independent, 2 September 2015

"The UK has accepted 216 Syrian refugees. Germany has accepted 800,000."

George Eaton, New Statesman Political Editor, 2 September 2015
Today's papers are dominated by images of a drowned Syrian child. It serves as a reminder that behind the numbers thrown around in the increasingly heated asylum debate are human lives.
The UK has taken in about 5,000 Syrian refugees since 2011
From the beginning of the Syrian crisis in early 2011 to the second quarter of 2015, the UK granted asylum or another form of humanitarian protection to just under 5,000 Syrians in the initial decision made on their application.
A London underground train carries fewer than 900 people.
In addition to those people, 216 Syrian refugees have been resettled in the UK
The figures above refer to people granted asylum after arriving in the UK. In addition to these people, the UK has taken in 216 people under the Syrian Vulnerable Persons Relocation scheme.
One of a number of organisations concentrating on this figure is the Refugee Council.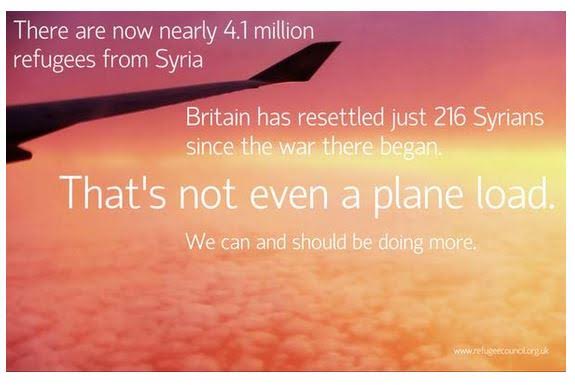 This graphic presents the 216 people resettled to the UK in the context of the total number of Syrian refugees. It's not immediately clear that the group of people resettled in the UK is not the total number of Syrian refugees here.
Resettlement versus asylum
A person must be in the UK to make an application for asylum for themselves and their dependents. However, the most vulnerable people may not be capable of undertaking the journey from Syria to the UK, or may have dependents that can't make that journey.
The Vulnerable Persons Relocation scheme gives Syrian refugees a chance to be resettled in the UK. It focuses on transferring refugees from the region of Syria to the UK.
The scheme targets the refugees "at greatest risk", where "evacuation from the region is the only option", according to the government. It says that particular attention is paid to survivors of torture and violence, or women and children who need medical care.
The scheme was launched after the UN refugee agency asked countries to take in 130,000 Syrian refugees above and beyond their ordinary asylum intake.
On that measure, the UK's 216 to date compares to 35,000 places made available by Germany, but other EU countries have taken in similar numbers to us.
The integrity of our elections is in danger, and we need your help
You're probably here looking for facts. Thank you for that trust. But with the EU parliament elections on the way and more elections a possibility, we need to act now to make sure our elections are protected, before it's too late.
Could you help protect our elections by becoming a Full Fact donor?
Misinformation isn't new, but advancements in technology mean it can spread at an unprecedented scale. Our dangerously outdated election laws have not kept up with the digital age, putting our next elections at risk of abuse.
Currently, it's possible for a candidate to run a thousand different political ads to win the same seat, promising something different to each group it targets. At the same time, there's no law requiring those who publish online campaigns to disclose who they are or how they are funded. The opportunity for bad actors to manipulate election results is left wide open.
You may already know about our work to make public debate online more honest and transparent. Every day, we call out the most harmful misinformation on social media platforms when and where we see it. But right now, we're urging the government to overhaul our election laws to make sure political campaigning is held to the same level of scrutiny online as it is offline.
This work all depends on the generosity of hundreds of people who all believe that for democracy to work, we need transparency. Our monthly donors help strengthen our voice, and show our politicians that this really matters. Would you consider joining them?
Become a donor today to make sure our elections are protected.
---