"Six EU countries have had more first-time asylum seeker applications than the UK for the first three months of this year. Britain had 7,335—Hungary had four times that, whilst Germany had ten times, by far the highest in the EU."—Channel 4 News, 4 August 2015
The Calais debate has moved on in recent days, with outlets such as Channel 4 concentrating on the supposedly small numbers seeking asylum here compared to other European Union countries.
The figures given in last night's broadcast were correct—or as near as makes no difference—according to the EU statistics agency.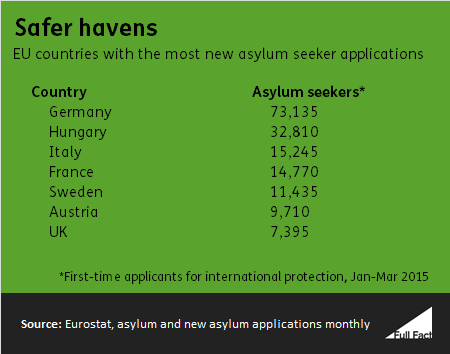 This puts the UK 7th out of 28 EU members. As we've said in a previous piece, the figures for last year paint a similar picture, except that the UK had more asylum seekers than Austria.
Adjusted for population size, the UK ranked 18th out of 30 European countries for asylum applications in 2014, having fewer applications per million inhabitants than the average.
With Brexit fast approaching, reliable information is crucial.
If you're here, you probably care about honesty. You'd like to see our politicians get their facts straight, back up what they say with evidence, and correct their mistakes. You know that reliable information matters.
There isn't long to go until our scheduled departure from the EU and the House of Commons is divided. We need someone exactly like you to help us call out those who mislead the public—whatever their office, party, or stance on Brexit.
Will you take a stand for honesty in politics?
---