"Immigration is three times higher than the Tories promised"—UKIP poster, 31 March 2015
The Conservatives set an objective before the election of reducing net migration into Britain from the hundreds of thousands to the tens of thousands. This has generally been taken to mean that the upper limit on the net migration would be set at around 100,000.
This hasn't been achieved under the Coalition. Net migration into the UK stood at 298,000 in the 12 months ending in September 2014, around three times higher than the target.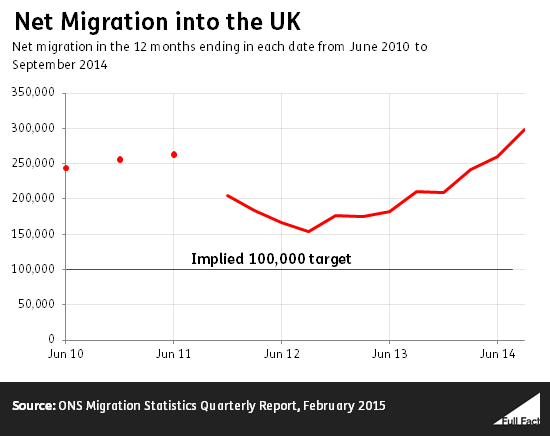 Net migration for EU citizens was 162,000 people entering Britain, and net migration for non-EU citizens was 190,000 people entering the country. Given that only 55,000 more British citizens left the country than entered it, the target would still be missed even if only one of the two non-British groups existed.
Correction (16 April 2015)
The line marking the 100,000 target was originally at the wrong level and has been moved to its correct position.
We need facts more than ever.
Right now, it's difficult to know what or who to trust. Misinformation is spreading. Politics and the media are being pushed to the limit by advancements in technology and uncertainty about the future. We need facts more than ever.
This is where you come in. Your donation is vital for our small, independent team to keep going, at the time when it's needed most. With your help, we can keep factchecking and demanding better from our politicians and public figures.We can give more people the tools to decide for themselves what to believe. We can intervene more effectively where false claims cause most harm.
Become a donor today and stand up for better public debate, on all sides, across the UK.
---