Net migration has been underestimated every year between 2001-2010, according to a review published by the ONS today. Its figures for 2011 were an overestimate. In total, the number of net migrants was 346,000 higher than previously thought in the period from 2001-2011.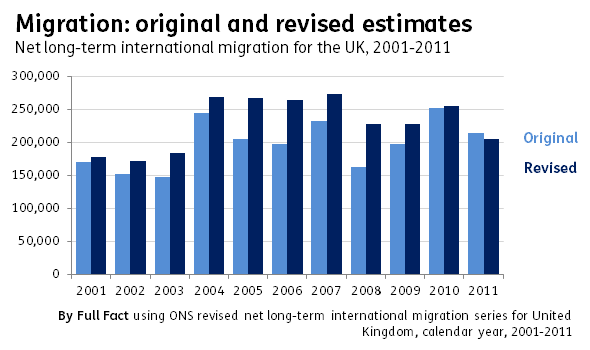 The estimates were predominantly based on information from the International Passenger Survey (IPS), which conducts interviews with thousands of passengers entering and leaving the UK by air or sea.
The review found that between 2004 and 2008 the estimates missed a 'substantial amount' of immigration from the eight eastern and central European countries that joined the EU in 2004. This was because the IPS was based in certain 'principal airports' which meant it didn't capture people using regional airports.
The IPS also underestimated the migration of children.
Since 2008 the IPS has taken in a wider range of airports, and the ONS says this has meant the net migration statistics have been closer to other estimates, including those from the 2011 census. It's also considering bringing in other data sources in order to improve the quality of its information on the migration of children.
We need facts more than ever.
Right now, it's difficult to know what or who to trust. Misinformation is spreading. Politics and the media are being pushed to the limit by advancements in technology and uncertainty about the future. We need facts more than ever.
This is where you come in. Your donation is vital for our small, independent team to keep going, at the time when it's needed most. With your help, we can keep factchecking and demanding better from our politicians and public figures.We can give more people the tools to decide for themselves what to believe. We can intervene more effectively where false claims cause most harm.
Become a donor today and stand up for better public debate, on all sides, across the UK.
---