In brief
Claim
Migration to the UK has dropped following the EU referendum.
Conclusion
Estimates including three months after the referendum suggest net migration has fallen since the previous year, although the change isn't statistically significant. It's too soon to say what effect the result has had on immigration.
Net migration to the UK has fallen by 49,000 to 273,000.
Estimates show this for the 12 months leading to September 2016. The changes aren't statistically significant so we can't say for sure, but may well be showing a genuine fall.
Claim 1 of 2
"Net migration to UK falls to 273,000"

BBC News, 23 February 2017

"THE BREXIT EFFECT? Migration to the UK has DROPPED in the quarter after Britain voted to leave the European Union – to the lowest level in two years"

The Sun, 23 February 2017

"Net migration to UK falls by 49,000 after Brexit vote"

The Guardian, 23 February 2017
If you've seen headlines this morning claiming net migration has fallen by 49,000 to 273,000 in the year to last September, and anything linking this with the EU referendum, you need to tread carefully when drawing conclusions about them. 'Net migration' is the difference between the number of people coming to live in the UK and the number of people leaving to live abroad.
The change looks big, but it isn't actually "statistically significant". In other words, we can't be sure enough that the change isn't just down to random variation, as opposed to something genuine. That's because all these numbers come out of a survey of passengers at ports across the UK, so they can't precisely count everyone in and out. Uncertainty is inevitable.
That said, given the scale of the measured fall there's still a good chance that we're seeing something genuine.
Within the EU there is a mixed picture, with a fall in net migration of Eastern Europeans but a rise in immigration by Bulgarians and Romanians.
Few significant changes but lots of food for thought
Behind the headline decreases there were also falls in net migration from the rest of the EU and outside the EU as well. Again, these weren't big enough to be significant but do potentially mark the start of genuine decreases.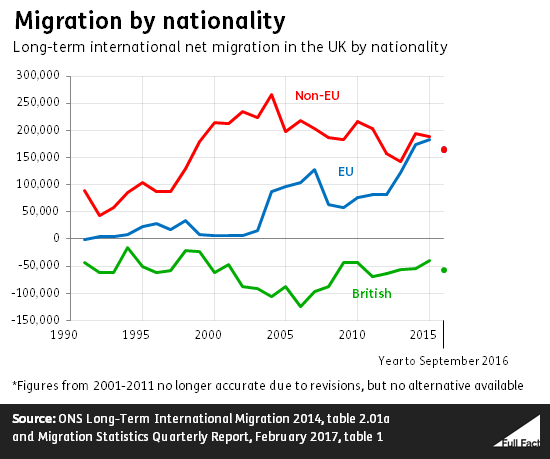 But there were some changes we can be reasonably sure about:
Up: Immigration of Romanian and Bulgarian citizens to the UK.

Up: Emigration of citizens of eight Eastern European countries

which joined the EU in 2004

from the UK.

Up: Emigration of African, American and Oceanian citizens from the UK.

Down: Immigration of people arriving to study, mainly from outside the EU. It is too early to tell if this is "an emerging long-term trend", the Office for National Statistics 

said

.
Too soon to say what effect the EU referendum has had
This is the first set of estimates we've had covering the months following last year's EU referendum. But as the ONS points out this morning:
"it is too early to say what effect the referendum result has had on long-term international migration"
Part of that is because there hasn't been a consistent picture of EU immigration and emigration. Net migration from Eastern Europe was estimated to have fallen slightly, while there were significant increases in Romanian and Bulgarian immigrants.
Can you help protect this election from the influence of bad information? Support Full Fact
This election, clear, accurate facts won't always be a guarantee. False and harmful claims are spread every day by our public figures and media. Intentional or not, they have the power to shape the choices we make. We all deserve better than that.
That's why we're fighting to keep this election more honest and accountable. And we can't do it without you. In a fast-paced campaign, our supporters mean we can hold all candidates to the same three principles: get your facts right, back them up with evidence, and correct your mistakes.
Just a small monthly donation keeps us scrutinising the most harmful false claims around the clock, and challenging the people who make them.
If you, like us, don't want your vote to be influenced by bad information, can you help out?
---