The UK Backlogs Agency?
27 March 2013
In recent years, the UK's immigration system has been dogged by controversy. In 2006 the Home Secretary Charles Clarke was forced to resign after it was revealed that the department he was heading freed over one thousand foreign prisoners, leading his successor John Reid to term the immigration service "not fit for purpose". 
Now the UK Border Agency (UKBA) - dubbed the UK Backlogs Agency by its critics - has been scrapped after a damning report by the Home Affairs Committee concluded that it was facing an immigration backlog that would take 24 years to clear.
Home Secretary Theresa May announced yesterday that the agency would be split into two parts: an immigration and visa service and an immigration law enforcement organisation. The Home Office has also decided to remove the UKBA's 'agency' status. Rather than being part of an arms-length organisation, the two new entities will have to report directly to the Secretary of State and the Immigration Minister (currently Mark Harper).
One reason for its dismantling is the agency's failure in dealing with its backlog of unresolved asylum and immigration cases.
The House of Commons Home Affairs Committee looked at the performance of the agency between July and September 2012, and found that the UKBA was dealing with a total of 321,726 cases in the system - a reduction of only one percent from the previous quarter.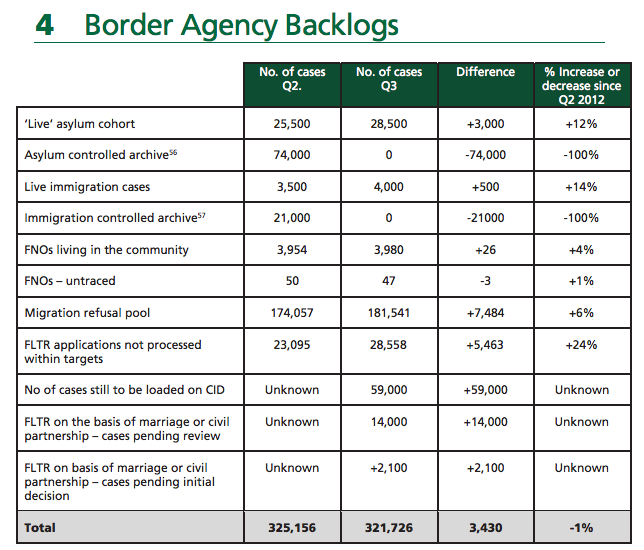 Committee Chairman Keith Vaz went on to say that at the current rate, it would take 24 years for the agency to work through this backlog. So how was this calculated?
If the UKBA were to deal with 3,430 cases each quarter, it would clear 13,720 cases per year. If we divide the total number of cases in the backlog by this yearly output we get 23.4 years as the time needed to complete the outstanding work. 
The problem is that the yearly output of 13,720 is not necessarily the number of cases dealt with each year, but rather a representative figure for the annual rate extrapolated from a three month snapshot. The report makes this clear: the Committee acknowledges that in the quarter in question the rate at which the UKBA cleared the backlog was "exceptional", given that 96,000 outstanding cases were "simply closed".
For example, if we look at the Committee's report for the previous quarter, we see that the number of cases in the Agency's backlog actually increased. We could speculate that even 24 years could be a conservative estimate for the amount of time it might take for the backlog to be cleared.
---
Flickr image courtesy of Cody Austin