"Our benefits are some of the most generous in Europe."
Fraser Nelson, BBC Question Time, 31 May 2012
The spectre of "hordes" of Greeks settling in Britain due to their homeland's parlous financial situation was raised by one audience member during last night's Question Time, who wanted to know what could be done to stem the tide of EU immigrants in the event of the break-up of the Eurozone.
According to the Spectator's Fraser Nelson, one of the principal reasons for the UK proving such an alluring destination for any would-be Euro émigrés is the sums paid out by our welfare system.
But is the UK as generous as we think? Should we beware of bearing gifts to Greeks?
Analysis
The perception that immigrants are responsible for claiming more than their fair share in benefits is actually fairly widespread across Europe, and in fact is less prevalent in the UK than other countries across Europe, according to the European Commission's Eurobarometer series.
However while the perception is firmly entrenched, it is more difficult to say in concrete terms how Europe's welfare systems compare in terms of their 'generosity'.
A study conducted by the Economic and Social Research Council's Centre for Population Change (CPC) earlier this year looked at just this, and found that the UK had below average levels of welfare spending among developed nations, with many European countries out-ranking us: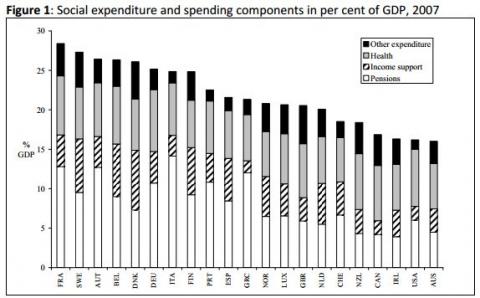 While the UK was found to have larger than average "social assistance schemes, including housing and family benefits, as well as unemployment assistance" several other nations offered better benefits in other areas.
To reach these conclusions, the CPC made use of data from the Organisation for Economic Co-operation and Development (OECD) dating from 2007, its most recent study in this area.
Sure enough, when we delve into the OECD's Social Expenditure database we can see that the UK is ranked significantly below many other European nations in terms of the money it spends on welfare, including France, Germany and Italy.
As the chart below shows, if we focus purely on that money which is doled out by the state, the UK slips further down the rankings still: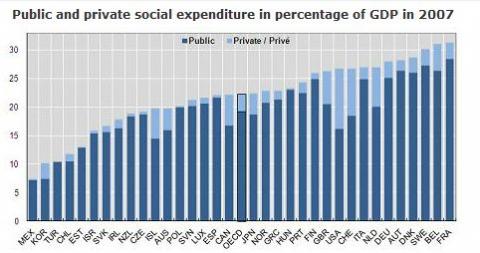 However for a more Eurocentric view we can also turn to Eurostat, the official statistics outlet of the European Union, which compiles its own figures on welfare expenditure.
On the surface, these would seem to support the view that the British benefit payments are no more generous than most of Europe. Looking at total social expenditure, the UK ranks just above the EU average, but again below France, Germany, Italy and the Eurozone mean (in terms of spending per inhabitant).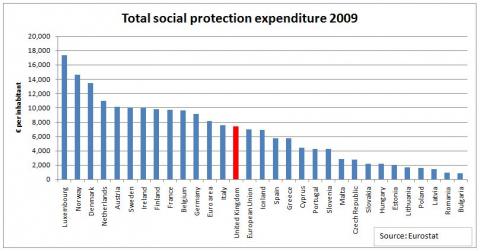 However this includes both public and private spending on welfare, capturing private pensions and health spending, for example.
If we focus purely on that portion of spending administered by central government, then the UK gets bumped straight to the top of Europe's league table for benefits spending.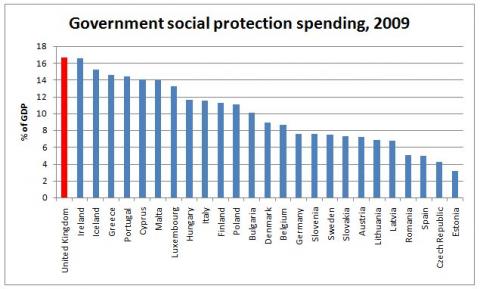 The Eurostat data does give a different picture to the public expenditure figures given by the EU, owing to small but important variations in what is being measured by the two datasets. For example, while the OECD doesn't include the costs of administrating these benefits as part of its spending figures, Eurostat does.
Conclusion
The relative 'generosity' of the UK's benefits system in comparison to other European countries can be measured in a number of different ways, and the outcome will vary depending upon which metric and dataset is chosen.
With this in mind the UK can rank anywhere from top to below average in a European league table of benefits expenditure. If Fraser Nelson was referring specifically to government spending on welfare, he may well have a point, although there is also plenty to challenge his assertion.
Correction: The Y-axis of the final chart in the original version of this article was mislabelled: it should refer to government spending as a proportion of GDP (as it now does) rather than € per inhabitant (as it did originally). Thanks to Jonathan Portes for pointing this out.
The integrity of our elections is in danger, and we need your help
You're probably here looking for facts. Thank you for that trust. But with the EU parliament elections on the way and more elections a possibility, we need to act now to make sure our elections are protected, before it's too late.
Could you help protect our elections by becoming a Full Fact donor?
Misinformation isn't new, but advancements in technology mean it can spread at an unprecedented scale. Our dangerously outdated election laws have not kept up with the digital age, putting our next elections at risk of abuse.
Currently, it's possible for a candidate to run a thousand different political ads to win the same seat, promising something different to each group it targets. At the same time, there's no law requiring those who publish online campaigns to disclose who they are or how they are funded. The opportunity for bad actors to manipulate election results is left wide open.
You may already know about our work to make public debate online more honest and transparent. Every day, we call out the most harmful misinformation on social media platforms when and where we see it. But right now, we're urging the government to overhaul our election laws to make sure political campaigning is held to the same level of scrutiny online as it is offline.
This work all depends on the generosity of hundreds of people who all believe that for democracy to work, we need transparency. Our monthly donors help strengthen our voice, and show our politicians that this really matters. Would you consider joining them?
Become a donor today to make sure our elections are protected.
---