In brief
Claim
There have been about 1,500 deaths in police custody since 1990, and about one third of those who died were from black and minority ethnic backgrounds.
Conclusion
About a tenth of identified deaths in police custody were people from black and minority ethnic backgrounds. This is based on figures from the charity INQUEST, which has identified 1563 deaths in total during or following police contact in England and Wales since 1990
"Reed's case is one of among 1,500 deaths in police custody since 1990, including more than 500 victims from ethnic minority backgrounds, despite only making up 14% of the UK population"

Kiri Kankhwende, 19 April 2016
"According to a report from Inquest—a British charity that investigates deaths in custody—over 1,500 people have died in, or following, police custody in the UK since 1990. A report by the Institute of Race Relations (IRR) shows that, of this number, more than 500 were Black and Minority Ethnic (BAME) individuals."

Fader magazine, 29 March 2016
Research by INQUEST, a charity, suggests that 1,563 people have died either in police custody or following contact with the police in England and Wales since 1990, including police shootings. 156 of these people were listed as black and minority ethnic, so about 10% of the total.
A different report by the Institute for Race Relations, a think tank, looks at 509 deaths which took place in a wider variety of circumstances since 1991. Since this report isn't talking about the same thing, it would be a mistake to assume those 509 deaths made up a about third of everyone who died in police custody. That study included 348 cases where people died in prison, and another 24 cases involving immigration detention centres, leaving 137 deaths during or following contact with the police.
BAME people have made up about one third of those shot by the police since 2004, according to a third set of figures from the Independent Police Complaints Commission. These suggest 8 people from black and minority ethnic communities died in police shootings from 2004/05 to 2015/16, out of a total of 27.
About 14% of people in England and Wales identify as black or minority ethnic, as suggested by Kiri Kwankhende.
Categorising deaths
The Independent Police Complaints Commission (IPCC) publishes lower figures than INQUEST for the number of people dying during or following police contact. They told us that this is because INQUEST counts deaths following restraint where no arrest or detention has taken place, whereas the IPCC would only include a death in this category if the person had been placed under arrest or detained. The IPCC statistics also break the cases down into a wider range of separate categories, which we've set out in the table below.
The IPCC's annual reports publish statistics dating back to 2004/05, the point at which the IPCC was established. Police forces are legally required to report cases where their actions might have caused or contributed to a death to the IPCC.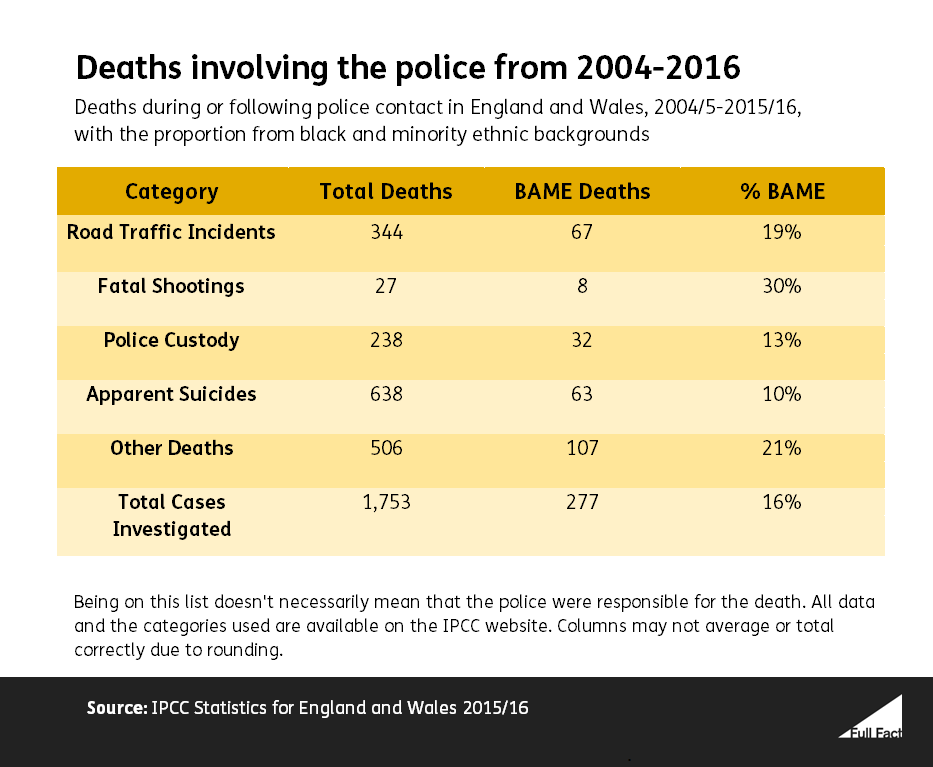 Being part of these figures doesn't necessarily mean that the police were responsible for the death.
For example, 32 of the 'other deaths following police contact' recorded last year happened after a missing person had been reported to the police.
Analysing trends
It's difficult to analyse trends over time just from looking at the figures. The reports from INQUEST, the IPCC and the Institute for Race Relations discuss the details and circumstances of individual cases. They don't just look at the headline numbers.
In some ways, it's not very useful to talk about statistical trends because the numbers vary from year to year and a single additional death can change the percentages involved significantly. Looking at the details and circumstances of individual cases can tell you more about the issues at stake.
The IPCC also emphasises the difficulties in comparing statistics on deaths in police custody over time or between countries, partly because the ways deaths are categorised by regulators can change. The IPCC says that last year, for example, the number of 'other deaths' recorded nearly doubled because it had increased resources and was able to investigate more cases.
Upcoming evidence
Last year, a government review was announced into deaths and serious incidents in police custody, with the Director of INQUEST, Deborah Coles, acting as a special adviser. The report is due to be published in the next few months.
Update 19 August 2016
Since we wrote this factcheck, the article by Kiri Kankhwende was corrected to reflect the available statistics more accurately. It now says that about 10% of those people who died in or following police custody were from BAME backgrounds, which comes from INQUEST's figures.
The integrity of our elections is in danger, and we need your help
You're probably here looking for facts. Thank you for that trust. But with the EU parliament elections on the way and more elections a possibility, we need to act now to make sure our elections are protected, before it's too late.
Could you help protect our elections by becoming a Full Fact donor?
Misinformation isn't new, but advancements in technology mean it can spread at an unprecedented scale. Our dangerously outdated election laws have not kept up with the digital age, putting our next elections at risk of abuse.
Currently, it's possible for a candidate to run a thousand different political ads to win the same seat, promising something different to each group it targets. At the same time, there's no law requiring those who publish online campaigns to disclose who they are or how they are funded. The opportunity for bad actors to manipulate election results is left wide open.
You may already know about our work to make public debate online more honest and transparent. Every day, we call out the most harmful misinformation on social media platforms when and where we see it. But right now, we're urging the government to overhaul our election laws to make sure political campaigning is held to the same level of scrutiny online as it is offline.
This work all depends on the generosity of hundreds of people who all believe that for democracy to work, we need transparency. Our monthly donors help strengthen our voice, and show our politicians that this really matters. Would you consider joining them?
Become a donor today to make sure our elections are protected.
---