In brief
Claim
All alleged victims of adult sexual offences tried in the Crown Court will be able to have their evidence recorded in advance from September 2017.
Conclusion
Only a small number of alleged victims in three particular courts are likely to be affected by these proposals from September.
"Alleged rape victims will no longer face cross-examination live in court... From September victims will be able to give evidence in a pre-recorded video that will be played to the jury once the trial begins."

Sunday Times, 19 March 2017
Newspapers accurately reported a press release issued by the Ministry of Justice early on Sunday 19 March.
This says: "New measures that will spare rape victims the trauma and inconvenience of attending court will be rolled out across the country from September. Victims of rape and other sex crimes will have their cross examination evidence pre-recorded and played during the trial."
According to the press release, "the rollout was not due to begin until next year but will now start in September after Justice Secretary Elizabeth Truss and senior judges agreed to accelerate the scheme".
But that was not what senior judges believed they had agreed with the Ministry of Justice.
Judges say they agreed a pilot programme, not a national roll-out
The Lord Chief Justice, Lord Thomas of Cwmgiedd, told the House of Lords Constitution Committee on 22 March that a "serious misapprehension... had arisen as a result of what the ministry said".
It "had misunderstood the thing completely", Lord Thomas said in oral evidence, adding that he had written to judges "to explain that unfortunately what the ministry had said was very wrong".
In his letter, obtained by reporters and later released officially, Lord Thomas said that pre-recorded cross-examination for adults would be piloted from September in three centres: Kingston upon Thames, Leeds and Liverpool.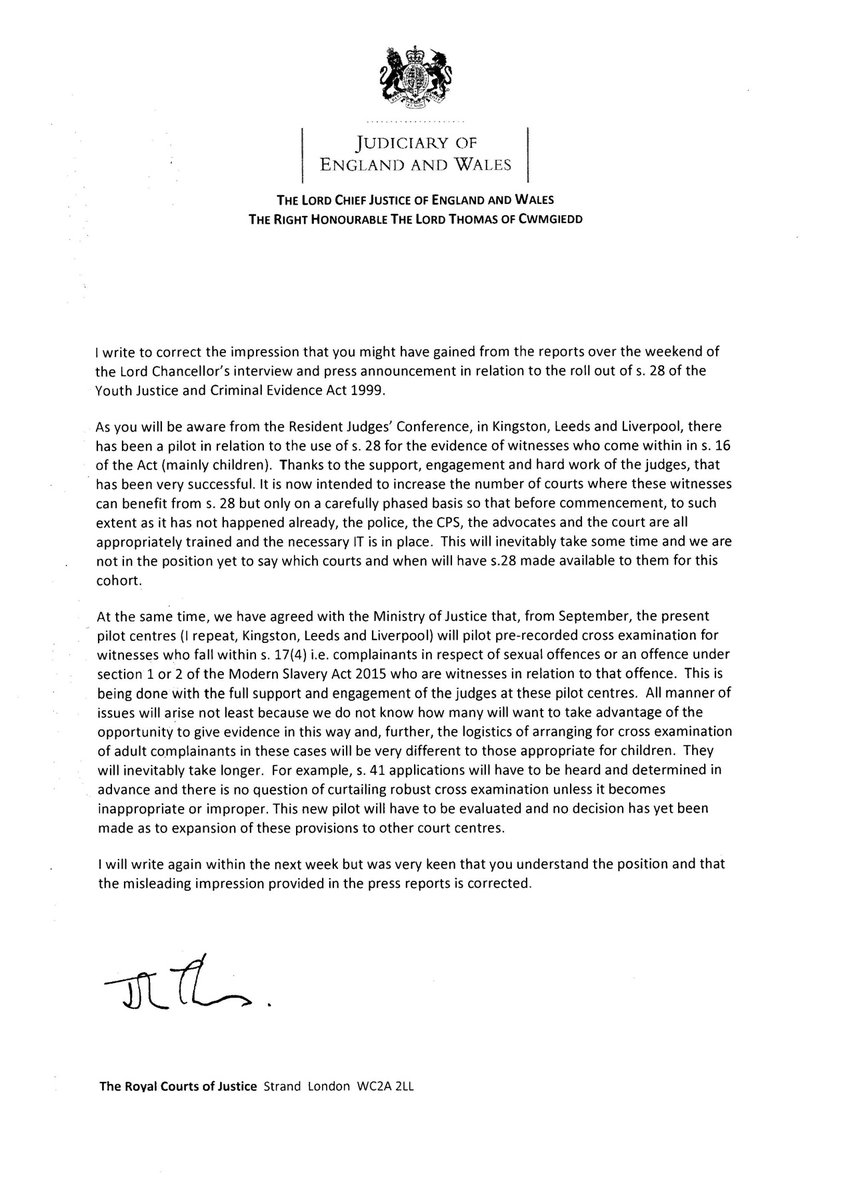 A separate pilot would be extended, Lord Thomas added, but this had been set up to test a different provision which applied mainly to children.
The law allows recorded cross-examination of adults who say they have been victims of sexual offences or modern slavery only if a judge is "satisfied that the quality of evidence given by the witness is likely to be diminished by reason of fear or distress on the part of the witness in connection with testifying in the proceedings".
Also, the judge must decide whether taking evidence from the witness in this way might make it harder for the evidence to be tested.
Lord Thomas told his colleagues that no decision had been taken about whether the pilot would be extended to other court centres. It would have to be evaluated first, he explained.
A Downing Street spokesman said on 24 March, five days after the initial press release, that:
"These new measures will be rolled out from September. As the Lord Chancellor said, they will start in three locations: that's always been the case. The findings of that trial will be used to inform a national roll-out."
However, Ms Truss did not say the measures would be confined to three locations when she referred to the reforms in parliament on 20 March.
The Lord Chancellor said: "Yesterday, we announced that we are bringing forward the roll-out of reforms to allow rape victims to pre-record their cross examination, sparing them the trauma of giving evidence during trial. This follows successful pilots of measures for child victims of all crimes."
Returning to the story on 26 March, the Sunday Times reported that "a press release detailing the changes was seen and signed off by one of the most senior judges".
According to the Sunday Times, the press release said that "new measures to allow pre-recorded cross examination for rape victims will begin this year. The scheme will start in three locations in September and the findings will be used to inform a national roll-out."
That wording would have been consistent with what Lord Thomas said on 22 March. But it does not appear in the press release published three days earlier, which is still available online.
So if the Sunday Times is correct, one possibility is that the wording of the government's press release was changed after a draft was "signed off by one of the most senior judges".
Nobody is now saying that there will be a national roll-out of special measures for all alleged victims of sexual crimes from September. However, some complainants who are called to give evidence at one of the three named centres may be asked to take part in the pilot scheme.
Correction 30 March 2017
We clarified the description of the law on pre-recorded cross-examination, in particular to include the fact that a judge must look at whether this makes it harder for a witnesses's evidence to be tested.
With Brexit fast approaching, reliable information is crucial.
If you're here, you probably care about honesty. You'd like to see our politicians get their facts straight, back up what they say with evidence, and correct their mistakes. You know that reliable information matters.
There isn't long to go until our scheduled departure from the EU and the House of Commons is divided. We need someone exactly like you to help us call out those who mislead the public—whatever their office, party, or stance on Brexit.
Will you take a stand for honesty in politics?
---