The Daily Mail, "enemies of the people", and a Nazi newspaper
8th Nov 2016
Claim
A recent Daily Mail headline bears an uncanny resemblance to the front page of a Nazi newspaper from 1933. Both papers branded particular judges as 'Enemies of the People'.
Conclusion
The German headline reads "traitors of the people". The men depicted in the 1933 newspaper weren't judges, and the translation in the caption is wrong. They were people who had their citizenship revoked by the Nazi regime.
This image has been doing the rounds on Twitter and Facebook.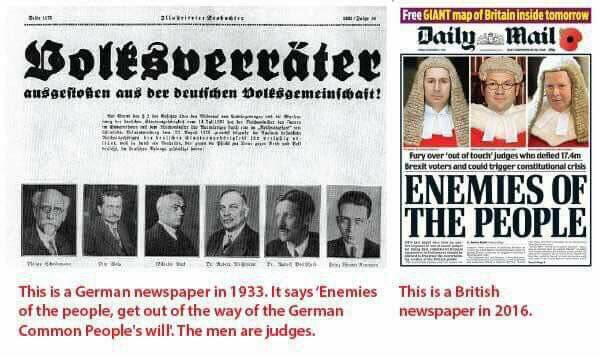 It compares a Daily Mail front page from 4 November 2016 with a front page from Illustrierter Beobachter, an official newspaper of the Nazi party, in 1933.
The Daily Mail depicted three UK judges and called them "Enemies of the People". The meme claimed that the Nazi newspaper had done the same.
But the caption of the meme is incorrect. The people shown in Illustrierter Beobachter weren't judges, and the subtitle doesn't read "get out of the way of the German Common People's will".
The Nazi newspaper published pictures of what it called "Volksverräter ausgestoßen aus der Deutschen Volksgemeinschaft" ("traitors of the people, pushed out of the German people's community"), and explains that the citizenship of these 33 "traitors" had been revoked.
The accompanying text says that all of them were already outside Germany by this time, according to German academic Christian Odendahl.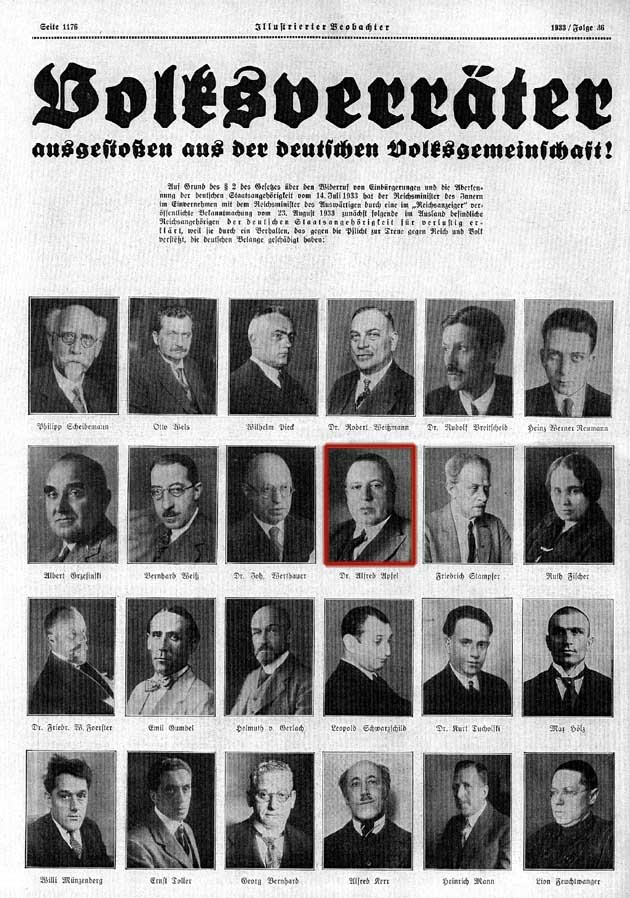 The list included journalists, political activists and lawyers, and we've republished it below.
The Twitter user who first posted the comparison, Dr Ned Richardson-Little, didn't claim that the German paper showed judges. He pointed us to sources for the headline and the names of the 'traitors', which we've republished below.
Dr Richardson-Little invited his followers to 'compare and contrast' the two images.
It seems that the original tweet was misunderstood, amended and re-tweeted with the incorrect caption.
The Names
Correction 8 November 2016
We originally named the German newspaper as the Völkischer Beobachter. We have corrected that to Illustrierter Beobachter.