In brief
Claim
Under the last government, social welfare cases receiving legal aid fell from 470,000 to 53,000.
Conclusion
These figures are correct. Cases about community care, debt, employment, housing and welfare benefits that got publicly funded legal advice and assistance fell 89% from 2009/10 to 2013/14.
"Legal aid cut to the bone. In the year we left office, over 470,000 cases received advice or assistance for social welfare issues.

"The year after the Tory legal aid Act came into force, that number fell to less than 53,000."

Lord Falconer, Shadow Secretary of State for Justice, 30 September 2015
These figures are correct. Far fewer people now receive publicly funded legal assistance, as a result of changes made by the Coalition government.

It wanted to reduce the cost of the scheme, and succeeded: the money spent directly on funding legal aid cases in England and Wales has fallen from £2.1 billion in 2009/10 to a planned £1.5 billion this year. It's also fallen in real terms.
Some of these savings have come from limiting the type of cases that are eligible for legal aid funding—particularly affecting disputes about employment, debt, housing, immigration, personal injury, welfare benefits and family arrangements. The government has also tightened the financial test for receiving legal aid.
Lawyers complain that access to the justice system is under threat as a result.
Decline in social welfare cases getting legal aid
'Social welfare law' has an official definition, covering only legal problems with community care, debt, employment, housing and welfare benefits. It's not separated out in the headline legal aid statistics, but after some digging around in the more detailed numbers we've been able to replicate the precise figures that Lord Falconer mentions.
In the financial year ending in March 2010, a couple of months before Labour left office, around 470,000 new legally aided social welfare cases began.
The "Tory legal aid Act", which can only be the law known as LASPO, came into force on 1 April 2013. In the financial year that followed, that figure was indeed 53,000. It fell further still last year, to 48,000.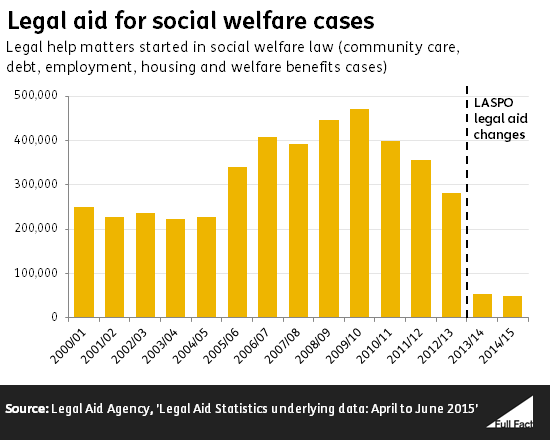 This includes legal assistance given by community law centres, which aren't counted in the main statistics that we draw upon below; we're trying to find out why, but it doesn't make a major difference to the overall picture.
Fewer legal aid cases are happening across the board
Legal aid is also available in cases that aren't about 'social welfare', particularly crime, but also areas like family law, immigration and mental health.
The number of cases funded in each of these areas has also fallen over the past few years, with the exception of mental health.
The reduction in legally aided criminal cases is at least partly down to falling crime, according to the Ministry of Justice, whereas family law has been affected almost as much as social welfare by the LASPO changes.
In 2009/10, over 300,000 family law cases were funded; last year it was around 43,000. The government hoped that more separating couples would use mediation to resolve disputes instead of lawyers; in fact fewer did (although the numbers are starting to recover).
The Ministry of Justice didn't appreciate that fewer people seeing family solicitors would result in fewer referrals to mediation, which often come via the solicitors, according to the National Audit Office.
The integrity of our elections is in danger, and we need your help
You're probably here looking for facts. Thank you for that trust. But with the EU parliament elections on the way and more elections a possibility, we need to act now to make sure our elections are protected, before it's too late.
Could you help protect our elections by becoming a Full Fact donor?
Misinformation isn't new, but advancements in technology mean it can spread at an unprecedented scale. Our dangerously outdated election laws have not kept up with the digital age, putting our next elections at risk of abuse.
Currently, it's possible for a candidate to run a thousand different political ads to win the same seat, promising something different to each group it targets. At the same time, there's no law requiring those who publish online campaigns to disclose who they are or how they are funded. The opportunity for bad actors to manipulate election results is left wide open.
You may already know about our work to make public debate online more honest and transparent. Every day, we call out the most harmful misinformation on social media platforms when and where we see it. But right now, we're urging the government to overhaul our election laws to make sure political campaigning is held to the same level of scrutiny online as it is offline.
This work all depends on the generosity of hundreds of people who all believe that for democracy to work, we need transparency. Our monthly donors help strengthen our voice, and show our politicians that this really matters. Would you consider joining them?
Become a donor today to make sure our elections are protected.
---