Is wolf whistling about to become illegal?
12th Jul 2018
Claim
Men may be taken to court and face serious sentences if they whistle at a woman and she calls the police, if proposals to count misogyny as a hate crime go ahead.
Conclusion
Even if rules do change on categorising hate crimes, wolf whistling in isolation would likely be classified as a hate incident, rather than crime, as it is not illegal. So wolf whistling alone is unlikely to result in prosecution.
"But the proposals [from campaigners] are so far ranging that lads could be dragged before courts and face serious sentences if they whistle at a woman and she calls police."

Daily Star, 10 July 2018 
Proposals to add misogyny as a category of hate crime will not make anything illegal if it's not already. Instead, crimes where the motivation is perceived to be the fact that the victim is a woman could result in harsher sentences.
There have been several reports in the media that wolf whistling is to be categorised as a hate crime in the UK.
This is because gender equality campaigners and religious leaders signed an open letter asking the National Police Chiefs' Council to vote to "record misogyny as a hate crime". Misogyny is a hatred of or prejudice against women.
Nottinghamshire police started categorising cases where someone is targeted because they are a woman as a hate crime back in 2016. North Yorkshire Police followed in 2017.
Will wolf whistling be illegal?
Wolf whistling will not be illegal under these proposals. Nothing currently legal would become illegal.
The police in England, Wales and Northern Ireland classify a hate crime as a "criminal offence which is perceived, by the victim or any other person, to be motivated by a hostility or prejudice" based on someone's actual or perceived race, religion, sexual orientation, disability, or them being transgender.
These are the minimum five types of hate crime the police have to record. According to the College of Policing, police forces are "free to extend their own [hate crime] policy response to include the hostilities that they believe are prevalent in their area or that are causing the greatest concern to the community".
Nottinghamshire police added misogyny to the characteristics that might motivate a hate crime, and that's what campaigners are now asking the police to roll out nationally.
This would also affect the categorisation of hate incidents, which are "non-crime incidents" motivated by "hostility or prejudice" from those listed above, where nothing illegal is deemed to have happened.
Because of this, it seems unlikely that wolf whistling would lead to a prosecution, unless it was part of a wider case of illegal abusive behaviour. Wolf whistling could potentially be recorded as a hate incident, as the act itself is not illegal.
You can read more about how hate crimes differ from hate incidents in our factcheck.
What would this change in definition mean? 
Categorising something as a hate crime means that if the person is convicted, the Crown Prosecution Service can apply for what's called an uplift, which can lead to a harsher sentence. More than half of successful hate crime prosecutions in 2016/17 had successfully uplifted sentences.
Any crime "perceived, by the victim or any other person" to be motivated by certain hostilities or prejudices can be classed as a hate crime and potentially qualify for an uplift. Examples given by the police include robbery, harassment, criminal damage, and assault.
Between April 2016 (when Nottinghamshire Police added misogyny to their definition) and March 2018, they recorded a total of 174 misogynistic hate crimes and incidents. In that time there had been one conviction.
What is a hate crime?
The vast majority of hate crime in England and Wales is racially motivated. Out of the 80,400 offences recorded in 2016/17 where one of the hate crime characteristics were a "motivating factor", just under 80% were race hate crimes, although crimes can have more than one motivating factor.
Over half of hate crime offences in 2016/17 took the form of public order offences, such as harassment or using threatening words and behaviour. A third involved violence against a person. Around 10% were criminal damage or other notifiable offences, like sexual offences or theft.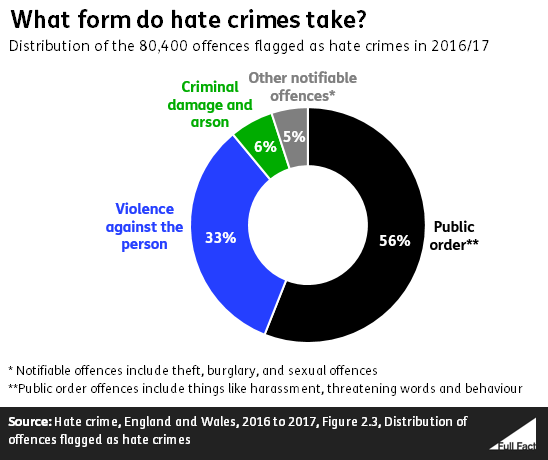 Update 13 July 2018
We've clarified where we're talking about the UK as a whole and about England and Wales specifically.
Correction 29 January 2019
We corrected a typo in the graph so it now reads "Violence against the person".