It can't be left to Facebook to safeguard our democracy
16 September 2019 | Will Moy
Facebook has taken action to deactivate Conservative Party adverts for their "misuse" of the platform, following a discovery by Full Fact that the adverts misrepresented a BBC News article.
The party was running a number of adverts which appeared to include a BBC News article with the misleading headline "£14 billion pound cash boost for schools''.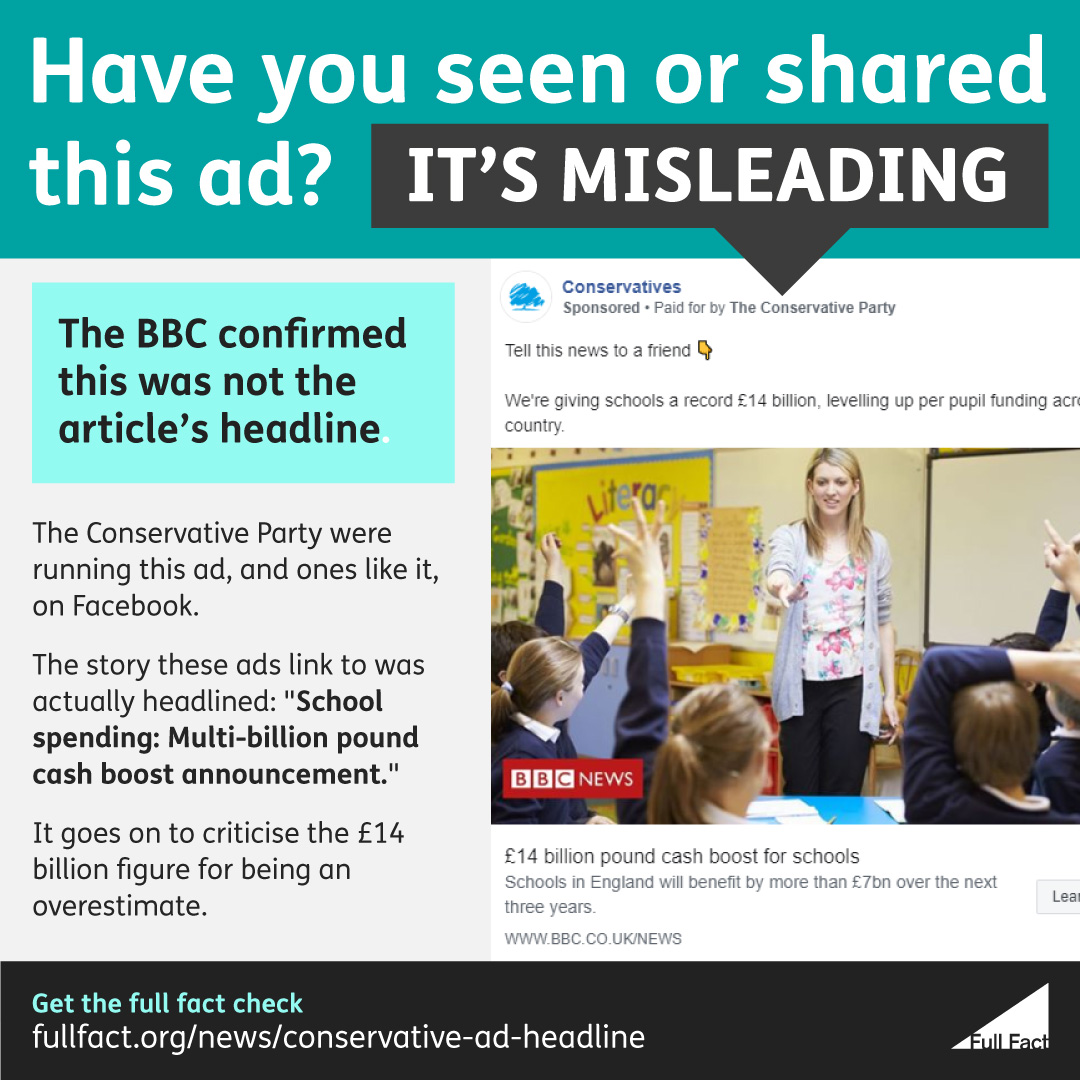 Facebook let advertisers change the headline of web pages they linked to, including news articles. The linked BBC News article was actually headlined "School spending: Multi-billion pound cash boost announced".
The BBC confirmed to us that their headline never endorsed the £14 billion figure.
After the fact check

Our story received worldwide press attention this weekend (being featured in the Guardian, the Independent, the BBC and the New York Times among others).
Following this coverage, and in addition to pulling the ads, Facebook announced that it will be developing safeguards to ensure publishers have control over the way their headlines appear in the future. It's a step in the right direction: it is wrong that the work of independent journalists was open to misrepresentation.
But it was Facebook who created this functionality in the first place, allowing news articles to be misrepresented to the detriment of its users.
Emergency legislation is still needed

The US internet giants shouldn't be the ones setting the rules for British elections. Full Fact have recently called for urgent change to make sure our next elections aren't at risk from abuse and disinformation.
This government has previously agreed that UK election law must be updated. With an election increasingly likely, emergency legislation is needed before we head to the polls to ensure online campaigning and advertising is truly open and transparent, as recommended by the cross-party DCMS committee.
Full Fact will continue the fight against bad information where it causes most harm. We'll be scrutinising political campaigns on all sides during the election, and keeping a close watch on Facebook's promising new measures.

An election could be called any time. Help us fight for one which is open and transparent—Support Full Fact today.
---