How many armed police are there?
1st Aug 2018
There were just under 6,500 trained firearms officers in England and Wales at the end of March 2018. This includes any who are "operationally deployable", which may include those currently working as trainers.  
The number of armed officers is nearly back at 2012 levels, when there were 6,760 officers.
This doesn't include the number who are trained to use "less-lethal" weapons like Tasers.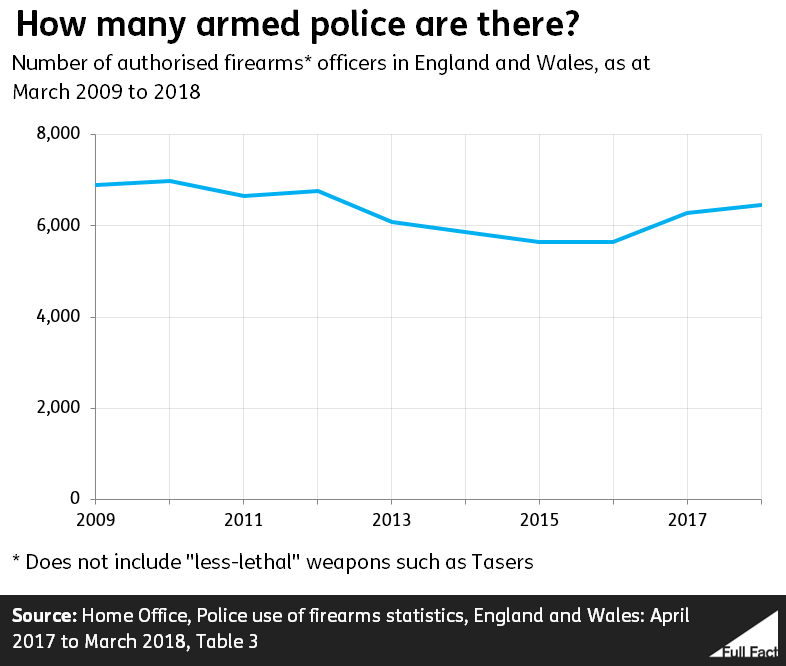 The Home Office says this recent increase is "likely to be linked to a national uplift in armed policing capability", which includes funding for a "five year uplift programme" to increase the number of armed officers. Previously it had put the decrease in the number of armed police officers down to the downward trend in the overall number of police officers.
There were just over 122,400 police officers in England and Wales at the end of March 2018 and about 5% of them were firearms authorised. You can read more about police officer numbers in our piece here.
Police in England and Wales fatally shot four people in 2017/18
The Independent Office for Police Conduct publishes an annual report on the number of deaths during or following police contact.
In England and Wales in 2017/18 there were four fatal shootings, three of which were the suspects during the London Bridge attack.
This figure is slightly down from 2016/17, when there were six fatal shootings. One was the suspect in the Westminster Bridge attack. That was the highest figure for total fatal shootings since 2007/08, when there were five.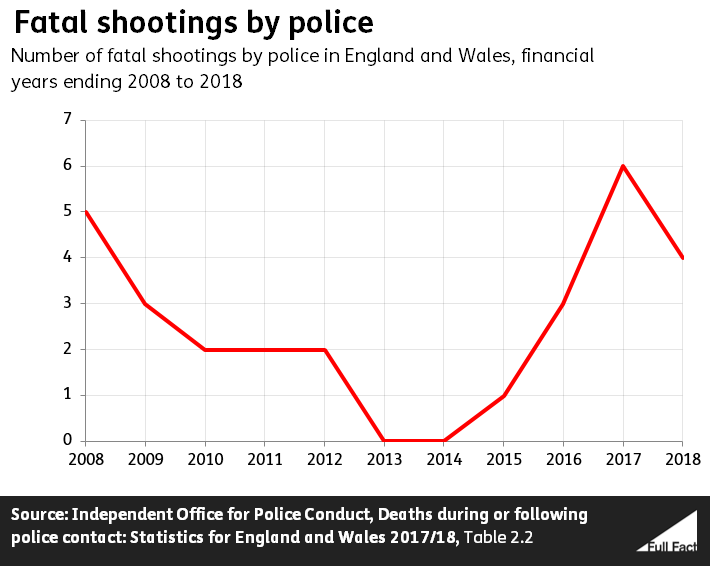 When are firearms officers deployed?
There were around 18,700 police firearms operations in 2017/18, up around 20% on the year before. A firearms operation is when armed officers are deployed to "protect themselves or others from a person who (a) is in possession of a firearm, (b) has immediate access to a firearm or (c) is otherwise so dangerous that the officer's use of a firearm may be necessary". Shots don't need to be fired for it to count as a firearms operation, and multiple deployments of officers can count towards a single incident.
Just over a quarter of firearms operations were in London in 2017/18.
The figures don't include when armed officers are deployed for VIP protection, patrolling airports, prisoner escorts, guarding duties, or other routine patrols.
Most firearms operations (94% in 2017/18) involved Armed Response Vehicles, which are adapted with special equipment to carry highly trained armed officers.
The number of times officers used firearms is at a ten year high
When a police officer discharges their weapon, the incident is recorded. Even if multiple officers fire multiple shots, it counts as a single incident.
There were 12 of these incidents in the year to March 2018, up from 10 the year before. That was the first time there'd been more than 10 since comparable figures were first collected in 2009.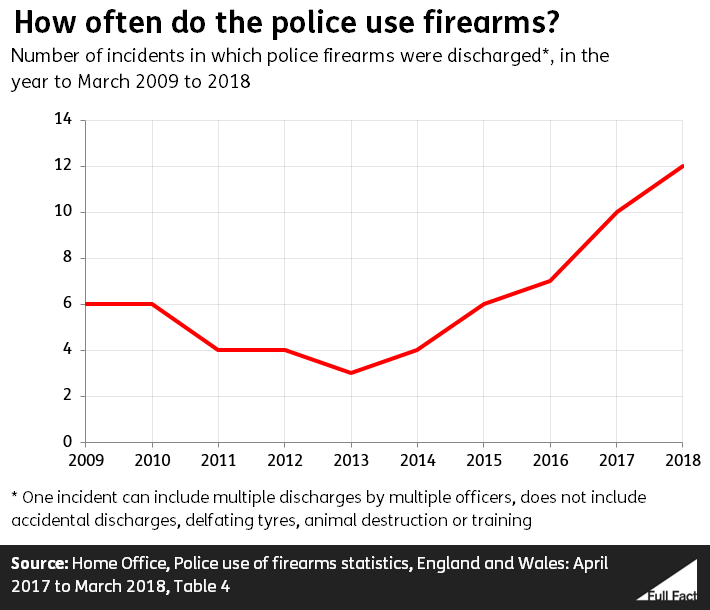 The London Bridge attack, where eight people were killed by terrorists, was one of the incidents in 2017/18 when firearms police discharged their weapons. The attack on Westminster, where five people were murdered, was one of ten such incidents in 2016/17.
The Home Office says these figures don't include "accidental discharges", discharges for "animal destruction", tyre deflations or training.
There are other types of weapons used by police
As well as handguns and rifles, police also train officers to use what they call "less lethal weapons", which include Tasers and Attenuating Energy Projectiles (rubber bullets).
Tasers were discharged just over 1,900 times by police in England and Wales in 2016. That's about 35 times a week.
There were around 9,400 other incidents where the Taser was not discharged, meaning that it was drawn or aimed at someone instead. The most common use (50% of the total) was when someone was subject to a "red-dot"—when the Taser is pointed at the subject and the laser sight red dot becomes visible.