Ministers are delivering on a vow to get tough on sentencing, according to today's Sun:
"Tough justice: lags getting longest sentences in 20 years"
It's true that the average sentence length given to offenders is rising, according to the latest figures. The average offender is sentenced to 15.5 months, compared to 14.8 months last year - though of course the portion they actually serve in prison will vary. The long-term trend also shows increases.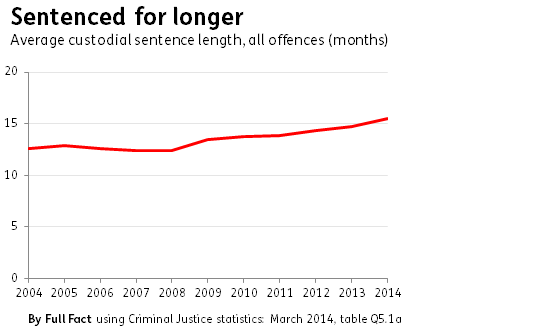 But longer average prison sentences don't on their own mean justice is getting 'tougher'. That's because the types of offence people commit varies. If people commit violent crime more often, we'd expect the average sentence length to be higher anyway: it's not necessarily a reflection of a justice system becoming more harsh.
As the Ministry of Justice says, back in 2004, 75% of people were sentenced for an 'indictable' offence (i.e. among the most serious). It's now 84%; in other words, people who are being sentenced are committing more serious crimes.
That's not to say government policies play no role at all, the MoJ also says laws introduced under the previous government caused sentence lengths to rise, as well as the Coalition's recent legislation in 2012. Further research is needed to measure exactly what impact they've had.
We need facts more than ever.
Right now, it's difficult to know what or who to trust. Misinformation is spreading. Politics and the media are being pushed to the limit by advancements in technology and uncertainty about the future. We need facts more than ever.
This is where you come in. Your donation is vital for our small, independent team to keep going, at the time when it's needed most. With your help, we can keep factchecking and demanding better from our politicians and public figures.We can give more people the tools to decide for themselves what to believe. We can intervene more effectively where false claims cause most harm.
Become a donor today and stand up for better public debate, on all sides, across the UK.
---