Around 85,000 people are in prisons in England and Wales.
The prison population peaked at 88,000 in 2011, partly explained by the riots that summer, before falling to 84,000 at the end of 2012.
The total population of the UK has also increased over time. There were 182 prisoners per 100,000 adults in England and Wales in 2015. This is higher than historic levels back to 1901, apart from the peak in 2011, according to the House of Commons Library.
Space in prisons
The total number of prisoners that the Ministry of Justice says it can hold "without serious risk", the operational capacity, has increased broadly with the number of prisoners.
However, the uncrowded capacity which represents "the good, decent standard" accommodation the service aims for has been lower than the prison population for almost all of the past 20 years.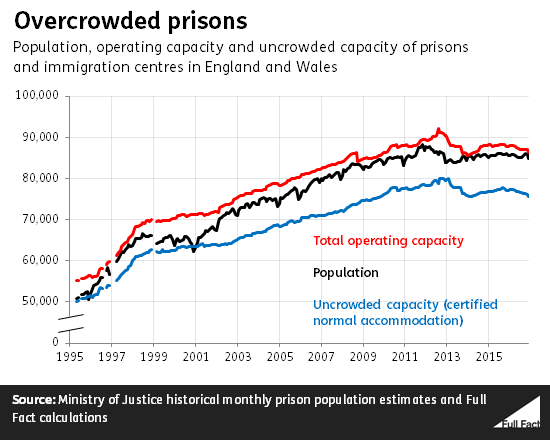 A quarter of prisoners are held in crowded accommodation according to official figures.
Number of staff
Around 24,000 people work in operational roles in the prison service. 10,500 more work in non-operational roles, like management, administration and services.
The number of staff in both areas has fallen since 2010, our earliest data. In March 2015 there were 30% fewer operational staff, and 25% fewer non-operational staff, than there were in March 2010. The fall in the number of non-operational staff is partly due to jobs being transferred to other organisations.
There are 15,000 'front-line' prison officers working at band 3 or 4, who are not in management or supporting roles. That number is down from 20,000 in 2010, measuring by 'full-time equivalents' rather than headcount in all cases.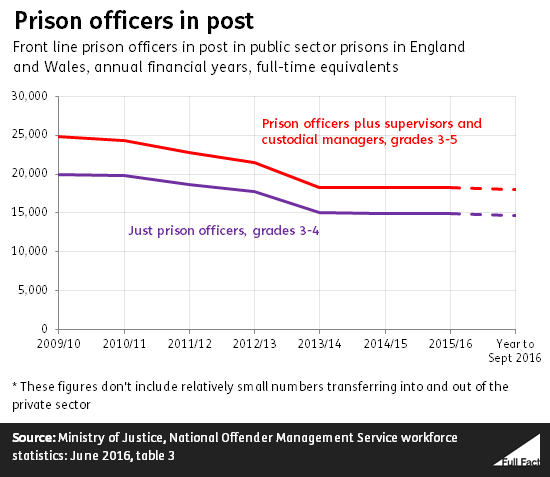 We've looked at these figures in more detail in a previous factcheck.
More frontline officers left than were recruited or promoted every year until 2015. Although this changed in 2015 (with 507 net new officers) the total number of full-time equivalent frontline officers was still lower than the previous year.
The government announced in November 2016 that it plans to recruit 2,500 new frontline officers by 2018.
Violence in prison
All headline measures of prison safety show increasing violence in the last year.
The statistics cover 2016 (deaths) or the 12 months to September (other measures).
Last year 354 people died in prison, a 38% increase compared to 2015. 119 of these deaths were self-inflicted (the prison service doesn't assume intention). For every 1,000 prisoners 1.4 ended their own life, up from 1.1 in 2015.
The number of self-harm incidents increased by 23% in 2016, and the number of people self-harming by 19%. There were 38,000 incidents of self-harm. For every 1,000 prisoners, 126 self-harmed. In 2015 it had been 110 per 1,000.
Assaults on other prisoners and staff are also more common. There were 217 'prisoner on prisoner' assault incidents per 1,000 prisoners, an increase of 28%. Assaults on prison staff increased by 40%, to a rate of 75 incidents per 1,000 prisoners.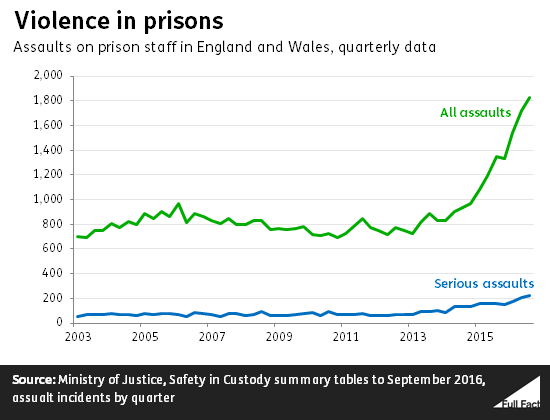 Incidents in prisons
Specialist staff have been called to an increasing number of incidents since 2010.
The number of times the National Tactical Response Group has been called to prisons has been increasing. It was called over 300 times in 2015, compared to over 100 times in 2010.
The NTRG is a specialist team who are called to prisons to deal with potentially serious incidents. These include 'incidents at height' (often where prisoners have climbed onto safety netting), hostage-taking, and where two or more prisoners are disobeying instructions.
The overwhelming majority of incidents are non-violent, and the team is sometimes called out as a precaution with ordinary prison officers able to deal with the situation themselves, according to the Ministry of Justice. 
The Gold Command Suite is opened to deal with similar potentially serious incidents, as well as barricades, industrial action and other disturbances. It directs NTRG and Tornado teams to prisons. 
Its use has increased every year since 2011. In 2015, Gold Command was used 86 times compared with 30 times in 2010, and 46 times up to August 2016.
Tornado teams are prison officers with advanced training in "control and restraint techniques".  They were used to regain control during the HMP Birmingham riot in December 2016, for example. Tornado teams were called 15 times in 2015, compared to 7 times in 2010.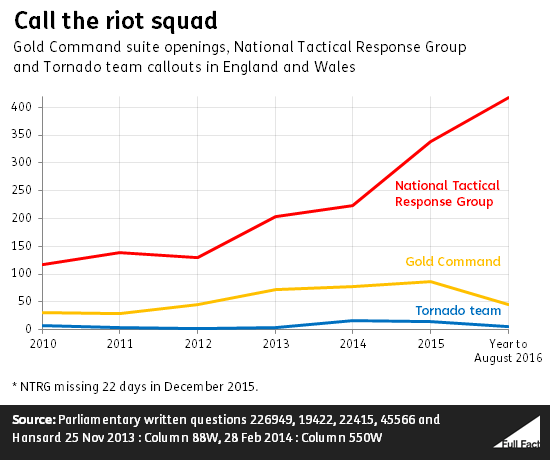 Most prisons have a target for the number of Tornado trained staff. 78% of prisons met or bettered their target in 2015/16. The government has said it will increase the number of these staff.
The House of Commons Library has published a report about recent concerns over prison safety, examining possible causes of the increasing violence.
HM Inspectorate of Prisons focused on the subject in its last annual report, saying safety outcomes from its assessments were worse than any time between 2007 and 2014.
The government put out a White Paper, Prison Safety and Reform, in November 2016, promising to "address the current level of violence and safety issues in our prisons".
Get the detail
You can find out more about the state of prisons using our Finder tool. In summary:
Isn't it nice to have the whole picture?
We rely on your donations to continue and grow our factchecking efforts - to help us maintain our independence we need 1000 donors to give £10 a month. We are currently at 351 - please help Full Fact grow.
---