The government has taken over control of HMP Birmingham from the private firm G4S after the prison inspectorate raised serious concerns about the "treatment and condition of prisoners".
The Chief Inspector of Prisons invoked an "urgent notification" process to the justice secretary following an unannounced inspection. This process only happens in the most severe and urgent cases of underperforming prisons. The government must publicly reply to concerns the inspector has within a month, and instigate an action plan. It's already been invoked in Exeter and Nottingham prisons since the system came into place last year.
In response to the notification, the Ministry of Justice has decided to take over the running of the prison for at least "an initial six-month period".
We recently looked at the data around violence and drugs in prisons; here is what that data says about the situation in HMP Birmingham.
Why has this happened?
The inspector's urgent notification letter to the government said Birmingham prison was "slipping into a state of crisis that is remarkable even by the low standards we have seen all too frequently in recent years".
It cited low standards, staff safety, violence and drug use as some of the prison's issues.
Drugs
The inspector's letter said they "saw many prisoners under the influence of drugs and the smell of cannabis and other burning substances pervaded many parts of the prison".
The Ministry of Justice aims to randomly drug test 5% or 10% of prisoners in each prison every month.
In the year to March 2018, 20% of the drug tests taken in prisons in England and Wales came back positive (including for psychoactive substances like Spice). In HMP Birmingham, that figures was just over 30%.
Over the same period, and not including psychoactive substances, the national average for prisons was 10%, while in Birmingham prison, it was around 20%. Out of 119 prisons in the data, Birmingham ranked 8th for the highest percentage of positive drug tests (excluding psychoactives).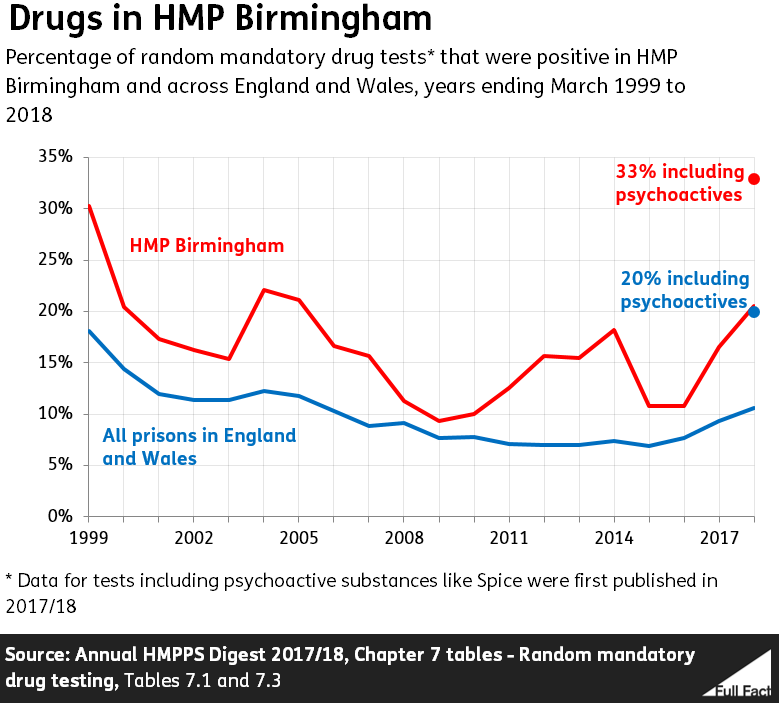 Positive drug tests (not including psychoactive substances) in Birmingham prison are down in general from a high of 30% in 1998/99, when comparable records began. But the picture since then has varied, and the number of positive tests rose from 10% in the year to March 2016 to 20% two years later.
G4S assumed control of HMP Birmingham in 2011. The prisons inspector has said that in 2011 "we recognised that Birmingham had been a failing prison over many years."
Violence
The inspector said the levels of violence over 12 months in HMP Birmingham were "the highest for any local prison in the country."
Local prisons, like HMP Birmingham, receive remand and post-conviction prisoners before they're moved elsewhere.
Just looking at 2017, HMP Birmingham had the highest number of assault incidents out of all prisons in England and Wales. There were just under 1,150 incidents. Prison population figures fluctuate over a year, but there were an average of 1,250 prisoners in HMP Birmingham in 2017.
You can read more about violence in prisons in our factcheck here.
Drugs and violence are by no means the only issues with Birmingham prison. The inspector reported seeing officers sleeping or locking themselves in their offices, hundreds of broken windows, and described various other extreme incidents.
Although the Ministry of Justice publishes data on many aspects of prisons (from population figures to prisoner earnings), there isn't national data for comparison on many of the specific issues the inspector raised in this case.
The integrity of our elections is in danger, and we need your help
You're probably here looking for facts. Thank you for that trust. But with the EU parliament elections on the way and more elections a possibility, we need to act now to make sure our elections are protected, before it's too late.
Could you help protect our elections by becoming a Full Fact donor?
Misinformation isn't new, but advancements in technology mean it can spread at an unprecedented scale. Our dangerously outdated election laws have not kept up with the digital age, putting our next elections at risk of abuse.
Currently, it's possible for a candidate to run a thousand different political ads to win the same seat, promising something different to each group it targets. At the same time, there's no law requiring those who publish online campaigns to disclose who they are or how they are funded. The opportunity for bad actors to manipulate election results is left wide open.
You may already know about our work to make public debate online more honest and transparent. Every day, we call out the most harmful misinformation on social media platforms when and where we see it. But right now, we're urging the government to overhaul our election laws to make sure political campaigning is held to the same level of scrutiny online as it is offline.
This work all depends on the generosity of hundreds of people who all believe that for democracy to work, we need transparency. Our monthly donors help strengthen our voice, and show our politicians that this really matters. Would you consider joining them?
Become a donor today to make sure our elections are protected.
---