"In all, the last government legislated for £21bn of welfare savings"—George Osborne and Iain Duncan Smith, 21 June 2015.
£21 billion of welfare savings last parliament, £12 billion this parliament. Pleasingly symmetrical but politically controversial figures.
£21 billion or £17 billion?
£21 billion is a Treasury estimate of the effect of all the decisions taken since the 2010 election. The figure uses the costs and savings of different policies from the 'scorecards' produced at events like the budget.
The Office for Budget Responsibility data referenced by the Treasury notes that it "assumes that the initial policy costings were accurate".
As Osborne said, £21 billion is the saving that the government legislated for. The Institute for Fiscal Studies, using more up-to-date figures, estimate that the policy changes actually saved £17 billion.
Total spending on benefits hasn't changed
£17 billion is the difference between actual spending on benefits and tax credits in 2015/16 and the amount the government would have spent if no policy changes had been made.
In real terms, spending on these items is expected to be roughly the same in 2015/16 as it was in 2009/10. An ageing population and slow growth in earnings have acted against attempts to cut the bill.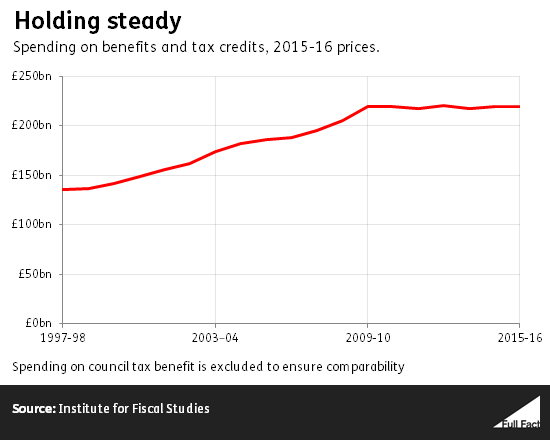 Making larger savings in the last parliament doesn't mean that the government is going to find it easy to find £12 billion in this parliament. Some of the easier savings, like changing the way benefits are adjusted for inflation, have already been made. The decisions this time around will be harder to make.
The integrity of our elections is in danger, and we need your help
You're probably here looking for facts. Thank you for that trust. But with the EU parliament elections on the way and more elections a possibility, we need to act now to make sure our elections are protected, before it's too late.
Could you help protect our elections by becoming a Full Fact donor?
Misinformation isn't new, but advancements in technology mean it can spread at an unprecedented scale. Our dangerously outdated election laws have not kept up with the digital age, putting our next elections at risk of abuse.
Currently, it's possible for a candidate to run a thousand different political ads to win the same seat, promising something different to each group it targets. At the same time, there's no law requiring those who publish online campaigns to disclose who they are or how they are funded. The opportunity for bad actors to manipulate election results is left wide open.
You may already know about our work to make public debate online more honest and transparent. Every day, we call out the most harmful misinformation on social media platforms when and where we see it. But right now, we're urging the government to overhaul our election laws to make sure political campaigning is held to the same level of scrutiny online as it is offline.
This work all depends on the generosity of hundreds of people who all believe that for democracy to work, we need transparency. Our monthly donors help strengthen our voice, and show our politicians that this really matters. Would you consider joining them?
Become a donor today to make sure our elections are protected.
---