29 October's BBC Question Time, factchecked
30 October 2015
The panellists on last night's BBC Question Time were the MSPs Kezia Dugdale and Keith Brown, Baroness Annabel Goldie MSP, singer Billy Bragg, and the editor of MoneyWeek Merryn Somerset Webb.
We factchecked their claims about the House of Lords, Trident, and the Chilcot report, and whether Scotland is more left wing than England.
Honesty in public debate matters
You can help us take action – and get our regular free email
The Lords tax credits vote
"Is the House of Lords more in tune with the British public than our elected representatives at Westminster?"—audience question
The Lords didn't vote outright against approving the tax credit changes; they turned that option down by 310 votes against 99. They did vote quite narrowly for two delaying options, which it was said would have a similar practical effect to voting for a veto.
One of the delaying amendments which was approved called for a report on the effects of the changes. The other one called for "full transitional protection for a minimum of three years for all low-income families and individuals currently receiving tax credits".
What about the public's opinion? According to YouGov:
"While 37% say the cuts are bad and should be cancelled, with the money being found elsewhere, an equal proportion of the British public (37%) say the cuts should go ahead, either because they support them wholeheartedly (21%) or because they think they're bad but necessary to reduce spending (16%)."
Is Scotland more left wing than England?
"Scotland is not quite as left wing as Scotland thinks it is. I put great store by the social attitude surveys which are done in Scotland and in Britain as a whole [...] you can see that on almost every issue the Scottish as a whole tend to think about things in almost exactly the same way as the English. [...] The only statistically significant different thing by the way is the EU, which the Scottish and the English do appear to think differently on."—Merryn Somerset Webb 
On the question of whether Jeremy Corbyn's election to lead the Labour Party would do the party any good in Scotland, Merryn Somerset Webb poured cold North Sea water on the notion that Scotland is notably more left wing than England.
Scotland is more social democratic in outlook than England, although the differences are "modest at best" according to a specific report on the question by NatCen Social Research (the people behind the surveys Ms Webb refers to).
Comparing the British and Scottish Social Attitudes surveys, the researchers found that people in Scotland were slightly more concerned than English respondents about income inequality, and slightly more in support of tax and spending, but concern for both had been falling over the last decade.
On the EU, polls have found more people in Scotland in favour of remaining in the EU—with 58% wanting to stay and 28% wanting to leave, compared to 45% of people in England wanting to stay and 35% to leave, according to NatCen research published this month.
It's not the only area where there's a significant difference, though—69% of people in Scotland thought immigration should be reduced, compared to 78% of people in England in NatCen's 2013 survey.
How many steel jobs were lost under the last government?
"Under Labour 16,000 steel jobs were lost in the last government"—Annabel Goldie
Employment in steel did fall by 16,000 under Labour between 1997 and 2010. It has been falling for a long time.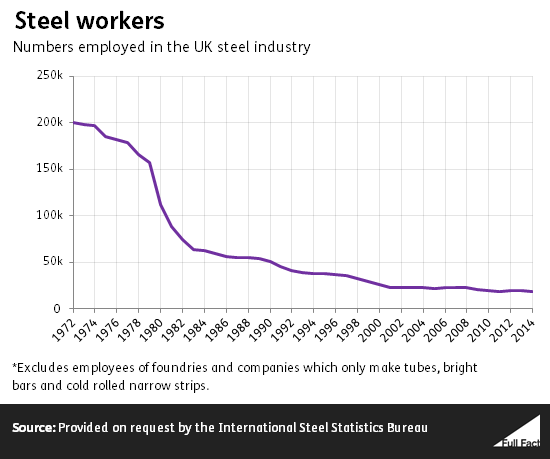 @newsfondue asked us to investigate the £167 billion cost of replacing Trident
"If the Labour Party this weekend discusses Trident and comes out against spending £167 billion of your money on Trident…"—Keith Brown
£167 billion is the price of staying in the club of nuclear armed nations until 2060, according to the MP Crispin Blunt, as reported by Reuters. His calculation is based on government figures.
The government recently told Parliament that it would cost £25 billion to replace the submarines which carry the nuclear weapon, and that the running costs would be about the same as now: 6% of the defence budget, which itself is set at 2% of the whole of the UK's economy, as set out in NATO guidelines.
Crispin Blunt's £167 billion cost is a reasonable estimate but not a precise science: you have to guess how much the economy will grow over the next 45 years.
We came out with a similar figure assuming—as Crispin Blunt does—that new missiles come into service in 2028, and that the economy will grow by 2.48% each year after 2020.
To put this in context, the UK's GDP over the same period will add up to about eight hundred times that £167 billion figure.
There are other estimates of costs too—for example, the cross-party Trident Commission estimated last year the annual cost would be 9% of the defence budget.
Lending to small businesses
"The perception I think for most people was you were going in there to keep the banks there so they could continue to lend to people and to businesses… even now they are not lending to small businesses."—Keith Brown
Lending to small and medium businesses rose 0.3% in the last 12 months we know about. That is the first rise in years.
It may not be time for party poppers, but it's not small change: outstanding loans to small and medium businesses are worth £164 billion.
The Bank of England's definition of 'small' and 'medium' is any business that turns over less than £25 million a year.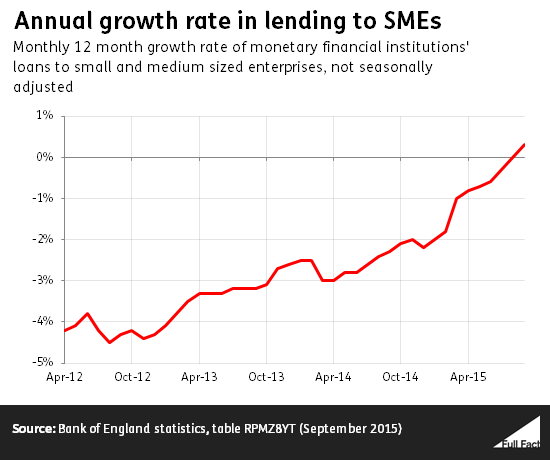 The effect of the Chilcot report on trust in politics
"Trust is gone from politics in the UK... This is exactly the kind of reason why. You ask a simple question—it's not that simple, but it's reasonably simple, and you think you can get an answer in something less than two million words, and you can't, and you don't."—Merryn Somerset Webb
We know from research by the Committee for Standards in Public Life that from a list of public standards for MPs, people consistently say the most important things were telling the truth, making sure public money is spent wisely, and being dedicated to doing a good job for the public.
It seems clear that even a lot of MPs don't think the Chilcot Inquiry is spending public money wisely: yesterday the Speaker of the House of Commons criticised how long it had taken and spoke of the "anger and frustration" from MPs about the "substantial disservice that has been done."
But there's more to the problems with trust than Chilcot.
Depressingly, people are "particularly pessimistic about the behaviour of MPs in areas consistently reported as being of greatest importance to members of the public… telling the truth and making sure that public money is spent wisely. Less than one in five respondents thought that 'all' or 'most' MPs met either criterion."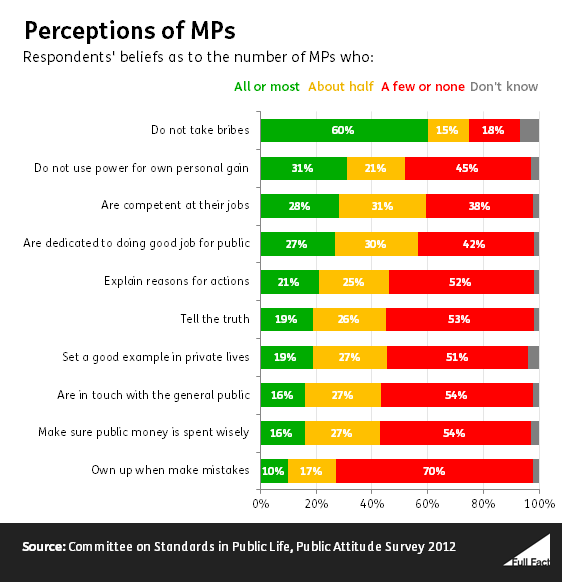 UPDATE 30/10/2015: we have corrected the titles of some of the panellists.