In brief
Claim
We spend nearly £50 billion on debt interest in the UK.
Conclusion
The government's debt interest bill was £48 billion in 2016/17, although it effectively paid some of that back to itself through the Bank of England. The government actually spent about £39 billion.
"Today we spend nearly £50 billion in payments on interest to those we have borrowed from as a result of the legacy of the Labour party. That is more than the NHS pay bill, it is more than our schools budget, more than we spend on defence, as a result of the record we were left by Labour in government"

Theresa May, 1 November 2017
The UK government's debt interest bill was about £48 billion in 2016/17, but that's not the most meaningful figure to be using.
The government effectively pays some of that to itself. As we've covered before, almost a quarter of government debt is owned by the Bank of England, which pays the profit back to the Treasury.
The total amount of spending on what are called 'public debt transactions' amounted to £39 billion in 2016/17, once you take off what the Bank of England owns.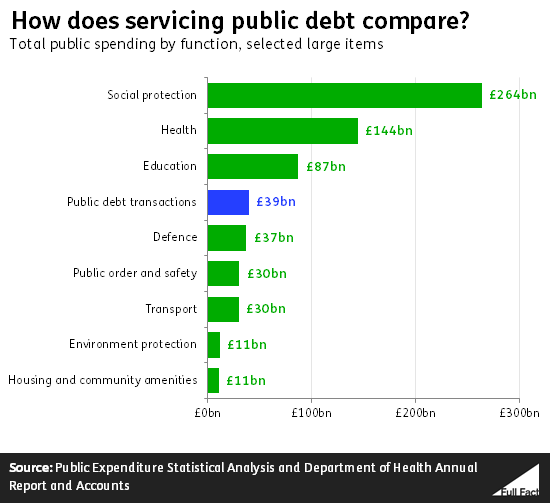 This is higher than spending on defence and primary education, but slightly lower than spending on secondary education.
It is also lower than the NHS pay bill. The Department of Health's annual report shows that £48 billion was spent on permanent staff costs in 2016/17, increasing to £54 billion when including other staff.  
This factcheck is part of a roundup of Prime Minister's Questions. Read the roundup.
With Brexit fast approaching, reliable information is crucial.
If you're here, you probably care about honesty. You'd like to see our politicians get their facts straight, back up what they say with evidence, and correct their mistakes. You know that reliable information matters.
There isn't long to go until our scheduled departure from the EU and the House of Commons is divided. We need someone exactly like you to help us call out those who mislead the public—whatever their office, party, or stance on Brexit.
Will you take a stand for honesty in politics?
---