"We will extend the Right to Buy to tenants in Housing Associations... It is unfair that they should miss out on a right enjoyed by tenants in local authority homes." Conservative Manifesto 2015
Right to Buy currently applies to local authority properties. The scheme was introduced through the Housing Act 1980, in order to allow tenants to buy their council home at a discounted price, provided they met certain conditions. The Conservative party has pledged to extend the scheme to those renting from housing associations.
Housing associations gained prominence during the late 1980s, when the Housing Act 1988 helped establish them as the main providers of social housing. It is estimated that since 1988, over a million properties have been transferred from local authorities to housing associations.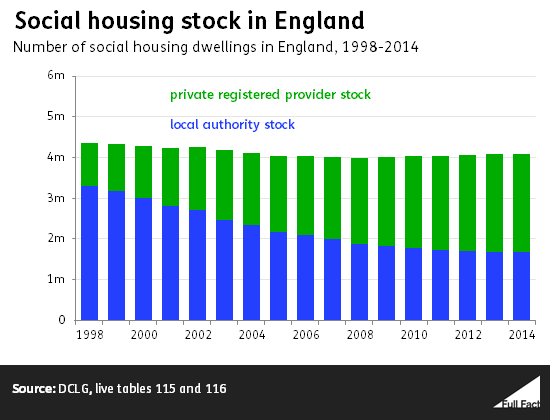 Upon being transferred to housing associations, the tenants of such properties kept a 'Preserved Right to Buy', meaning they could still purchase their housing association property under Right to Buy terms. In 2011—and after using a number of assumptions—the Department for Communities and Local Government estimated that 620,000 tenants held this preserved right. The National Housing Federation (NHF)—the body that represents housing associations—have now re-estimated this figure by taking into account the number of tenants that might have moved, exercised their right to buy, or died; their estimate is closer to 550,000 households.
Home ownership is still made possible for those without a (Preserved) Right to Buy through similar schemes, such as Right to Acquire. Under this plan, tenants can purchase their housing association home though the eligibility requirements are more restrictive and the discount is much lower than it would have been under Right to Buy.
The Conservatives estimate that extending Right to Buy would give the possibility of home ownership to 1.3 million families, but the NHF have estimated a much lower number. The NHF say that there are 1.4 million households that fulfil the eligibility requirements of having lived in the property for three years (the current Right to Buy requirement is 5 years but recent changes in legislation will reduce this to 3); once the number of households that already have a preserved right to buy is deducted then the number of newly-qualified households is reduced to 850,000. The NHF also estimate that only about a quarter of these will actually be able to afford to take advantage of the scheme.
 "We will fund the replacement of properties sold under the extended Right to Buy by requiring local authorities to manage their housing assets more efficiently, with the most expensive properties sold off and replaced as they fall vacant." Conservative Manifesto 2015
Extending Right to Buy means that a future Conservative government will have to compensate housing associations for the difference between the market value of a property and the Right to Buy price. The Conservatives propose to raise those funds by requiring local authorities to sell their most expensive properties as they become vacant—this is estimated to raise £4.5bn a year.
Part of those proceeds is expected to compensate housing associations, part to fund a separate house building policy—the Brownfield Regeneration Fund—and part used against the replacement of local authority stock. This means that funding the extension will depend upon expensive local authority homes becoming vacant, while the cost of compensating housing associations will vary each year, depending on how many households will exercise their new right as well as the cost of their discounts.
But replacing social stock is already problematic. The Labour-appointed Lyons Review found that aside from increasing home ownership, the scheme came without any provision for the replacement of the social stock: more homes were being sold than built, and the number of households on social housing waiting lists grew.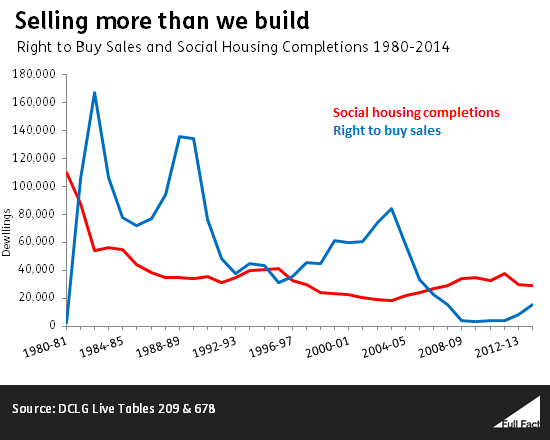 The proposal to extend Right to Buy has also been met with scepticism due to the current Government's record in replacing social housing stock using Right to Buy receipts. The Institute of Fiscal Studies (IFS) point out that plans to 'reinvigorate' Right to Buy were announced in 2012, and included a commitment for one-to-one replacements; yet the replacement rate has since been closer to one in ten, although more properties might be in the pipeline.
The 'drought' (£) in social housing replacements, according to Inside Housing— a weekly housing magazine—is caused from the way total Right to Buy receipts are distributed: the largest share goes to the Treasury, about a quarter goes to general local authority funds and debt payments, and only the remainder goes towards funding replacements. It is unclear how exactly receipts will be distributed if Right to Buy is extended to housing associations.
In its briefing note on the extension pledge, the IFS conclude that due to the uncertainties surrounding the scheme and its funding,  extending Right to Buy risks depleting the social housing stock further; and even though the up-front cost of the policy may be covered by selling expensive local authority stock, selling public assets to fund a giveaway policy could harm the state of the UK public finances in the long-run.
We aim for our factchecks to be as accurate and up-to-date as possible. If you think we've made an error or missed some relevant information, please email
team@fullfact.org
.