These figures were correct as of 13 June 2018. We will update the numbers below as and when the council releases new information.
It's now been a year since the tragic events at Grenfell Tower, and the subject of how many residents have been permanently rehoused is often a subject of debate. We've taken a look at where these households are living.
Where are people currently living?
 The Royal Borough of Kensington and Chelsea told us that of the 203 households from Grenfell Tower and Grenfell Walk, 83 are now living in a permanent home. 52 are in temporary accommodation.
 68 households are living in what's classed as emergency accommodation. Of those, 42 households are in hotels, 22 are in serviced apartments, and four are staying with family or friends.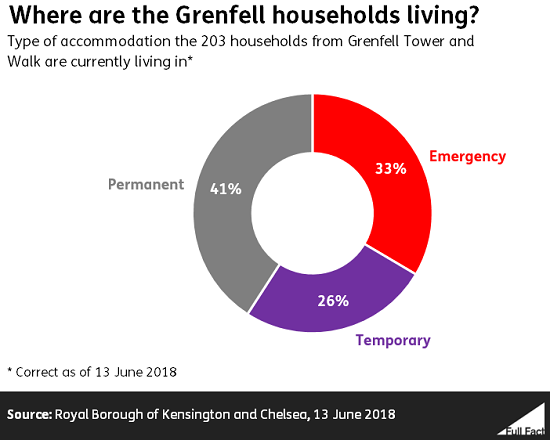 How many have accepted offers? 
184 out of the 203 households have accepted an offer of a permanent home, but they've not all moved in yet. The council told us that 62 of the households who have accepted offers for permanent homes are currently living in emergency housing and 39 are in temporary accommodation. The rest (83) have already moved into their permanent new home.
What about people in the wider Grenfell area?
Following the tragedy, 129 households moved out of their homes in the area surrounding Grenfell Tower. 
Of the 129 households who left the surrounding flats, as of 13 June, 15 were in emergency accommodation, staying in hotels, serviced apartments or with friends and family. 75 are in temporary housing. One household has accepted and moved into a permanent home. 38 households have returned to their homes in the surrounding area.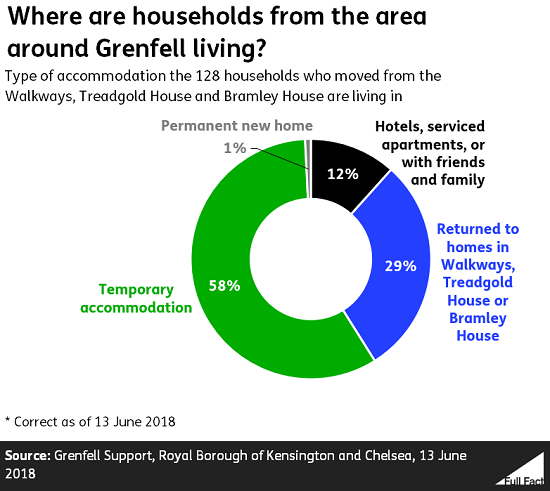 The council has published more information on who is eligible for their wider Grenfell rehousing policy here.
Grenfell Support updates their rehousing figures for Grenfell Tower and Walk residents and wider Grenfell area tenants once a week.
We need facts more than ever.
Right now, it's difficult to know what or who to trust. Misinformation is spreading. Politics and the media are being pushed to the limit by advancements in technology and uncertainty about the future. We need facts more than ever.
This is where you come in. Your donation is vital for our small, independent team to keep going, at the time when it's needed most. With your help, we can keep factchecking and demanding better from our politicians and public figures.We can give more people the tools to decide for themselves what to believe. We can intervene more effectively where false claims cause most harm.
Become a donor today and stand up for better public debate, on all sides, across the UK.
---