In brief
Claim
Young people are finding it harder than ever to own their own home.
Conclusion
Correct. Young people are less likely to own their own home, and the gap in affordability has grown since a decade ago.
"If you're young, you'll find it harder than ever before to own your own home."

Theresa May, 13 July 2016
All the available evidence we've seen supports this claim. In recent years young people are increasingly less likely to own their own home, and the gap in affordability has grown since a decade ago.
We've recently looked into research showing that young people on low or middling incomes have also become less likely to own their homes.
Unless otherwise stated, the figures in this piece refer to England, based on the English Housing Survey.
Young people are less likely than before to own their own home
Around a third of young people – aged 16 to 34 – who head a household are homeowners. That's down from more than half a decade ago. Scotland has seen similar falls.
Many more rent privately, as opposed to from a local authority or housing association (so-called social renters). Half did so in the latest year, compared to just over a quarter a decade ago.
This isn't a trend that's unique to young people, although it is generally more severe for younger age groups. Apart from the over 65s, people of all ages are less likely to own their own home, and this broad trend has been happening since the early 2000s. 64% did so in 2014/15, compared to 71% a decade ago.
Young people are less likely to be first time buyers
Over the last two decades, people under 25 have been getting less likely to be a first time buyer, while people over 34 have been getting more likely to. The majority (around 60%) are aged 25-34, and that hasn't changed a great deal.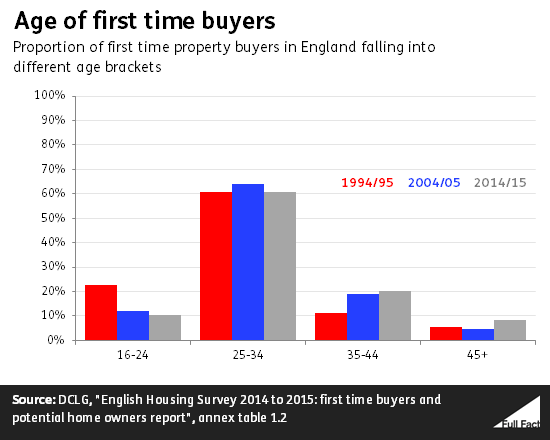 10% of first time buyers were aged 16-24 in 2014-15. A decade ago that was slightly higher at 11%, and back in 1994/5 it was as high as 23%.
People aged 35-44 are now more likely to be first time buyers than those under 25.
So there's a lot of evidence that young people are less likely to be on or entering the housing ladder. Whether that's because it's harder to do so is a different question, but there's also evidence to show this as well.
Affordability is a big factor
The most common reason why people don't expect to buy a home is because they don't think they'll be able to afford one. Almost two thirds said this in the 2014/15 English Housing Survey, with smaller numbers voicing other concerns.
Only around one in 10 people gave a positive reason for not buying, saying they liked it where they were or preferred the flexibility of renting.
For first time buyers across the UK, the average deposit needed to buy a home, as a percentage of the total cost, has almost doubled since 1988. That's despite a drop since the recession in 2008.
Also across the UK as a whole, the average income of first time buyers goes less far towards buying a home.
Back in the 1980s and early 1990s the income of a first time borrower across the UK was typically about 40% the price of the average house. By the late noughties and up to 2015, it was about 25% of the price.
The integrity of our elections is in danger, and we need your help
You're probably here looking for facts. Thank you for that trust. But with the EU parliament elections on the way and more elections a possibility, we need to act now to make sure our elections are protected, before it's too late.
Could you help protect our elections by becoming a Full Fact donor?
Misinformation isn't new, but advancements in technology mean it can spread at an unprecedented scale. Our dangerously outdated election laws have not kept up with the digital age, putting our next elections at risk of abuse.
Currently, it's possible for a candidate to run a thousand different political ads to win the same seat, promising something different to each group it targets. At the same time, there's no law requiring those who publish online campaigns to disclose who they are or how they are funded. The opportunity for bad actors to manipulate election results is left wide open.
You may already know about our work to make public debate online more honest and transparent. Every day, we call out the most harmful misinformation on social media platforms when and where we see it. But right now, we're urging the government to overhaul our election laws to make sure political campaigning is held to the same level of scrutiny online as it is offline.
This work all depends on the generosity of hundreds of people who all believe that for democracy to work, we need transparency. Our monthly donors help strengthen our voice, and show our politicians that this really matters. Would you consider joining them?
Become a donor today to make sure our elections are protected.
---