Home ownership, honour-based crime and MPs' social backgrounds: Prime Minister's Questions, factchecked
20 July 2016
Honesty in public debate matters
You can help us take action – and get our regular free email
Home ownership
"The new PM also said on the steps of Downing Street, if you're young you'll find it harder than ever before to own your own home. In 1998 more than half of working households of people aged 16-34 were buying their own homes, today the figure is 25%."—Jeremy Corbyn
Research by the Resolution Foundation think tank shows this, based on data from the Family Resources Survey.
To get these figures, you have to look just at households headed by a young person aged under 35, with low or middling household income.
57% of these households were homeowners in 1997/8. This fell over the following 16 years to 25% by 2013/14. We've asked the think tank for more details about its calculations.
Published figures on all households aged under 35 show the same trend. In 2003/4 (the earliest published data) 52% of young households were home-owners. By 2013/14 it was down to 30%. If you compare that to households of all ages, 63% are homeowners.
In both cases, private renting has taken over in the majority of cases.
As we've discussed previously, the lack of affordability will be a factor in squeezing young first-time buyers out of the market. In 1990, almost a third of first-time buyers were aged under 25, for example. In 2015 this had fallen to 14%.
Employment
"It's the long term economic plan which has actually delivered the record level of employment that we see today…"—Theresa May

"Jobless claims have risen for the fourth month in a row and welfare claims have risen as well. Austerity actually means people being poorer, services being cut and local facilities being closed."—Jeremy Corbyn
Mrs May is correct when she says that there is a record level of employment and Mr Corbyn is also right that the number of jobless claims have increased, although the rate of claims has not.
Figures released today do show a record employment level of 31.7m.
The employment rate—the proportion of people of working age in work—is at 74%, the highest it has been since records started in 1971. This rate includes everyone aged 16-64, including women who have reached state pension age.  The alternative measure of people below state pension age reached a peak in October-December last year.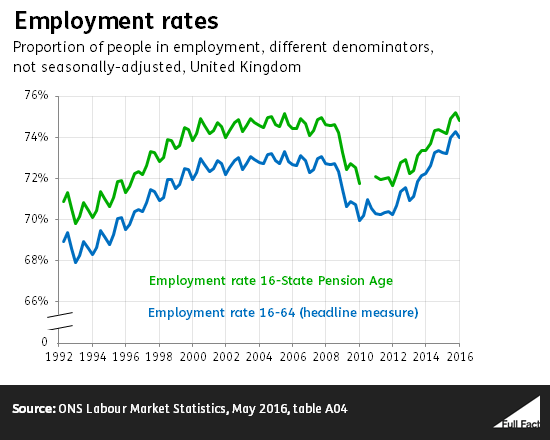 Today's figures also show the 'claimant count'—this is the number of people claiming Jobseeker's allowance and Universal Credit while out of work. This has increased every month from February to June 2016, but the proportion claiming has remained steady at 2.2% since March.
These figures are different to the unemployment rate, which has fallen slightly over the same period.
Honour-based crime
"Extremism takes many forms. From the atrocity in Nice to the violent murder of Qandeel Baloch by her own brother in Pakistan, justified as an 'honour killing'. There were 11,000 instances of these self-styled 'honour crimes' in UK over the last five years."—Nusrat Ghani MP
There were 11,744 "incidents and crimes" which could be classified as "honour-based violence" in the UK between 2010 and 2014, according to research by the Iranian and Kurdish and Women's Rights Organisation (IKWRO). These include abductions, murders, forced marriage and female genital mutilation.
The IKWRO data was gathered from 39 of the 52 police forces across the UK. At least one of the responses noted that the way the data was recorded across police forces was not consistent and that because of this it shouldn't be compared.
The College of Policing found that many police forces had only recently started collecting data on reports of things such as female genital mutilation accurately.
In a previous report, IKWRO criticised record keeping among some police forces, and pointed out that not all honour-based violence will be reported to the police in the first place.
So the actual figure may be different.
There is no official data available on the extent of honour-based violence.
MPs and social mobility
"We have Conservative Members of Parliament brought up in council houses. Conservative Members of Parliament brought up by single parent families. The chairman of the Conservative Party is a former miner. It is this party that is looking at opportunity for all"—Theresa May
Stuart Andrew, who asked the initial question about social mobility, and Stephen Crabb, the recent party leadership candidate, are among several Conservative MPs to have discussed growing up in council houses.
Several Conservative MPs have raised their upbringings in single parent families as well - among them Mr Crabb and fellow former leadership candidate, David Davis.
And it's correct that Patrick McLoughlin was a miner.
In terms of the bigger picture among Conservative MPs, while we don't have comprehensive information on MPs' housing or family structure growing up, we do have data on their educational histories and previous careers.  
Half of Conservative MPs went to private schools, according to the House of Commons Library, compared to 16% of Labour MPs, 7% of SNP MPs and 7% of pupils currently.
80% of Conservative MPs and 75% of Labour MPs went to university.  
A mere 3% of MPs have been employed in manual labour, including 1% of Conservatives and 7% of Labour MPs.  
Conservative MPs' most common past professions are business (29%), finance (25%) and politics (19%), according to the Smith Institute. The equivalent for Labour MPs are politics (29%), the voluntary sector and trade unions (15% each) and business (14%).