In brief
Claim
The government spent £2 million on a royal wedding.
Conclusion
We don't know exactly, but £2 million is probably in the right ballpark in terms of the policing costs for Princess Eugenie's upcoming wedding.
The government spent £2.8 million protecting Donald Trump.
This was reportedly the extra cost to the Metropolitan Police for policing Donald Trump's visit to London and Windsor (not including the protests). Since the tweet was written, the National Police Chiefs' Council has said an "early estimate" of the total cost is nearly £18 million.
The government spent £356 million on Buckingham Palace.
Almost—the refurbishments will cost £369 million. This will be funded by an increase in the Sovereign Grant (that's money from the Treasury that comes from the profits of the Crown Estate).
The government spent £200 million stopping benefit appeals.
The Department for Work and Pensions' direct operating costs for mandatory reconsiderations and appeal tribunals for certain disability and illness benefits was £199 million between 2013/14 and 2017/18. That's not the same as 'stopping' the appeals.
The government spent £60 billion on HS2.
Almost—it was predicted to be £56 billion in total in 2015. The cost to date has probably been around £4.1 billion.
The government spent £100 billion on Trident.
It's hard to tell. The government expects replacing the current Trident nuclear submarine missile system will eventually cost around £31 billion, and it has committed to spending at least that. Suggestions for the future in-service costs of the system range from £70 billion to £150 billion over 30 years.
The government spent £44,000 on a toilet for Jeremy Hunt.
Jeremy Hunt said that a newly fitted bathroom in the Department of Health building was for long distance cyclists, rather than his personal use. The government hasn't confirmed how much it cost.
The government reduced payments for people with disabilities by £30 a week.
From April 2017, new Employment and Support Allowance claimants in the group who must attend interviews with an adviser started getting £30 a week less (down to £73.10) than they would have previously. In 2016, this was projected to save between £30 million and £450 million a year between 2017/18 and 2020/21.
Claim 1 of 8
This tweet on various types of government spending has been shared over 5,000 times on Facebook and 3,000 times on Twitter.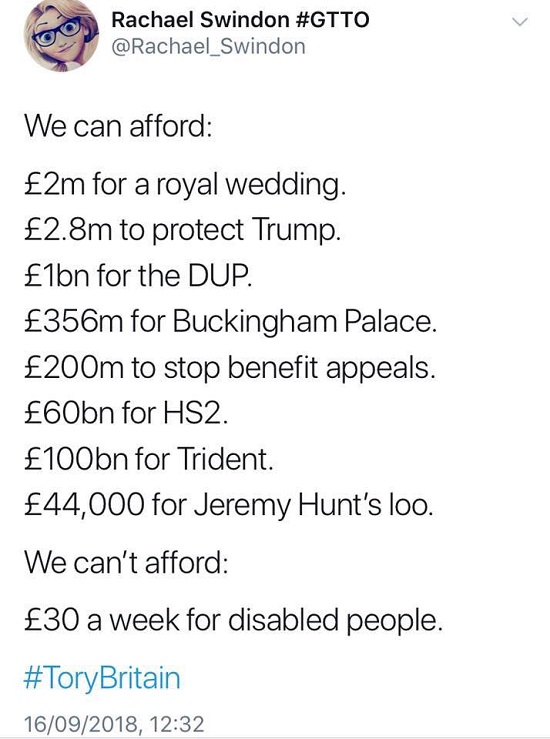 Most of the claims are roughly correct, as we've summarised here.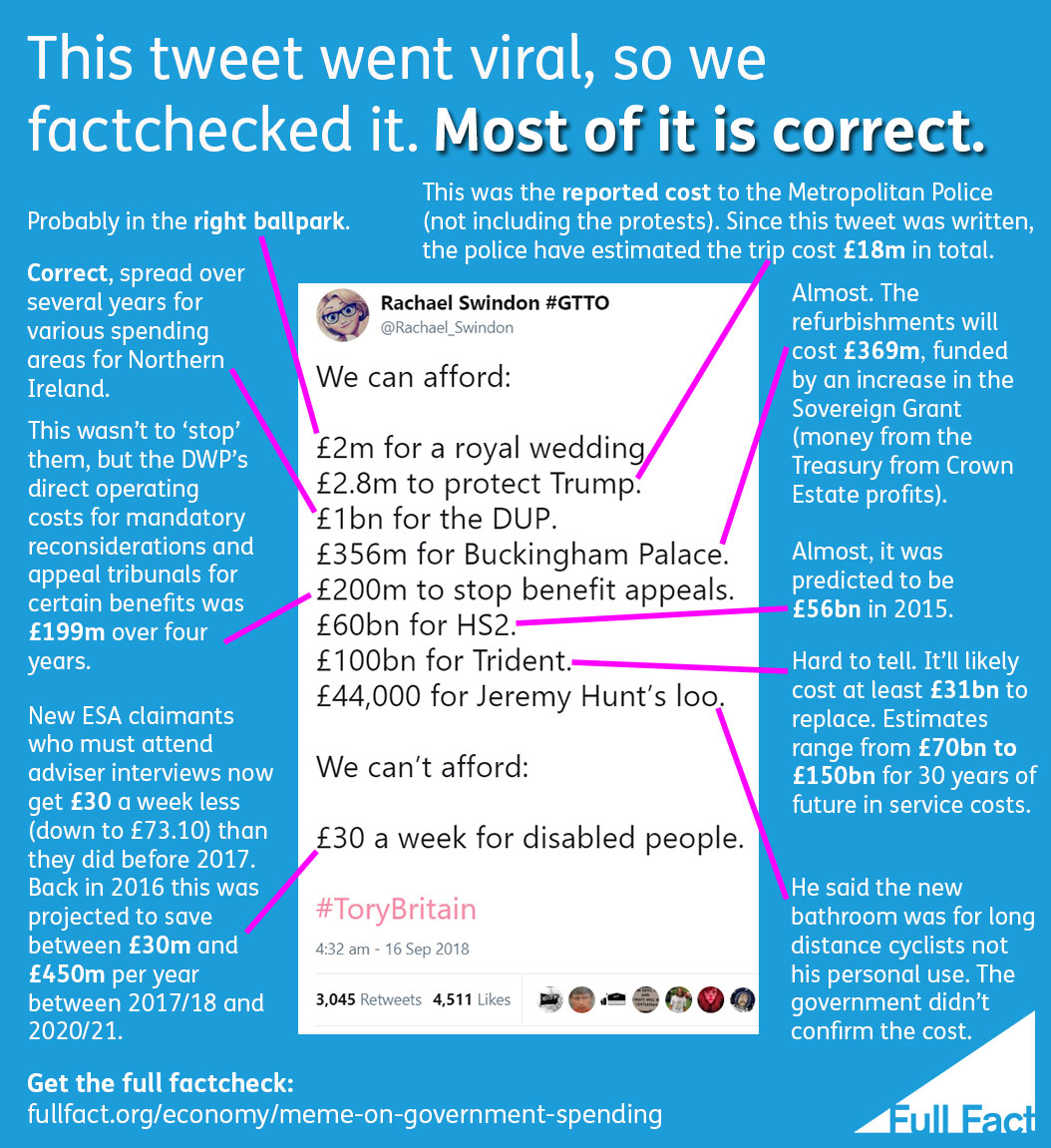 Of course, these particular figures have been picked to make a political point—they cover different time periods, come from different departmental budgets, and most are total rather than per person costs.
Royal weddings
Royal weddings are primarily paid for by the Royal Family, but the security costs are met by public funding.
Estimates for the cost of policing past royal weddings have ranged from between £2 million and £6 million. £2 million was at the lower end of a reported estimate from Thames Valley's Police and Crime Commissioner for Prince Harry and Meghan Markle's nuptials earlier this year. We don't know for sure exactly how much the policing cost, or how much it will cost to police Princess Eugenie's upcoming wedding.
The higher figure of £6 million is from a Freedom of Information (FOI) request to the Metropolitan Police on the cost of the 2011 wedding of Prince William and Kate Middleton. This included overtime pay for the police because the 2011 wedding was declared a bank holiday—something that hasn't happened for either royal wedding this year.
Trump's visit
Since the tweet was written, the chair of the National Police Chiefs' Council, Sara Thornton, has said an "early estimate" of the "full cost of the operation" is £18 million, although it's still being worked out. She said nearly every force supported the operation in some way, with nearly 10,000 officers deployed from across the country, who performed over 26,000 shifts.
The Police Chief's Council told us the estimate was based on the entire operation, so includes "all contingency planning, mutual aid, policing of protests, and security operations across all force areas affected in both England and Scotland throughout his entire trip". Mutual aid is when police forces help each other during large events or incidents.
Before the visit the government said it would provide up to £5 million to cover policing costs for the Scottish portion of Mr Trump's visit.
A cost of £2.8 million to the Metropolitan Police was the most up to date estimate from the police at the time the tweet was written.
The Mirror reported that in response to an FOI request, the Metropolitan Police told them it had cost around £2.87 million to police Donald Trump's visit to the UK. This did not cover his trips to Blenheim Palace or his Scottish golf course, or the protests in London in response to his visit.
The DUP
The Conservative party have a confidence and supply agreement with the Democratic Unionist Party, in which they agree to "support the government on all motions of confidence". We've written more about how this works here.
In return the government promised them £1 billion's worth of funding for different areas in Northern Ireland. Some of that money is promised over several years.
Buckingham Palace
The cost of "reservicing" Buckingham Palace is an estimated £369 million spread over ten years. But exactly how this is paid for is a little more complicated.
The Crown Estate is land and assets owned by the monarchy. Profits from the Crown Estate (like rent) are handed to the Treasury (£2.7 billion over the last ten years). The Treasury keeps most and gives the rest, called the Sovereign Grant, to the Queen.
The proportion given back to the Queen increased from 15% a year to 25% from 2017/18, with the extra 10% going towards funding the palace's renovation over the next ten years (so less money will go to the Treasury). We've looked more at this issue in a previous factcheck.
'Stopping' benefits appeals  
Personal Independence Payment (PIP) and Employment and Support Allowance (ESA) are types of benefits that some ill and disabled people are entitled to.
The Mirror reported that the Department for Work and Pensions' (DWP) spent £199 million over five years between 2013/14 and 2017/18 on the direct operating costs of mandatory reconsiderations and appeal tribunals for people challenging a decision on their claim for PIP and ESA.
If the DWP initially declares claimants of these benefits 'fit to work' during their work capability assessment, they are entitled to appeal the decision, first via a mandatory reconsideration and if the decision is appealed again, via a tribunal. So it is more accurate to say these costs are incurred by the DWP processing and contesting appeals, rather than 'stopping' them.
Just looking at mandatory reconsiderations, there have been 310,000 registered for ESA and 780,900 for PIP since 2013 .
The DWP told the Mirror that the figures were internal snapshots rather than official statistics, and "should be treated with caution". The Mirror published their findings at the bottom of their article here.
The cost of HS2
When asked about the cost of HS2 in 2018, the government said that at the 2015 spending review it had "restated the long-term Funding Envelope for delivery of the full HS2 scheme of £55.73bn", which is in 2015 prices.
A House of Commons briefing looked at what had already been spent, based on a statement by ministers and figures from the HS2 business plan. It said that the cost to date was around £4.1 billion—if the two figures didn't overlap "which it is not possible to assume with certainty". It said anticipated future spending to 2021 would be £12 billion.
Trident
Trident is the UK's submarine-based system of nuclear weapons which includes four submarines and a number of missiles and warheads. Trident became operational in 1994 replacing another submarine-based system, Polaris. Annual in-service costs are estimated to be around £2.2 billion (6% of the defence budget), according to the House of Commons Library.
The latest estimate (from 2015) of designing and manufacturing replacement submarines is £31 billion, with another £10 billion to cover any extra costs or spending beyond that. But there are other costs associated with Trident, like decommissioning old nuclear weapons and the in-service costs.
It's difficult to predict the future in-service costs of new models as this is based on a number of things like how much future governments will decide to spend on defence and the state of the UK economy going forward. The House of Commons Library suggests that cost projections could range from £70 billion to £150 billion (between 2031/32 and 2061/62) depending on what method is used.
The case of "Jeremy Hunt's loo"
There were reports in 2017 that a £44,000 bathroom was being built at the new offices of the (then-named) Department of Health. The Sun, which originally reported the story, said the then-health minister Jeremy Hunt had "had a £44,000 taxpayer-funded toilet and shower suite put in his new office."
Jeremy Hunt called the Sun's story "totally false", adding that he had requested a shower for long distance cyclists in their new office, but that the bathroom was not for his own personal use, as his short commute didn't demand it.
He did not refer to the bathroom's cost.
£30 less per week for some disabled people 
People on ESA who are ill or disabled are split into two groups after they have their work capability assessment: a work-related activity group, where they have interviews with an advisor, or a support group, where there are no interviews.
Before April 2017 ESA was £73.10 a week, plus an extra component of between £30 and £40 depending on the group claimants were in.
The government forecast at the 2016 budget that these changes would save £180 million a year by 2018/19, reaching £450 million a year by 2020/21 . Between 2017/18 and 2020/21 these forecast savings would theoretically amount to over £1 billion.
From April 2017 new ESA claimants in the work-related activity group (and those getting the equivalent element in Universal Credit) no longer received the extra £30. This brings the level of the payment to the same amount received by those on Jobseeker's Allowance.
The 2015 Summer Budget said that the system before the change "[created] a financial incentive to claim sickness benefits over Jobseeker's Allowance" and that the change would "ensure the right incentives and support are in place for those closer to the labour market to help them make this transition when they are ready." This has been disputed by charities working with people with disabilities.
With Brexit fast approaching, reliable information is crucial.
If you're here, you probably care about honesty. You'd like to see our politicians get their facts straight, back up what they say with evidence, and correct their mistakes. You know that reliable information matters.
There isn't long to go until our scheduled departure from the EU and the House of Commons is divided. We need someone exactly like you to help us call out those who mislead the public—whatever their office, party, or stance on Brexit.
Will you take a stand for honesty in politics?
---