In brief
Claim
400,000 more people are employed in the UK since the EU referendum.
Conclusion
Employment has increased by around 450,000 since May to July 2016.
"We've got 400,000 more people employed in this country [since the EU referendum]. We've got record low levels of unemployment."

Richard Tice, 8 February 2018
This is correct on employment, in fact the 400,000 figure quoted is lower than the figures show. Unemployment is at historically low levels, but is not the lowest on record. Both measures have been following a fairly consistent trend since 2012.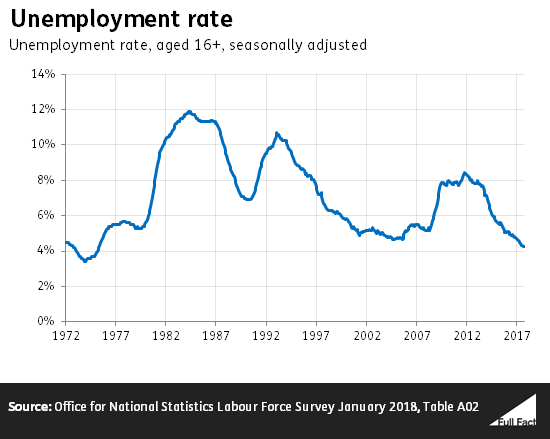 There are an estimated 450,000 more people in employment now compared to the three months from May to July 2016—around the time of the EU referendum. The figure is slightly higher or lower depending on when you start counting from. It was about 31.8 million then, and as of November last year it was 32.2 million.
Similarly, 75.3% of people aged 16-64 are employed, which is the joint highest employment rate since records from 1971 began. That's up from 74.5% from May to July 2016.
Just over 1.4 million people are unemployed, according to estimates. That's down from around 1.6 million around the time of the referendum. The current unemployment rate is 4.3%, down from 4.9% at the time of the referendum and the joint lowest since 1975.
This is very low unemployment by recent standards, but the rate was lower in the mid-20th century.
The unemployment rate counts people who aren't in work but are actively seeking it. What's more difficult to count is how many people aren't in the kind of work they want to be. While employment levels are high, the experience of being employed is changing.
This factcheck is part of a roundup of BBC Question Time. Read the roundup.
Full Fact wants to see greater accountability for public figures who mislead us—and we need your help.
Political debate in the UK is in flux right now. The UK's exit from the European Union is approaching, we will soon have a new prime minister and potentially a general election.
We want politicians to tell the truth, and while the best politicians realise that their work should be done honestly, some aren't taking their responsibilities seriously. Both sides in the EU referendum campaign let voters down, from deceptively designed leaflets to some of the arguments made on each side. The public rightly expects more from politicians.
We want to see greater accountability for public figures who mislead. Full Fact will continue to advocate for higher standards and call out those who don't uphold them.
But we rely on the generosity of our supporters to make sure we can spot the most harmful misinformation when we most need to.
Can you help us?
Support better public debate today.
---