Tax credits, poverty and council housing: factchecking Prime Minister's Questions
14 October 2015
Back from their respective party conferences, David Cameron and Jeremy Corbyn were at the despatch box for Prime Minister's Questions. We've factchecked some of the claims we noticed.
"I want to ask the Prime Minister a question about tax credits [...] there are another three million families in this country who will be worse off next April."—Jeremy Corbyn
Upcoming changes to working tax credit will reduce the incomes of the 3.3 million households that currently receive it.
Some households will no longer be eligible, and those who continue to receive it will be entitled to less than they would have been.
We have more details on this in a recent factcheck.
"After housing costs, 500,000 more children are now in poverty compared with five years ago in 2010."—Jeremy Corbyn

"There are 800,000 fewer people in relative poverty than 2010, and there are 300,000 fewer children in relative poverty since 2010."—David Cameron
Is poverty up, as Jeremy Corbyn says, or down, as the Prime Minister says? It's all down to which measure of poverty you use.
After housing costs are taken into account, the number of children living in absolute poverty in the UK is up from 3.6 million in 2009/10 to 4.1 million in 2013/14. That's the 500,000 rise Mr Corbyn is talking about.
But the number of children in relative poverty (this time before housing costs) fell in the same period. It went from 2.6 million in 2009/10 to 2.3 million the following year, and has stayed there since. That's the fall of 300,000 the Prime Minister is referring to. Using the same measure and including adults too, there's an 800,000 drop.
No one of the measures is clearly superior to the other, so it's not helpful for either side to highlight one of them in isolation. As the Institute for Fiscal Studies puts it, absolute and relative measures tell us different things, and "there is nothing to be gained from ignoring some of this information".
"On top of that, his new tax credit policy will put another 200,000 children into poverty."—Jeremy Corbyn
The Resolution Foundation has estimated that the tax and benefit changes introduced this summer will lead to a further 200,000 children being in relative poverty in 2016/17.
This wouldn't only be due to changes to working and child tax credits.
The estimate also considers:
the freeze to working age benefits from April 2016
the reduction of work allowances for Universal Credit
the reduction in the benefit cap
and the increases in the personal tax allowance in 2016 and 2017.
"The fact is that since I became Prime Minister there are 480,000 fewer children in households where nobody works."—David Cameron
This is correct. There were about 1.43 million children in workless households in April to June this year, compared with about 1.91 million in the same period in 2010—a fall of 480,000.
Households are counted as workless if no-one above the age of 16 is in employment—which includes where members are unemployed or inactive (because of either being unavailable to work, or unable to work because of sickness or disability).
"The best route out of poverty is to help people get a job"—David Cameron
Research backs this up. The Office for National Statistics says that "Entering employment is widely thought to be the most effective route out of poverty, a view supported by a range of research".
Its analysis shows that 70% of those in poverty who entered employment between 2007 and 2012 were no longer considered poor. But as this implies, a job didn't move everyone who got one out of poverty: the remaining 30% stayed poor, according to the official definition of "income poverty".
This refers to someone living in a household with money available to spend, after direct taxes and adjusted for the size and characteristics of the household, of less than 60% of the median nationwide. The analysis covers people aged 18-59.
"Between 1998 and 2010 the bill for tax credits went from £6 billion to £30 billion, yet at the same time in-work poverty went up by 20%."—David Cameron
This is right, but £6 billion refers to the 2000/01 tax year—the first full year after Working Families and Disabled Person's tax credits were introduced. £6 billion is what they cost the government in today's prices, and that compares to a £30 billion cost in 2010 for the Child and Working tax credits now in place. They're forecast to cost about £28 billion this year.
Mr Cameron is also right about in-work poverty. In 1998 about 40% of people in poverty lived with someone in work. In 2010 around 48% were, which is a rise of 20%. That's using the relative measure of poverty.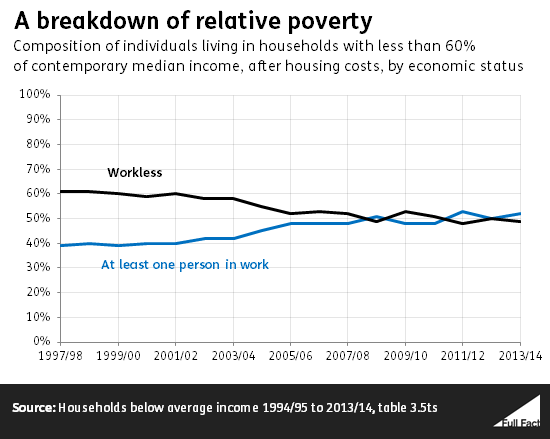 That's about the proportion of people in poverty who are also in work, which is easy to confuse with the proportion of people in work who are also in poverty. 8% of people in work were also in poverty using the latest figures for 2013.
"Secondly, over the past five years that I have been Prime Minister, we have built more council homes than the previous Labour government built in thirteen years."—David Cameron
This is correct. But these days most social housing is built for the housing associations also mentioned by the Prime Minister, rather than being 'council homes'.
In the last Parliament around 6,700 homes were built for local authorities in England, compared to 2,900 between elections in 1997 and 2010.
Including housing association homes, 128,700 social homes were built during the five years of the last government, compared to 250,800 over 13 years with Labour.
We've calculated each government's term from the second quarter of the relevant year (1997 and 2010).
Comparing periods in office doesn't account for the rate of housebuilding under the different governments, though. Here it is: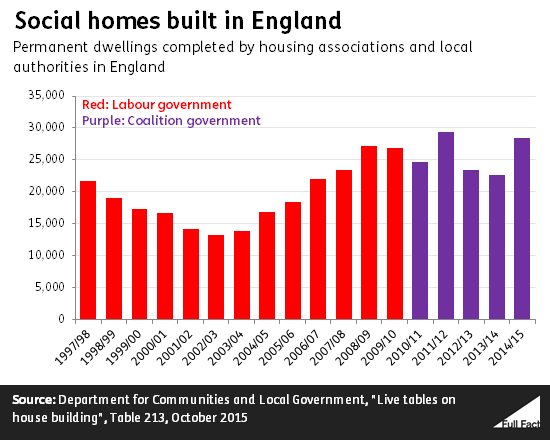 These figures are for homes completed in a given year; as houses take time to complete, some will have begun construction under a previous government.