In brief
Claim
The UK and France are the predominant defence countries in terms of investment and spend across Europe.
Conclusion
Correct. Whether the UK or France spends the most depends on exactly how you count it.
"We interact with the French on so many levels, defence and security are key. Both countries are the predominant defence countries in terms of investment and spend across Europe."

Margot James MP, 18th January 2018
The UK and France are the highest spenders on defence in Europe.
Eurostat publish figures on government spending by European countries in euros. The latest comparable figures are for 2015, and show that the UK had the highest defence spending in Europe that year, spending just under €55 billion. France was second, spending €38 billion, and Germany third with €31 billion.
Relative to the size of each country's GDP, Greece spent the most in 2015 (2.7% of GDP), followed by the UK (2.1%), Estonia (1.9%) and France (1.8%). As a proportion of each country's total government spending, the UK spent the most (5% of the total), followed by Greece (4.9%) and Estonia (4.7%). Measured this way France was much further down the league table, in 9th place at 3.1%.
The International Institute for Strategic Studies' (IISS), an international affairs think tank, has more recent figures covering 2016 and it also found the UK had higher defence spending than any other European country. France and Germany came in second and third respectively.
The Stockholm International Peace Research Institute (SIPRI), another think tank, has slightly different findings. It shows that France had the highest defence spending in 2016, the UK was second, and Germany third.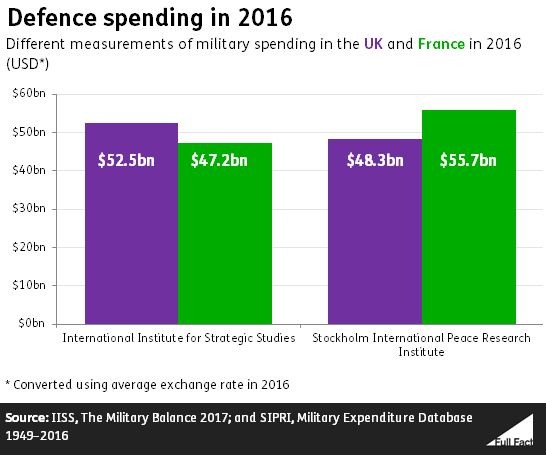 We've written about the differences between the SIPRI and IISS data in the past. The problem is there's no single definition of military expenditure. When we spoke to SIPRI in 2015 it suggested its calculation of France's spending is higher because it includes the paramilitary Gendarmerie while other sources do not. We're checking with them whether or not this is still the case.
This factcheck is part of a roundup of BBC Question Time. Read the roundup.
With Brexit fast approaching, reliable information is crucial.
If you're here, you probably care about honesty. You'd like to see our politicians get their facts straight, back up what they say with evidence, and correct their mistakes. You know that reliable information matters.
There isn't long to go until our scheduled departure from the EU and the House of Commons is divided. We need someone exactly like you to help us call out those who mislead the public—whatever their office, party, or stance on Brexit.
Will you take a stand for honesty in politics?
---