In brief
Claim
The UK and France are the predominant defence countries in terms of investment and spend across Europe.
Conclusion
Correct. Whether the UK or France spends the most depends on exactly how you count it.
"We interact with the French on so many levels, defence and security are key. Both countries are the predominant defence countries in terms of investment and spend across Europe."

Margot James MP, 18th January 2018
The UK and France are the highest spenders on defence in Europe.
Eurostat publish figures on government spending by European countries in euros. The latest comparable figures are for 2015, and show that the UK had the highest defence spending in Europe that year, spending just under €55 billion. France was second, spending €38 billion, and Germany third with €31 billion.
Relative to the size of each country's GDP, Greece spent the most in 2015 (2.7% of GDP), followed by the UK (2.1%), Estonia (1.9%) and France (1.8%). As a proportion of each country's total government spending, the UK spent the most (5% of the total), followed by Greece (4.9%) and Estonia (4.7%). Measured this way France was much further down the league table, in 9th place at 3.1%.
The International Institute for Strategic Studies' (IISS), an international affairs think tank, has more recent figures covering 2016 and it also found the UK had higher defence spending than any other European country. France and Germany came in second and third respectively.
The Stockholm International Peace Research Institute (SIPRI), another think tank, has slightly different findings. It shows that France had the highest defence spending in 2016, the UK was second, and Germany third.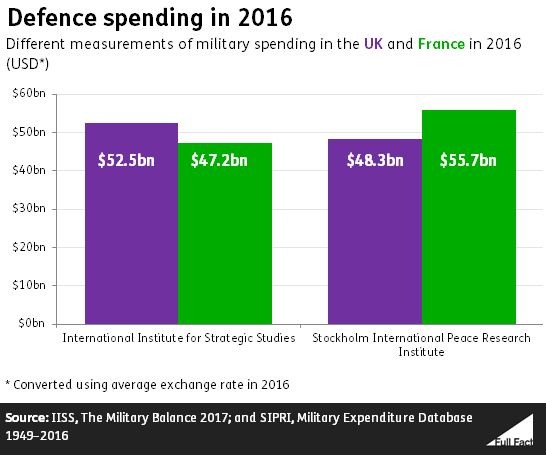 We've written about the differences between the SIPRI and IISS data in the past. The problem is there's no single definition of military expenditure. When we spoke to SIPRI in 2015 it suggested its calculation of France's spending is higher because it includes the paramilitary Gendarmerie while other sources do not. We're checking with them whether or not this is still the case.
This factcheck is part of a roundup of BBC Question Time. Read the roundup.
The integrity of our elections is in danger, and we need your help
You're probably here looking for facts. Thank you for that trust. But with the EU parliament elections on the way and more elections a possibility, we need to act now to make sure our elections are protected, before it's too late.
Could you help protect our elections by becoming a Full Fact donor?
Misinformation isn't new, but advancements in technology mean it can spread at an unprecedented scale. Our dangerously outdated election laws have not kept up with the digital age, putting our next elections at risk of abuse.
Currently, it's possible for a candidate to run a thousand different political ads to win the same seat, promising something different to each group it targets. At the same time, there's no law requiring those who publish online campaigns to disclose who they are or how they are funded. The opportunity for bad actors to manipulate election results is left wide open.
You may already know about our work to make public debate online more honest and transparent. Every day, we call out the most harmful misinformation on social media platforms when and where we see it. But right now, we're urging the government to overhaul our election laws to make sure political campaigning is held to the same level of scrutiny online as it is offline.
This work all depends on the generosity of hundreds of people who all believe that for democracy to work, we need transparency. Our monthly donors help strengthen our voice, and show our politicians that this really matters. Would you consider joining them?
Become a donor today to make sure our elections are protected.
---