Trade with the Commonwealth
2 June 2017
What was claimed
All Commonwealth countries take 9% of UK exports.
What was claimed
The top 10 Commonwealth countries take 8% of UK exports.
"If you look at the top 10 Commonwealth countries put together—that's including India, including Pakistan, including Australia, including Canada—the top 10 make up simply 8% of our exports, not the 44% that the European Union has. And if you take all 52 or 54 Commonwealth countries, they make up just 9% of all our exports."

Barry Gardiner, 1 June 2017
This is correct.
Exports to the 51 other members of the Commonwealth—a club of mostly former British colonies, some of which are very small countries—were just 9% of UK exports in 2015, figures assembled by the House of Commons Library show. The value of those exports has actually fallen in the past few years.
By contrast, 44% of exports go to other EU countries. That share was declining until 2013 but has been steady since.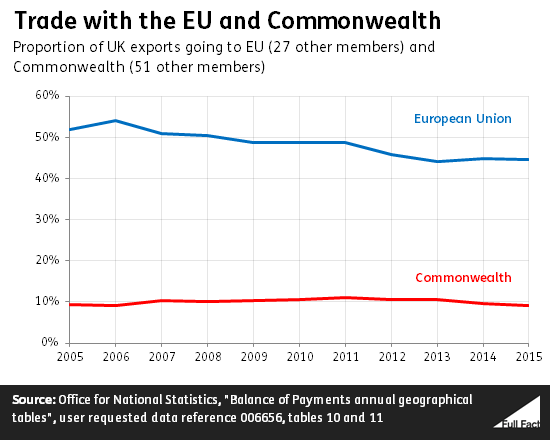 It's also true that the top 10 Commonwealth export destinations make up 8% of total exports—and two of those (Cyprus and Malta) are also in the EU. Pakistan, incidentally, falls outside the top 10.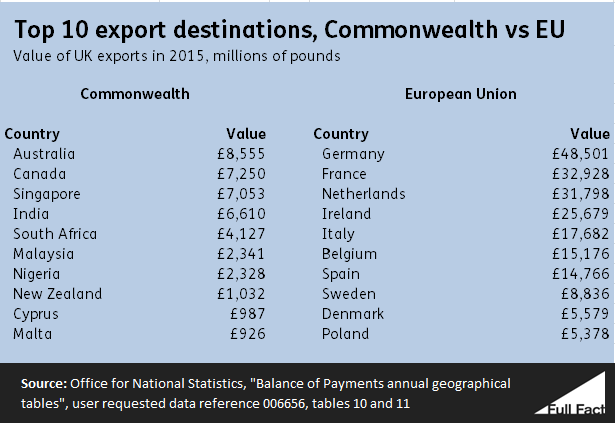 That said, if you were to expand the Commonwealth to include countries with significant historical ties to the UK that just happen not to be members—Ireland and the United States—its share of UK exports would rise to around one third.
The Commonwealth isn't a trading bloc like the EU. While its members trade with one another, there's no free trade agreement linking them all together.
"Conventional thinking among trade policy experts and policy makers suggests that a free trade area of the Commonwealth would be an utter impossibility for legal and political reasons", according to a 2013 report for the International Trade Centre. But Brexit provides the opportunity to make trade agreements with individual Commonwealth countries, which we can't as an EU member.