Is unemployment the lowest it has been since 1975?
17th Nov 2017
Claim
Unemployment is the lowest it has been since 1975.
Conclusion
This is correct looking at unemployed people as a percentage of all adults either working or looking for a job across the UK.
"The employment figures were excellent this week. The lowest unemployment since 1975." 

Nadhim Zahawi MP, 16 November 2017 
There were 1.42 million adults unemployed in the UK in the summer of 2017. That's 4.3% of people aged 16 or over classed as economically active—those either in work or looking for work.
It's correct that the last time the unemployment rate was this low was in 1975.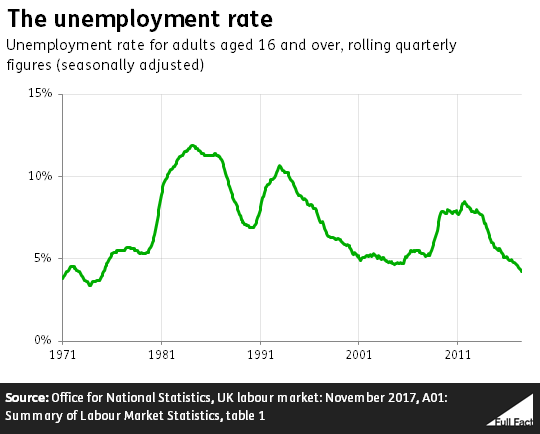 The unemployment rate varies for different groups of people. For example, the unemployment rate for men is the same as the UK-wide total—4.3% and the lowest since 1975. For women it's even lower, 4.2% and the joint-lowest it has been since records began in 1971.
11.9% of 16 to 24 year olds (either in work or looking for it) were unemployed during the same period. That figure includes full-time students looking for part-time work. It's also the lowest it has been since 2004.
Unemployment measures people without a job who have been actively seeking work within the last four weeks and are available to start work within the next two weeks, or who have found a job and are waiting to start in the next two weeks.
These figures don't tell us anything about "underemployment". That's the number of people seeking more hours, working no more than the maximum weekly working hours already, and able to work more within the next two weeks. We've written about this before here.
This fact check is part of a roundup of BBC Question Time, factchecked. Read the roundup.