England is going to have a projected 220,000 extra households per year between 2012 and 2022.
The supply of new housing has fallen far short of that figure—119,000 homes were built in England in 2014.
It's a long-term concern. The number of completed new homes has been falling for some time—there haven't been 200,000 new dwellings built in any year since 1980.
A 'household' could be someone living alone, a family living in the same place, or a group sharing accommodation.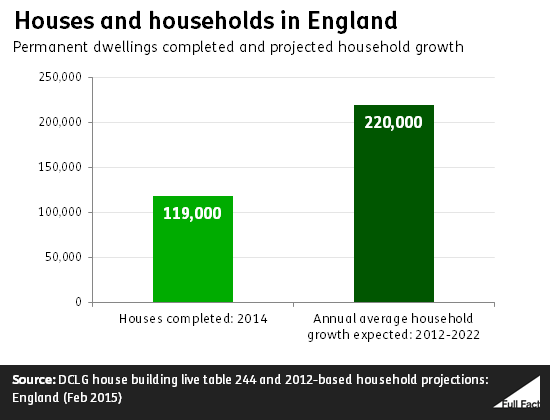 With Brexit fast approaching, reliable information is crucial.
If you're here, you probably care about honesty. You'd like to see our politicians get their facts straight, back up what they say with evidence, and correct their mistakes. You know that reliable information matters.
There isn't long to go until our scheduled departure from the EU and the House of Commons is divided. We need someone exactly like you to help us call out those who mislead the public—whatever their office, party, or stance on Brexit.
Will you take a stand for honesty in politics?
---