Zero reasons to compare zero hours contracts over time
31 March 2015
A few years ago, no one knew what a 'selfie' was. Since 2014, suddenly selfies are everywhere. Are people actually taking more pictures of themselves? Maybe. But the trends we see just show that people are using the term more, and it's caught on.
A few years ago, you'd have struggled to see anything in the media about zero hours contracts. You might not even have heard of one. Now in the midst of the election campaign, it's hard not to be aware of them.
That's exactly why we can't rely on figures that suggest the number of people on zero hours contracts has 'soared' or 'boomed' in the last few years.
These numbers start out by asking people about what type of employment they're in. In 2012, 252,000 people were estimated to be on them, based on these survey responses. In 2013, it was 586,000. By the end of 2014, 697,000.
That might well be in part due to a genuine rise in the number of people on contracts like these. We don't know. But the Office for National Statistics is clear that "the number of people who are shown as on a zero hours contract will [...] be affected by whether people know they are on a zero hours contract and will be affected by how aware they are of the concept."
So graphs like this one, shared widely on Twitter today, are liable to mislead people.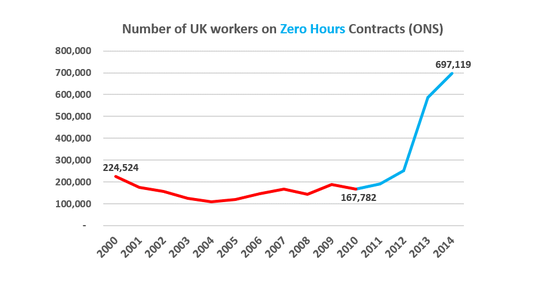 Now read: The Facts about Zero Hour Contracts.