In brief
Claim
Class sizes are soaring under the Conservatives.
Conclusion
The average class size in English state primary schools has been increasing. It rose from 26.4 pupils in 2010 to 27.1 in 2016. In secondary schools, average class sizes have dropped from 20.5 to 20.4 in the same period.
"We have a crisis in school places and class sizes soaring thanks to [Theresa May's] government."

Jeremy Corbyn, 8 March 2017
There's an extra 0.7 pupils—not a unit of measurement known to teachers—in the average primary school class since 2010. That's according to official statistics, covering state-funded primaries in England only.
But in secondary schools, the average class size has inched down since 2010, and has dropped noticeably over the course of the decade.
The average primary class had 26.4 pupils in 2010, and 27.1 in 2016. Primary school pupil numbers have risen over the period, by over 430,000, with the number of classes not keeping up. This has meant more pupils are in classes of between 31 and 35 pupils.
There's a legal limit on the size of infant classes, which are for the very youngest pupils: 30 pupils to one teacher, with some exceptions. Despite this, the number of children in an infant class larger than 30 has tripled since 2010, although it did fall between 2015 and 2016.
For secondaries, which have had to accommodate fewer pupils in total since 2010, the average classroom contained 20.5 pupils in 2010 and 20.4 in 2016.
These figures are an all-England average for a particular day in January of each year; individual schools and teachers will have different experiences.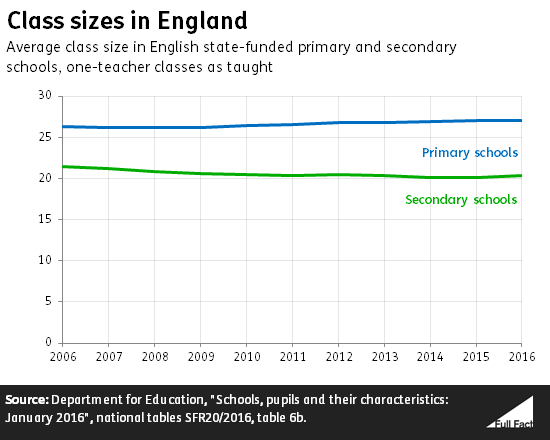 As Mr Corbyn also mentioned, the National Audit Office says that rising pupil numbers mean that hundreds of thousands of new school places are needed in the coming years. We've covered that issue here.
This factcheck is part of a roundup of Prime Minister's Questions. Read the roundup.
Can you help protect this election from the influence of bad information? Support Full Fact
This election, clear, accurate facts won't always be a guarantee. False and harmful claims are spread every day by our public figures and media. Intentional or not, they have the power to shape the choices we make. We all deserve better than that.
That's why we're fighting to keep this election more honest and accountable. And we can't do it without you. In a fast-paced campaign, our supporters mean we can hold all candidates to the same three principles: get your facts right, back them up with evidence, and correct your mistakes.
Just a small monthly donation keeps us scrutinising the most harmful false claims around the clock, and challenging the people who make them.
If you, like us, don't want your vote to be influenced by bad information, can you help out?
---