In brief
Claim
Class sizes are soaring under the Conservatives.
Conclusion
The average class size in English state primary schools has been increasing. It rose from 26.4 pupils in 2010 to 27.1 in 2016. In secondary schools, average class sizes have dropped from 20.5 to 20.4 in the same period.
"We have a crisis in school places and class sizes soaring thanks to [Theresa May's] government."

Jeremy Corbyn, 8 March 2017
There's an extra 0.7 pupils—not a unit of measurement known to teachers—in the average primary school class since 2010. That's according to official statistics, covering state-funded primaries in England only.
But in secondary schools, the average class size has inched down since 2010, and has dropped noticeably over the course of the decade.
The average primary class had 26.4 pupils in 2010, and 27.1 in 2016. Primary school pupil numbers have risen over the period, by over 430,000, with the number of classes not keeping up. This has meant more pupils are in classes of between 31 and 35 pupils.
There's a legal limit on the size of infant classes, which are for the very youngest pupils: 30 pupils to one teacher, with some exceptions. Despite this, the number of children in an infant class larger than 30 has tripled since 2010, although it did fall between 2015 and 2016.
For secondaries, which have had to accommodate fewer pupils in total since 2010, the average classroom contained 20.5 pupils in 2010 and 20.4 in 2016.
These figures are an all-England average for a particular day in January of each year; individual schools and teachers will have different experiences.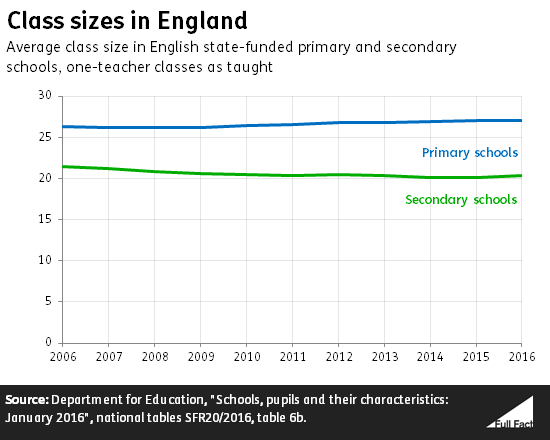 As Mr Corbyn also mentioned, the National Audit Office says that rising pupil numbers mean that hundreds of thousands of new school places are needed in the coming years. We've covered that issue here.
This factcheck is part of a roundup of Prime Minister's Questions. Read the roundup.
The integrity of our elections is in danger, and we need your help
You're probably here looking for facts. Thank you for that trust. But with the EU parliament elections on the way and more elections a possibility, we need to act now to make sure our elections are protected, before it's too late.
Could you help protect our elections by becoming a Full Fact donor?
Misinformation isn't new, but advancements in technology mean it can spread at an unprecedented scale. Our dangerously outdated election laws have not kept up with the digital age, putting our next elections at risk of abuse.
Currently, it's possible for a candidate to run a thousand different political ads to win the same seat, promising something different to each group it targets. At the same time, there's no law requiring those who publish online campaigns to disclose who they are or how they are funded. The opportunity for bad actors to manipulate election results is left wide open.
You may already know about our work to make public debate online more honest and transparent. Every day, we call out the most harmful misinformation on social media platforms when and where we see it. But right now, we're urging the government to overhaul our election laws to make sure political campaigning is held to the same level of scrutiny online as it is offline.
This work all depends on the generosity of hundreds of people who all believe that for democracy to work, we need transparency. Our monthly donors help strengthen our voice, and show our politicians that this really matters. Would you consider joining them?
Become a donor today to make sure our elections are protected.
---