Schools, migrant children, and sentencing: Prime Minister's Questions, factchecked
27 April 2016
Double your donation
Give today via The Big Give and your donation will be doubled.
Schools
"There are of course still record numbers of children in over-sized classes and in super-sized classes, and that is getting worse."—Jeremy Corbyn
There aren't record numbers of children in large classes in primary and secondary schools. Labour told us Mr Corbyn was referring to the 500,000 children in large classes in primary schools, rising class-sizes and the record number of infants in large classes of over 30. It's not clear from the context this is what he meant.
This graph is for the proportion of pupils in large classes rather than the number, to account for fluctuations in the total number of school pupils.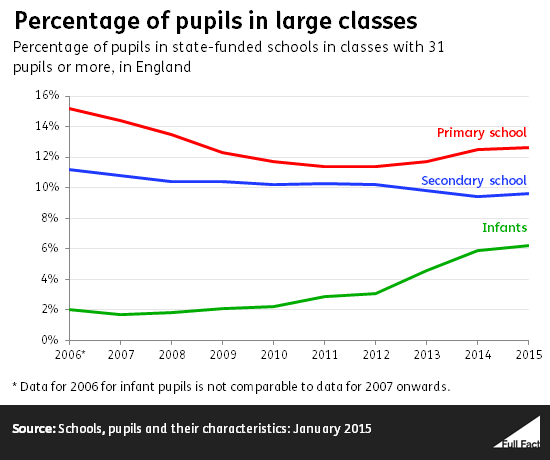 12.6% of pupils in English state-funded primary schools were in classes with 31 pupils or more in 2015—about 520,000 children. That includes 100,000 pupils in infant classes of 31 pupils or more.
For infants, this is the highest number—and proportion—of pupils in large classes since 2007, which is as far back as comparable statistics go.
The number of all primary school age children in large classes is not the highest on record, though it has grown in the past few years. The highest was in 2006—the earliest year for which data is available—when around 570,000 children were in large classes. That was 15.2% of all primary school children.
Similarly, for secondary schools, about 280,000 pupils were in classes with 31 pupils or more in 2015, which is an increase on the previous year but not as high as in 2006 when about 350,000 children were in these large classes. The same is true when looking at the numbers as a proportion of all pupils.
"Let me quote Helena Mills of the Burnt Mill Academy Trust. She said: 'I used to be very sceptical about, and resistant to, academy status. But during the process of developing the…Academy…I have been increasingly convinced that this is the way forward.' That is what more and more people are saying. That is why 1.3 million more children are in good and outstanding schools."—David Cameron
As of last summer, there were 6.2 million children being taught in schools ranked good or outstanding by Ofsted inspectors, 1.4 million more than in 2010. The Department for Education told us this is what Mr Cameron meant.
This is set against a backdrop of rising pupil numbers, but the proportion of pupils in good or outstanding schools has been rising too.
There's no doubt that schools' Ofsted performance is improving.
This progress is partly due to Ofsted's changing inspection practices though. It redefined what was expected of schools and placed a greater emphasis on inspecting schools which fell below this expectation.
See our factcheck for more information.
The Prime Minister seemed to link these improvements to the process of schools becoming academies. There is no clear cut evidence to suggest that becoming an academy has made schools improve more than they would've done had they not become academies. So it's not possible to attribute this improvement to the academies policy.
Migrant children
"Europol estimates that 10,000 unaccompanied children in Europe have disappeared"—Angus Robertson MP

"Over 1,000 children will sleep rough in Greece alone tonight … 10,000 children have disappeared in Europe, how are they safe?"—Yvette Cooper MP
It's not known exactly how many unaccompanied migrant children are missing in Europe, but the EU's law enforcement agency says that 10,000 is likely to underestimate the scale of the problem.
Europol told us that "it holds no such information" itself, but that the figure is a compiled estimate from several non-governmental organisations, and directed us to Save the Children. It said the true figure was likely to be higher.
The figure is often sourced to comments made by Europol's chief of staff to the Observer, in which he reportedly said "it's not unreasonable to say that we're looking at 10,000-plus children", though some may be with family members.
We've asked Save the Children for its most recent estimates directly, and are waiting for a response. The charity has previously estimated that a total of 26,000 unaccompanied children arrived in Europe last year.
Yvette Cooper's claim on children sleeping rough in Greece is based on operational data from agencies working in Europe. A recent report from Unicef, Save the Children and Citizens UK claimed that there are around 2,000 lone refugee children trapped in Greece, well above the capacity of existing children's shelters there.
Sentencing
"The 18 year old [who killed a constituent of mine] was convicted of causing death by dangerous driving and received a sentence of just six years, of which he will probably serve three … Does the Prime Minister agree with me that sentences for these crimes are too lenient?"—Liz McInnes MP

"The maximum sentence is 14 years, so the courts do have the ability to sentence more"—David Cameron
There are four criminal offences about causing death by driving in England and Wales, but Ms McInnes specified death by dangerous driving.
It's correct that the maximum possible sentence for this is 14 years imprisonment.
The average jail sentence for this crime in 2014 was around five years, although a handful of those found guilty weren't sent to jail at all.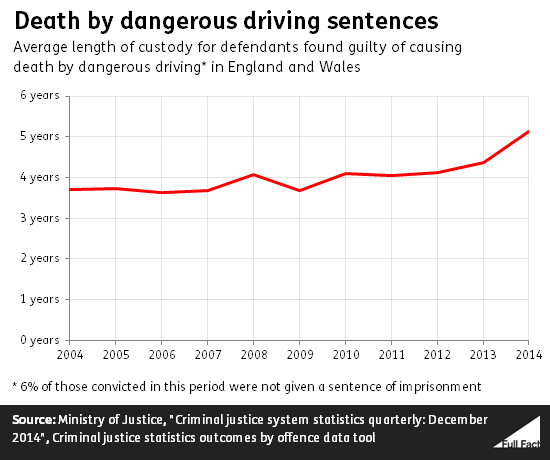 Maximum sentences for the related crimes of causing serious injury by dangerous driving, and dangerous driving on its own, are much lower. They carry a maximum of five years and two years respectively.
Round up posts like this—and those we publish for Question Time and major speeches by politicians—don't go into as much depth as our usual articles or cover every claim made in the show. Often they are done under a much shorter deadline, so we prioritise a clear conclusion above all else. As always we welcome feedback: please email the team on team@fullfact.org.