Labour makes misleading claim on solar energy
21st Jun 2019
Claim
Solar installations are down 94%.
Conclusion
This is misleading, because it compares two especially extreme months (March and April 2019), which almost always see a major drop in new solar capacity. Overall, the amount of new solar capacity being generated has stagnated significantly since 2017.
"Last week, we learned that the Conservatives have effectively collapsed the solar industry, with a 94% drop in installations."

Rebecca Long-Bailey MP, 10 June 2019

"Solar installations are down by 94%."

Jeremy Corbyn MP, 12 June 2019
In recent weeks, the Labour party has repeatedly made the claim that solar installations are down by 94%.
Labour is comparing the amount of new solar capacity installed in March 2019 with the amount installed in April 2019. This is a very misleading way to present the figures.
There is almost always a major drop in new solar capacity installed in April compared to March. This is because of how  government tariff schemes work and because in recent years a number of these payment programmes have closed at the end of March, leading to a surge in installations that month.
To assess what's happening to solar capacity, we need to take a longer-term view.
That said, it is fair to say that the installation of new solar capacity has stagnated since 2017, with the government scrapping its subsidy scheme altogether this year.
How is Labour's figure calculated?
The government publishes monthly figures on the total solar capacity of the UK. This data doesn't tell us how much solar energy is being produced each month in the UK, rather it tells us what we have the capacity to produce, based on the overall solar infrastructure . Put simply, as new solar panels are installed, the UK's capacity to produce solar energy goes up.
When Labour says that there has been a 94% drop in solar installations, it is comparing the amount of new capacity deployed in April 2019 (5.1 megawatts) with March 2019 (79.4 megawatts). The amount deployed in April was 94% less than the amount in March.
But presenting the change between March and April in isolation is very misleading. In most years since 2013, there has been a surge in new solar capacity in March, followed by far less new capacity being registered in April. Looking at just these two months doesn't reflect what's happening over the longer term.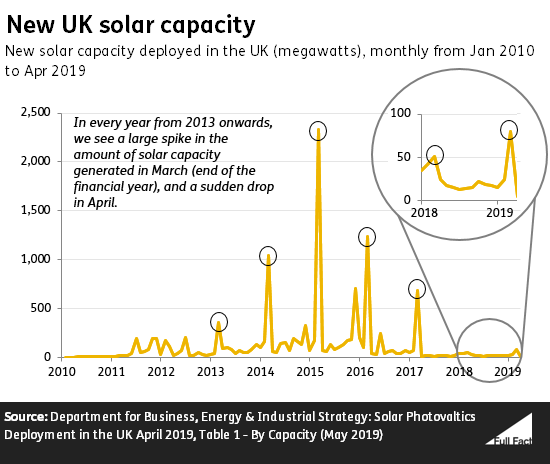 The March surge is probably linked to changes in government tariffs
Since 2010, the government has run a policy known as "feed-in tariffs", designed to promote the uptake of low-carbon electricity generation, including solar. The Department for Business, Energy and Industrial Strategy (BEIS) says that the closure of this scheme at the end of March 2019 is the reason behind the very low numbers of installations in April this year.
Léonie Greene, Director of Advocacy and New Markets at the Solar Trade Association told us: "We expected to see a sharp drop off in deployment when the [feed-in tariffs scheme] closed, as indeed we have seen with every change to the FIT rate since the scheme started."  
Under the scheme, people who generate electricity through solar power are given a set rate for each kilowatt hour of energy generated. They get an additional rate for every unit of electricity they don't use and export back to the electricity grid instead.
The amount of money you get depends on the size and type of solar installation you have and, crucially, when you register your installation. Payment levels for solar change every quarter and have also been reducing over time.
This might also explain why we tend to see a surge in additional installations in March every year—before new rates kick in at the start of every new quarter of the financial year.  BEIS told us that this is likely to be a factor. It also pointed to other policies that changed or ended in March of previous years, such as the Renewables Obligation scheme, which gave financial support to large-scale renewable electricity, and closed in March 2017.
Solar installations have stagnated in the last few years
At the same time as feed-in tariffs have been declining in value, we've also seen a significant slowing in the pace of new solar installations in the UK.
The UK's solar capacity increased sharply between 2011 and March 2017 when capacity reached around 13,000 megawatts. Since then, the capacity has barely increased.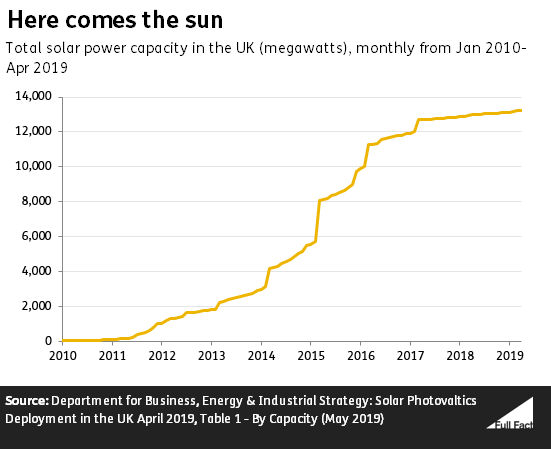 Dr Alastair Buckley, Academic Director at Sheffield Solar—a research centre based at the University of Sheffield—said: "Installation rates have been steadily falling over the last few years as government backed incentives and subsidies have dried up."