In brief
Claim
The EU Court of Justice has decided that obese people are disabled, and so entitled to protection under employment law.
Conclusion
Not correct. The court said that an obese person can be considered disabled, if their ability to work is limited. In itself this isn't a major change.
"Fury as Euro court rules the obese are disabled"

Daily Express, 19 December 2014
A decision concerning a childminder who claims he was sacked for being overweight was published yesterday by the Court of Justice of the European Union. Most of the media have reported that the outcome means that obesity "can" be a disability, rather than that it "is". What's the difference, and does it matter?
In 2010, Karsten Kaltoft was dismissed from his job by a Danish local authority, and a union took a case on his behalf alleging that he had been singled out on the basis of his obesity. EU law protects employees from being treated less favourably on various grounds, such as age, disability and sexual orientation.
The District Court hearing the case wasn't sure whether an obese person can qualify for the protection of this law, so it asked the EU Court of Justice for a 'preliminary ruling' to decide. This isn't the same as deciding whether Mr. Kaltoft was actually discriminated against, which is still a matter for the Danish court.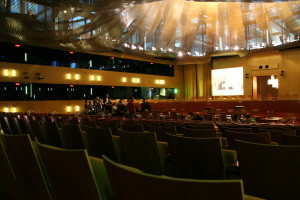 The Court of Justice said that EU law does not state "a general principle of non-discrimination on grounds of obesity as such". But the Danish court had asked another question: basically, "can obesity be deemed to be a disability?"
This was asked because being disabled (and so protected from discrimination) isn't defined as having one of a list of conditions. It usually depends on the circumstances of each individual.
The court said that obesity itself isn't a disability, because it doesn't necessarily "entail the existence of a limitation" on someone's contribution in the workplace. But if it does, in a particular person's case, give rise to a limitation on their ability to work or find employment, then a court should protect that person from discrimination.
So when the case plays out in the Danish District Court, they can decide that Mr. Kaltoft's obesity makes him disabled if they think it has that kind of impact—but they don't have to treat him as disabled just because he's obese.
It's the effect of obesity that matters, not the fact of it.
So most of the press are correct in reporting the outcome, in the context of employment law, being that obesity can lead to disability, rather than is a disability.
The upshot of this judgment is a little unclear for now. English law already said that when it comes to obesity, the effect rather than the label is what matters. Some lawyers think this case expands the notion of a disability a little, from medical conditions associated with obesity to other features of it like inability to move or breathe easily.
That might make it tricky for employers to work out when such difficulties are severe enough to trigger their responsibility to make reasonable adjustments in the workplace. But it's hardly a massive change—whereas a decision that being severely obese automatically makes someone disabled certainly would have been.
Since the judgment is about employment law, it has no impact on access to disability benefits, or the Blue Badge scheme, or anything else disabled people are entitled to outside the workplace.
Update 20 December 2014
The Daily Mail originally opened its story by stating "Obesity is a disability, Europe's highest court has today ruled". This has since been corrected, but the online headline remains "Obesity IS a disability, rules highest EU court...". 
The integrity of our elections is in danger, and we need your help
You're probably here looking for facts. Thank you for that trust. But with the EU parliament elections on the way and more elections a possibility, we need to act now to make sure our elections are protected, before it's too late.
Could you help protect our elections by becoming a Full Fact donor?
Misinformation isn't new, but advancements in technology mean it can spread at an unprecedented scale. Our dangerously outdated election laws have not kept up with the digital age, putting our next elections at risk of abuse.
Currently, it's possible for a candidate to run a thousand different political ads to win the same seat, promising something different to each group it targets. At the same time, there's no law requiring those who publish online campaigns to disclose who they are or how they are funded. The opportunity for bad actors to manipulate election results is left wide open.
You may already know about our work to make public debate online more honest and transparent. Every day, we call out the most harmful misinformation on social media platforms when and where we see it. But right now, we're urging the government to overhaul our election laws to make sure political campaigning is held to the same level of scrutiny online as it is offline.
This work all depends on the generosity of hundreds of people who all believe that for democracy to work, we need transparency. Our monthly donors help strengthen our voice, and show our politicians that this really matters. Would you consider joining them?
Become a donor today to make sure our elections are protected.
---