A&E in England has never been busier
10th Feb 2017
Claim
2.5 million more people went to A&E last year.
Conclusion
Just over one million more people went to A&E last year compared to the year before. 2.5 million is only correct comparing back to 2010.
"Two and a half million more people went to A&E this year, the NHS has never been busier"

Claire Perry MP, 9 February 2017
Ms Perry is correct that the NHS in England has never been busier, but her phrasing on the figures is a little confusing.
You might think she's saying 2.5 million more people went to A&E this year compared to last year. Actually this is only correct compared to six years ago, a comparison the Prime Minister stated correctly last month. There were about 1.1 million more attendances at A&E in 2016 compared to 2015.
23.6 million people visited A&E last year. These aren't all unique individuals: some people visit multiple times and get counted whenever they visit. That's why we usually call them 'attendances'. It's up from 22.4 million in 2015.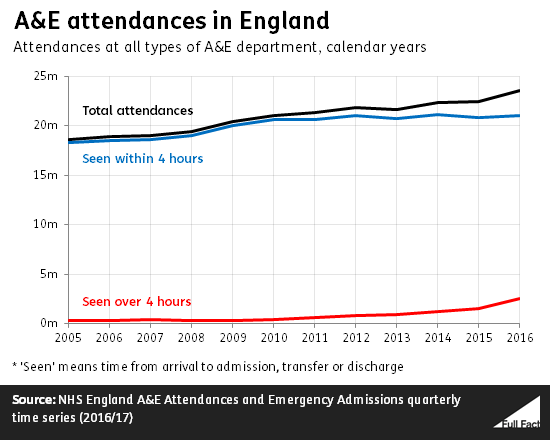 If you compare back to 2010, when there were about 21.1 million attendances, that's how you get Ms Perry's 2.5 million rise.
This comes off the back of figures leaked this week suggesting that record numbers of patients spent more than four hours in A&E units in England last month. It's claimed that 82% were admitted, transferred or discharged from A&E within four hours. The target is 95%.
The longer-term trend shows performance against the 95% target has been deteriorating for several years.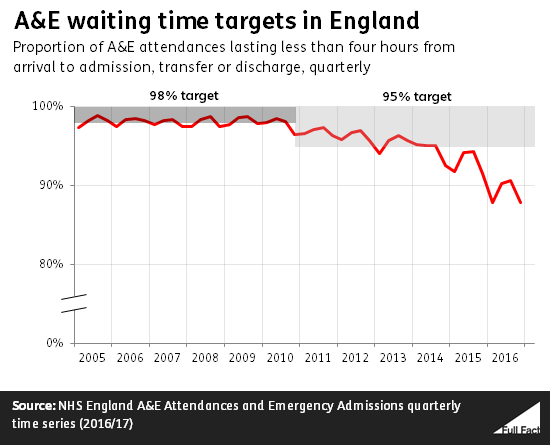 These figures cover all types of A&E unit across England. The largest 'Type 1' departments have also seen record attendances, and perform worse on waiting times.
This fact check is part of a roundup of BBC Question Time, factchecked. Read the roundup.